If You're reading This On Second Life...
You may want to see it in something larger. :)
Click here to vist this webpage:
http://unda-xue.livejournal.com/

~|~|~|~|~|~|~|~|~|~|~|~|~|~|~|~|~|~|~|~|
~|~|
This post is a sticky note. It always appears at the top of the blog.
Are you familiar with the work of a designer featured here? If so, you are welcome to share your favorite dress of this creator in a comment. Feel free to include a link to a picture--but, in keeping with the theme of this blog--only post just one dress. :)
~|~|~|~|~|~|~|~|~|~|~|~|~|~|~|~|~|~|~|~|
~|~|
Not your standard virtual fashion blog! Just One Dress combines fashion, travel, fiction, and far too many pictures in an intriguing and often whimsical attempt to answer the burning question, "If you could buy only one dress (from this shop)...which one would it be?"
"Virtual Fashion" is a term I use to describe clothing styles and trends that exist in shared 3d immersive graphical "worlds," visual online social spaces such as Second Life, IMVU, and games like World of Warcraft. In all of these places, as in real life, clothing on one's avatar is regarded either as a status symbol or an expression of one's personality and tastes. Virtual fashion is also, at least in those worlds that have a thriving or unrestricted economy, a very big business.
Virtual fashion and real fashion intermingle in interesting ways. Of course, virtual fashion styles copy what the most popular celebrities wear. But there is also a trend, these days, for real life to imitate art. I now see real-life actresses and models starting to wearing garb that only existed in virtual worlds two or three years ago.
If you want to learn more about styles and clothing, I recommend you first browse an online catalog depicting such wares, such as Second Life's Marketplace or IMVU's catalog. These huge repositories of avatar clothing will give you an idea of the scope of the field. Next, make the rounds of the big virtual magazines and fashion blogs (currently, there are many for Second Life, I am not sure about other worlds but a search on the world's name should turn up some) for a glimpse at how participants view virtual fashion. The best way to experience virtual fashion, however, is immersion. Make an avatar on one of the 3d worlds or visual social networking sites and then clothe your avatar and interact with others. Beware, this last sort of research can be addictive...and quite expensive.
~|~|~|~|~|~|~|~|~|~|~|~|~|~|~|~|~|~|~|~|
~|~|
THE NEWS
20100713: Two designer interviews, one from Bliss Beningborough and one from Glory Gausman are Up! And I hear that Terry Lightfoot is not far behind. Woo-Hoo! :D
~|~|~|~|~|~|~|~|~|~|~|~|~|~|~|~|~|~|~|~|
~|~|
I admit it, I am basically a lazy avatar. I don't make stuff. I don't go out and mingle much, and when I do I get so terrified that I don't try the experience again for at least a few weeks. I think sorting my inventory is a thrilling activity for a weekend night. And while I will take pictures of myself when the mood strikes me, this blog being witness to that, I still regard it as a great deal of hard work. I have to rest up after one of those photo spreads. My avatar isn't as young as she used to be!


I don't understand how others have the patience to be professional models. Still I sometimes see them and think, Oh I wish I were her, strutting my stuff in an ad or walking down the runway, and then my better sense overpowers my vanity, and says, "You'd absolutely hate it." And I nod sadly. Better Sense is right!

So I was thrilled to get a notecard today from one of my many groups that offered me the the opportunity to be a model...but only for a day! And it only required 2 -3 pictures! This was absolutely perfect for me. I have a lovely new dress, but it is by a designer that I had featured in another article and since my blog rule is "Just ONE Dress" I could not feature another. Here was my chance to show of this second dress without breaking my rule and also strut my stuff on another blog. Woo-hoo! :D I took too long setting it up, of course. I wanted Deco for this swing-era vintage style dress and there is, sadly, little Art Deco on Second LIfe (or little that is tagged as Art Deco). But I managed to find a few lovely backdrops, anyway and zoom! In went my entry.

I am thrilled with the results. If you want to check me out, go to
Joice Dreamscape''s Pimp My AVI blog
.
(I'm on there somewhere. Later I'll put up a specific link, but for now I just want to get this offer out there so the link goes to her front page.)

...
Ok, here is my Pimped Page: Unda All Pimped Out
...

And if you want to be a model for a day on her blog, do contact her in-world. Ask for the note card. There are some small rules on it you need to follow. But there is no rule about what outfit you can wear. She has promised to post all comers and there may even be a little surprise in it for you for doing so! ;)

All right, I can't resist. Here is one photo from the shoot I did for this offer. The dress is very tiny in it, so it doesn't break my "one dress" rule too bad. And I'm not going to tell you who made it. For that you have to go to Joice's blog. But the background, don't you think, is rather spectacular: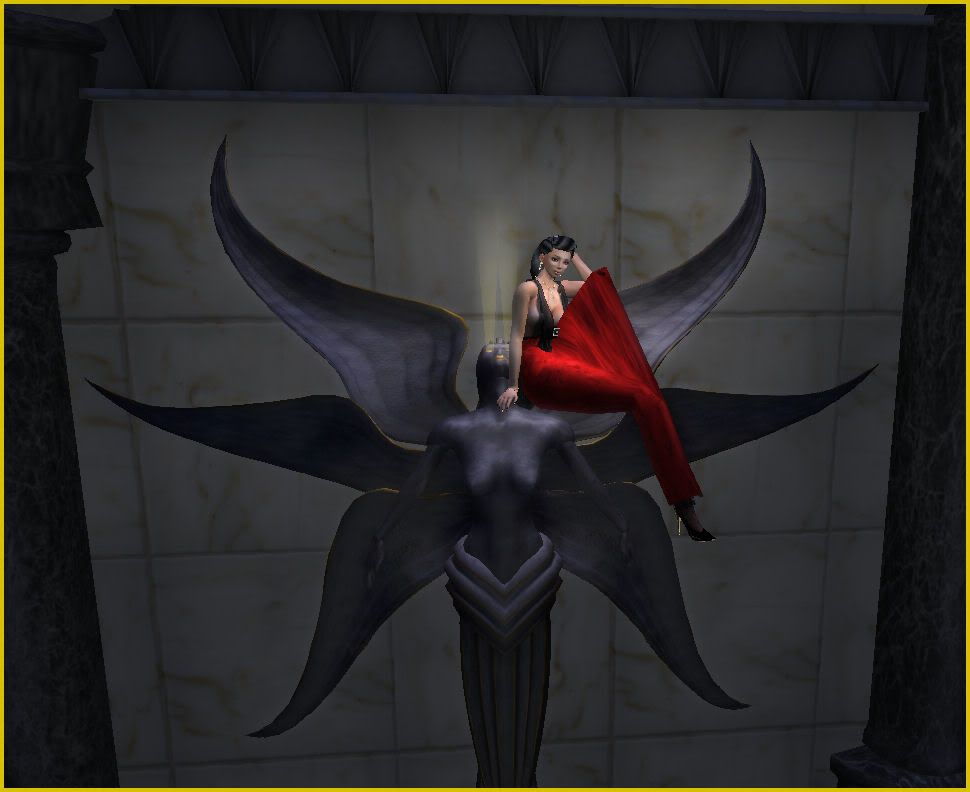 Art Deco style at its finest is truly spectacular. :)



Remember:


Joice Dreamscape

Pimp My AVI

Be a Model For One Day

Three Pictures, Max.

Ask for Note Card!

And tell her Unda sent you!!!

Current Mood:

bouncy

Where were YOU on July 4th, 2010?
I was here: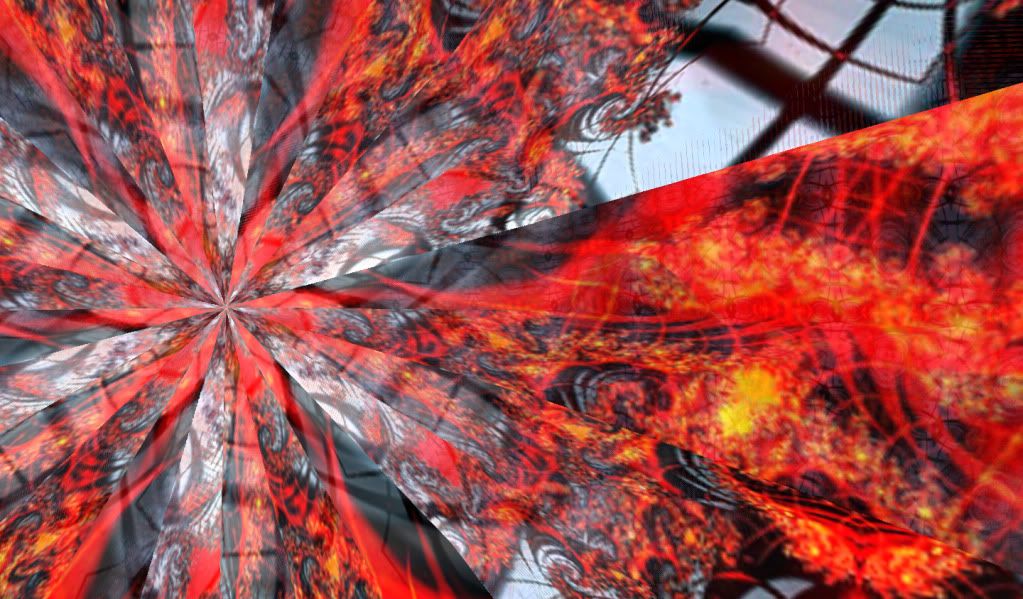 I mean, IN there. See me?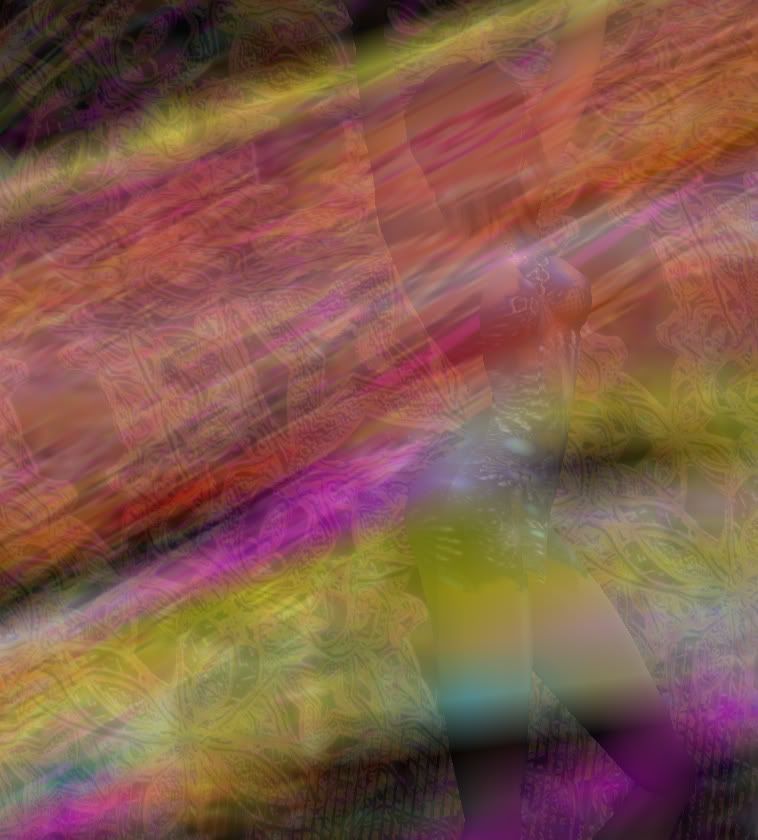 I was kind of bored, all dressed up in a Fireworks outfit and nowhere to go. I browsed the events list in the search window, and saw something that brought back some fond memories. There was an Oddball! On the Fourth no less!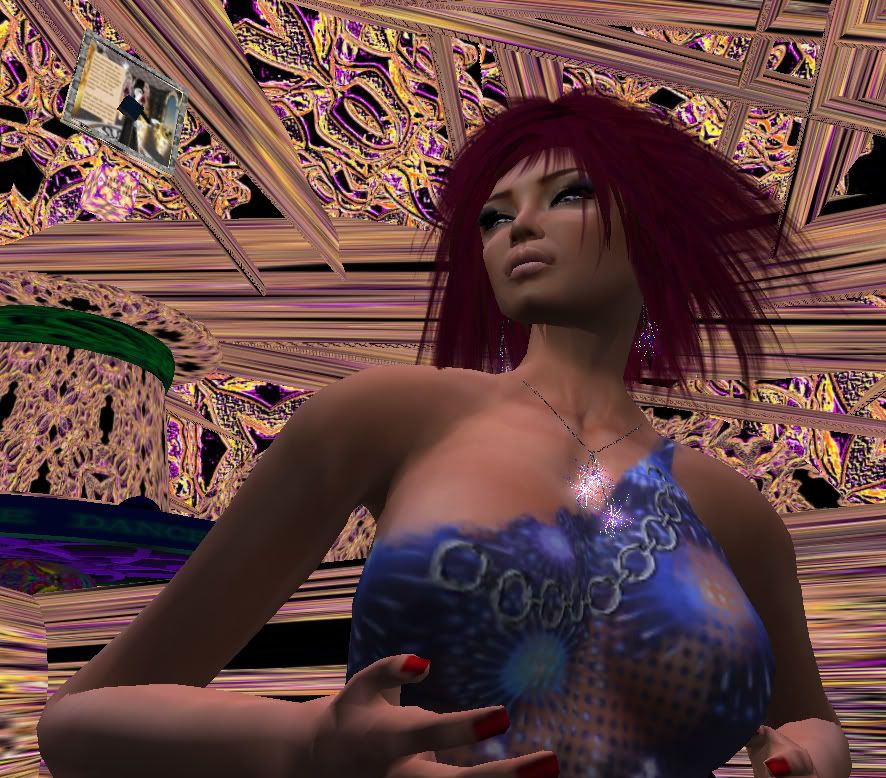 So I went to the Oddball at the Tunaverse, dancing within an amazing light show that made me feel the way I feel when I turn on Wireframes view or participate in an ultra-immersive MMORPH: that instead of just staring at a computer screen with pretty colors on it, I am actually in another world. And what a strange world the Tunaverse is!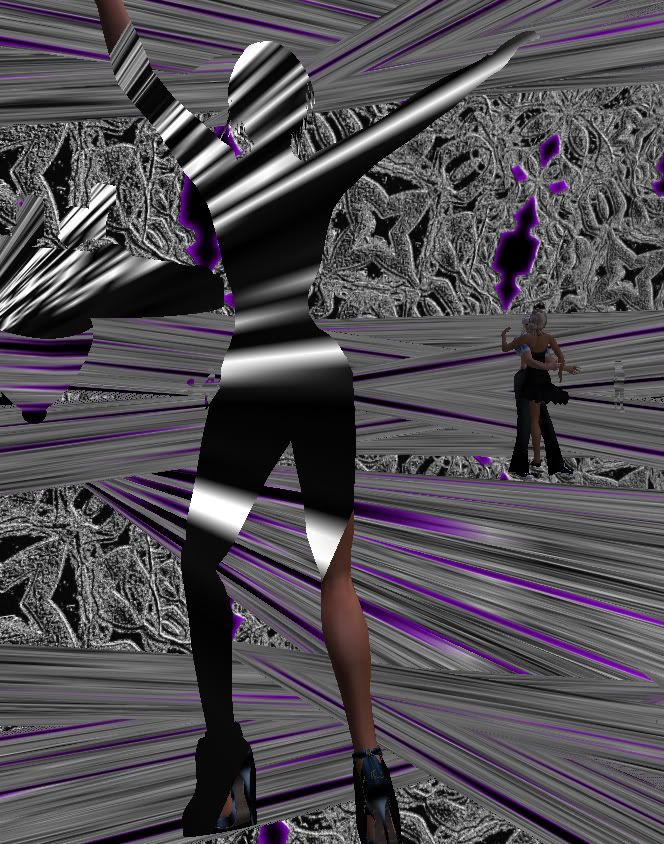 For those wondering what in the world I am talking about, here is a bit more explanation. Tuna Oddfellow is an avatar on Second Life who creates works of art, that combine texture light displays projected onto the inside of a giant sphere (called the Tunaverse) and hypnotic trance music. The combination is called an "Oddball." The combination is reminiscent of a rave, or their predecessors, the laser light shows set to rock music. This art form cannot be fully captured in images (although I did my best). You must enter the Tunaverse when an event is scheduled, listen to the music, partake of the mind-altering substance of your choice (optional, but I chose a glass of wine), and dance. Especially dance. Watching your body swirl and move to the music within the surreal and psychedelic textures is an important part of this participatory art experience.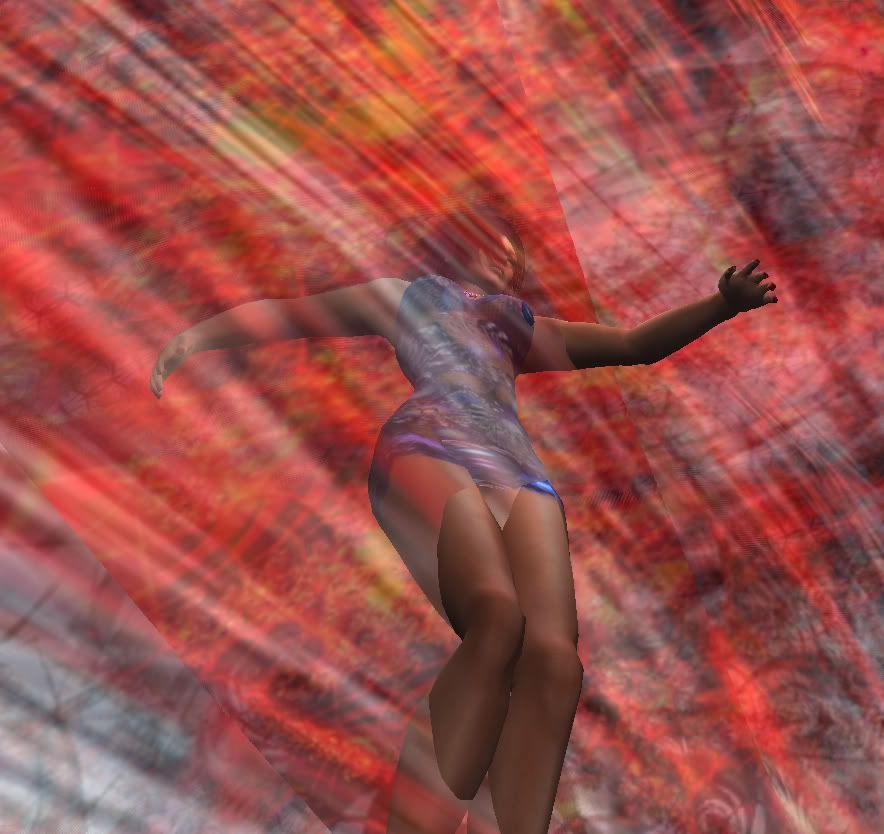 For the Fourth of July, Tuna Oddfellow made his textures from the American Flag. As you can see from the pictures below, when he got through with them, they didn't exactly resemble the flag much, but according to the show, it is what he started from. :)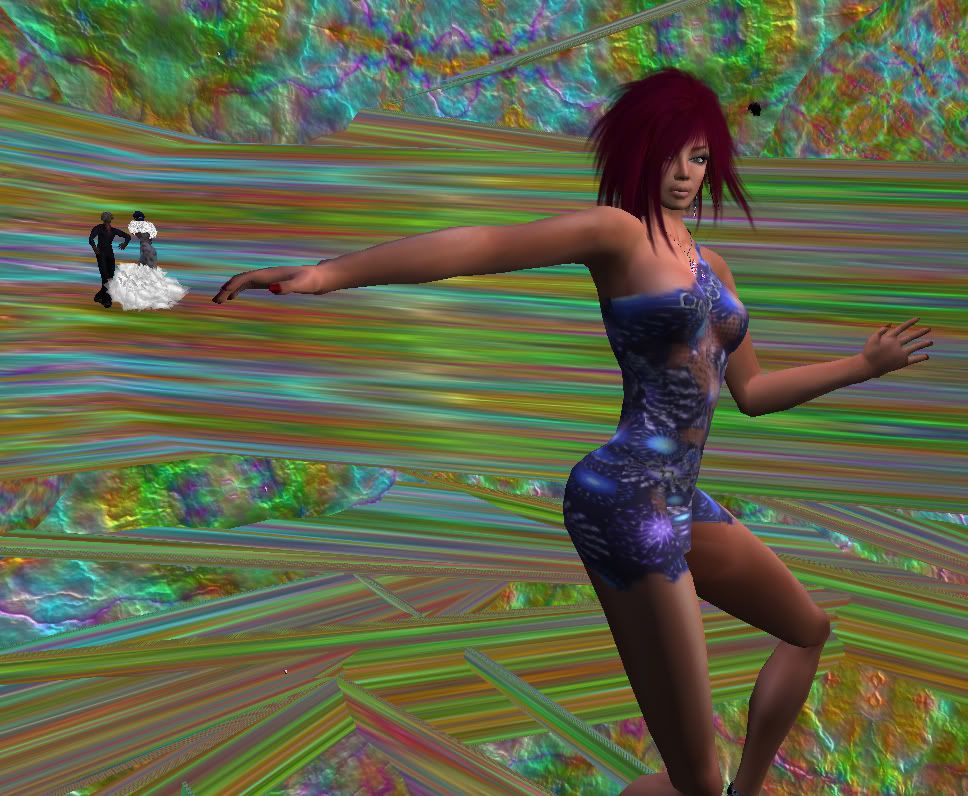 When you dance at an Oddball, you dance within the textures, they aren't just outside of you projected on the insides of a big ball. This caused some interesting effects with my dress and avatar, as you'll see in the images. The experience is one of being truly within the textures and also affected by them. The cleverness of this art show cannot be fully described. You have to see it. People dancing around you look like they're above you or below you when actually everybody is on the same flat plane in the middle of the sphere. And avatars at a distance sometimes take on a black silhouette effect which looks very cool against the colored patterns of light.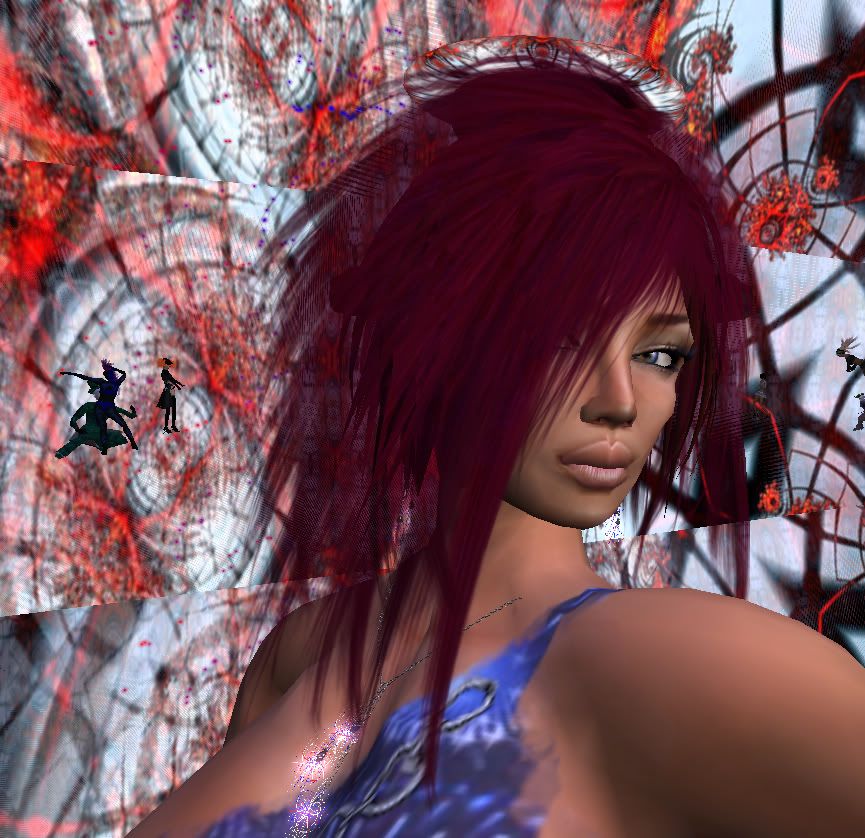 But let me back up. I found this dress a few days before the Fourth on one of those 40-50-55-60 Linden lists that come out weekly on various days. The first and most well-know of these lists is 60L Weekends (formerly 60L Sundays). The signs for this shopping event can be seen in many participating shops. You will also see red footprints on the floor that lead you to the item. On the appointed day you get a note card (or three) with links to vendors that have put up an item in their shop for 60L's. Sometimes this is a real bargain; sometimes not. I don't pay much attention to the bargain aspect. I just look at the pictures embedded in the note card, and if I see something I really like and I have 60L, I teleport to the store and buy it.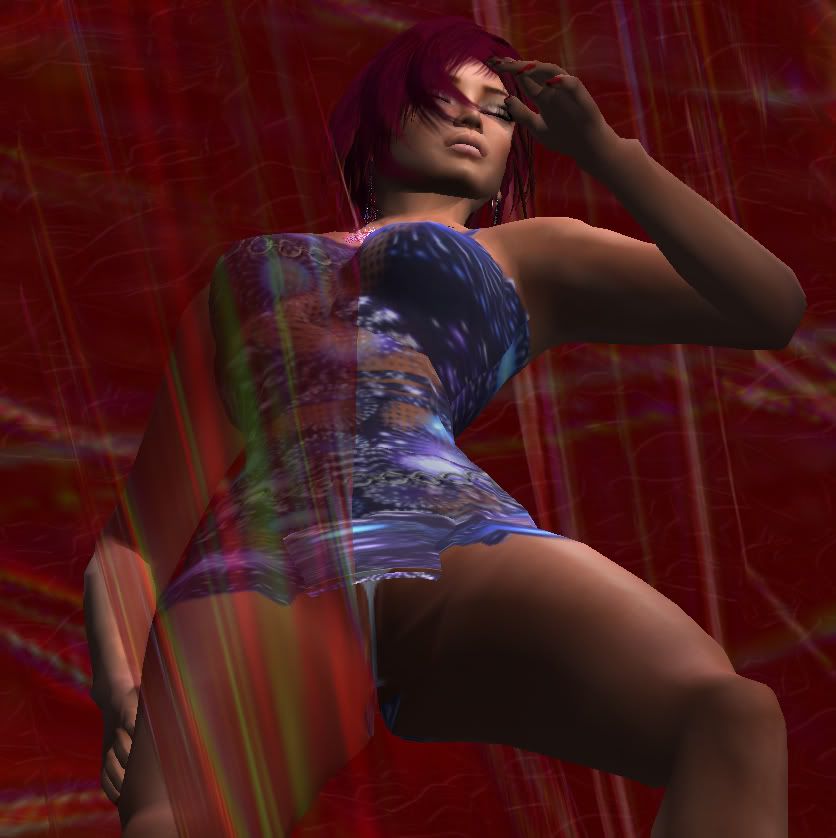 So that's how I found my "explosion" dress. It's a simple, sleeveless mini, with all of the pros and cons such a piece of apparel has on Second Life, but to me, it is outstanding in several ways. First, there's the beautiful fireworks pattern. The colors in this blue pattern are beautiful and quite reminiscent of fireworks.






The dress has a more subtle feature to it, that I didn't notice until much later, because the skin I wore with it didn't advertise the fact: it has many select transparent spots on it. With the wrong (or right?) skin it could be positively obscene. But from a distance and with my neutral tan skin, it provided perfect coverage. The transparency only becomes apparent if you zoom in closely and know what you were looking for. In a place like Second Life where half the female fashions you see are blatant T&A&P shows, Subtlety Rules.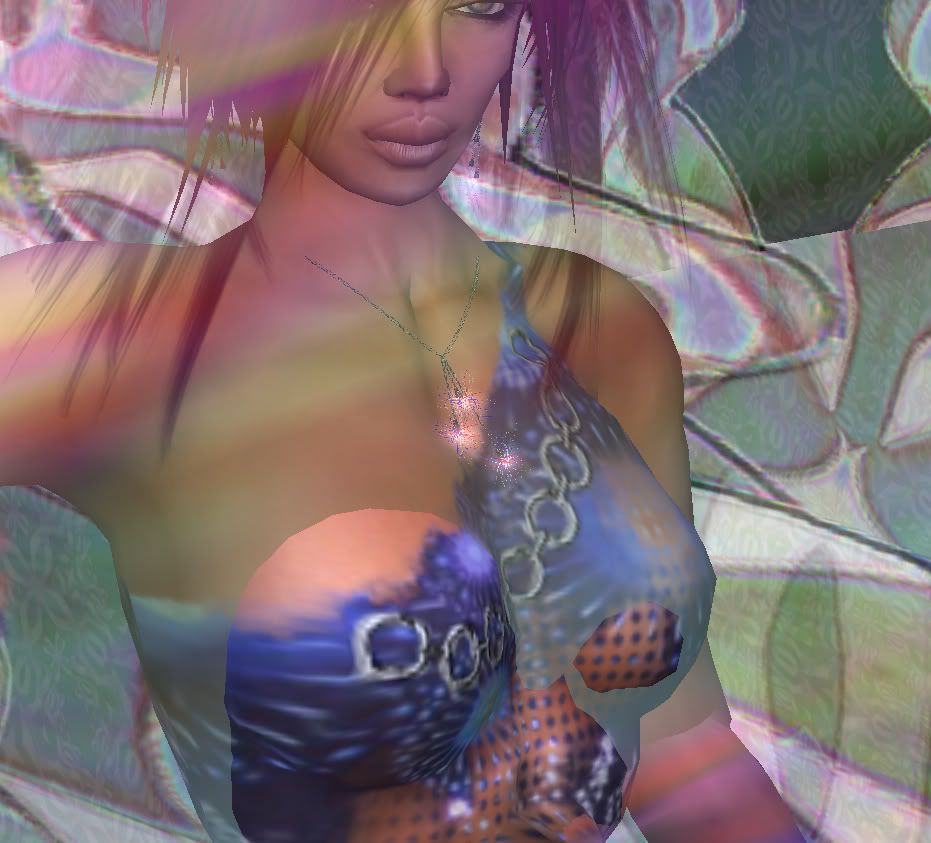 I paired the mini dress with lovely animated fireworks jewelry from Earthstones, a favorite part of blue heels from Tara, and a Japanese cut from the incomparable LaLa Moon that gave my face a slightly Asian cast.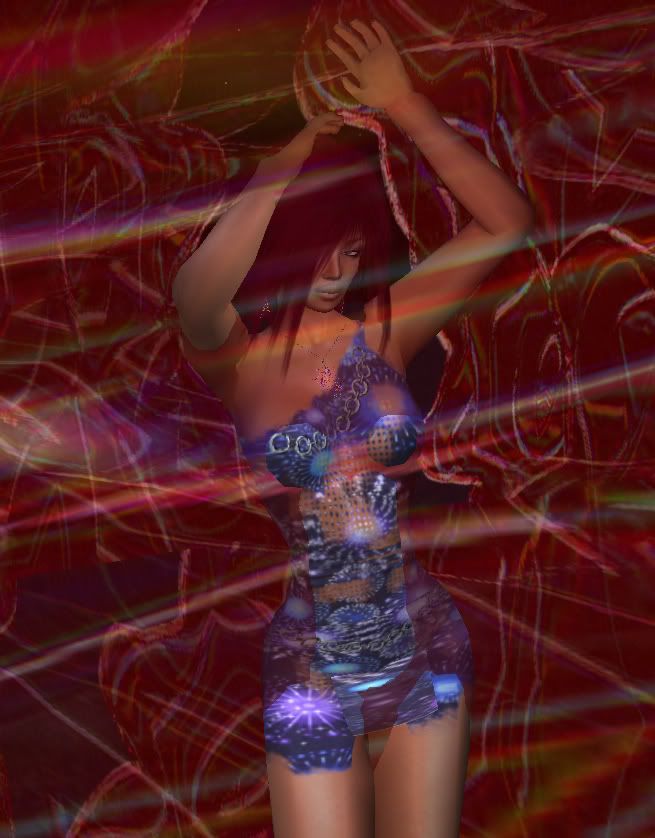 Both the dress creator, Glory Gausman, and Earthstones went out of their way for me on that empty weekend. When I bought the dress, the modesty panel attachment was of the wrong texture. It was bright red. The creator explained to me that this sometimes happened when you moved items to another location, and promptly fixed the problem so that I could wear the dress on the Fourth.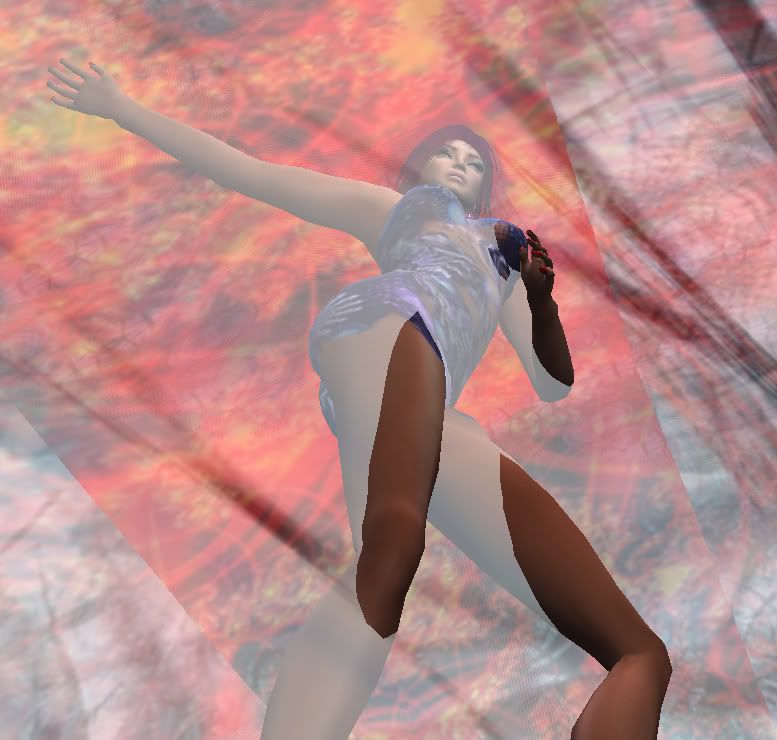 Earthstones was having delivery difficulties due to database issues, so I never got the jewelry after purchasing it, but again, a note card to Jaydie Sapeur brought a prompt response and eventually the items reached me. Thank you both very much for going out the way to help me on a holiday!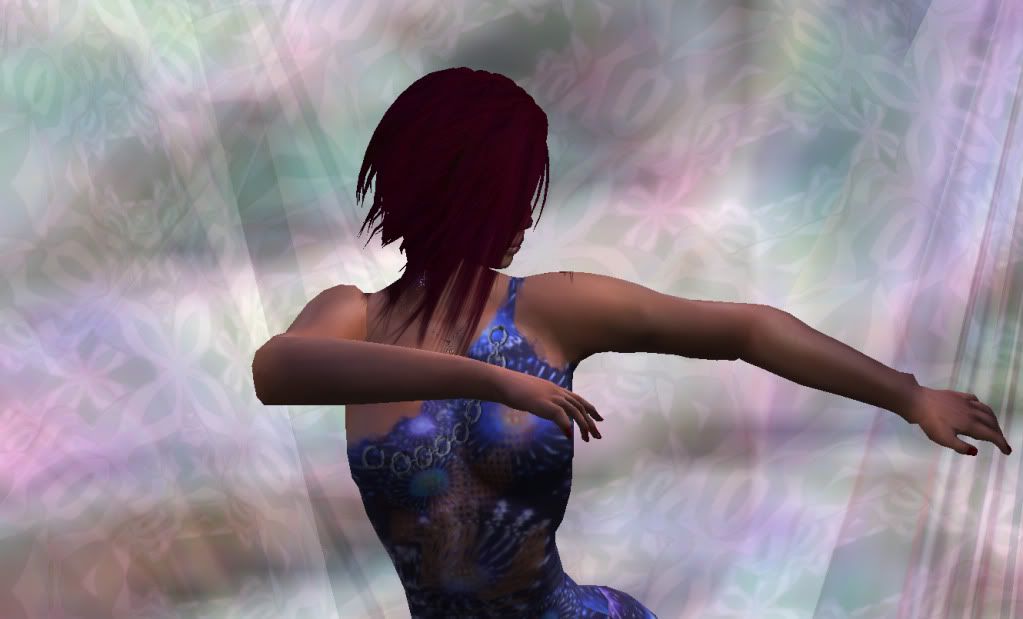 If you want to take part in an Odd ball, you can either vist the Oddfellow Studios, research center (aka the Tunaverse) during the off-hours when it resembles a store, or you can join the group (Search-All-Tunaverse). You will recieve updates on when the twice-weekly shows are. Don't be discouraged by the small size of the sphere-store, by the way. Instead, note the rather gigantic platform it sits upon. ;)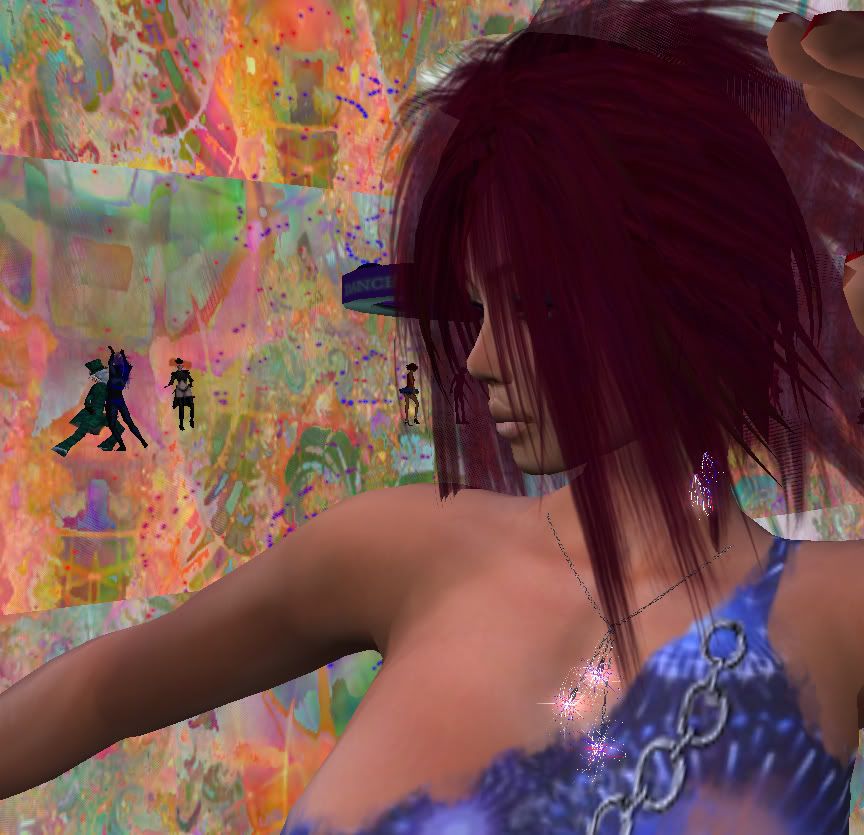 ~~~~~~~~~~~~~~~~~~~~~~~~~~~~~~~~~~~~~~~~~~~~~~~~~~~~~~~~~~~~~~~~~~~~~~~~~~~~~~~~~~~

SPECIAL: AN INTERVIEW WITH THE DESIGNER

GLORY GAUSMAN

I send all the designers of the dresses I feature in the blog a set of questions to answer. As the answers come back I will post them with the dress. Bliss Beningborough graciously responded to my questionaire about her work and about virtual "fashion in general." Here is her interview:

What do you like best about designing clothes in Second life?
The freedom of express my creativity and also the feeling when I see my designs being used by another person here. It's a great feeling when some one likes what you work so hard to make. I do my clothes with a lot of love, thinking of who may use it.

What do you do that is different from other designers do?
I combine my designs. I go out of the traditional box. I express the feelings of the girl next door but at the same time [speak] to the model in each one of us, to the wild hard of the sexy girl and to the tranquility of the hand of our man. It's a combination of feelings expressed through the design in a vision of the mature woman who has lived and knows about life and its different stages of living. This design is simply me.

Can you tell me anything special about the dress featured in my photos? Who or what inspired it? Was it hard or easy to make? Any funny or weird stories about it you care to relate?
I bought my material for the dress in "Sissy's Textures." It was a special market package. I did not know what I would create with it, but when I went home and opened the package, immediately my mind went back to my Fourth of Julys, especially with my family. My brother loved to set off the fireworks and I loved to see him doing so from the window near my home in the Bronx. I was afraid, but loved the color display in the sky. All the good time with family and later my own child, that special feeling of freedom, my admiration and a bit of fear of fire, drew me to that specific pattern and the title followed after I created this dress: an "Explosion" in the sky, just like my feeling on the Fourth of July: both sublimely beautiful and dangerous. An inevitable experience of my own childhood as well as the fact that I do have a son who is going to be deployed next year makes my heart strong and near to all those women: wives and mothers who have loved one in the same boat… an explosion of feeling, that is what this dress is all about.
Unda thinks, "Wow, that was eloquently said. You captured this huge spectrum of complex feelings about the Fourth that many women feel in just a single paragraph."


What do you do in real life? (Work, hobbies, interests, whatever you want to share.)
I was a former wedding consultant for many years. Now I am just a simple woman, mother and yes, a young grandmother giving time to her loved ones and to the career she sought in real life but never has had the opportunity to finish because my child comes first and my dream was put to sleep.

Do you create/sell anything besides fashion or other things avatars wear?
Right now in real life I am retired from business and taking care of my family and my health, but here I do skins for women and men and sometimes some furniture. I designed the entire store myself. My hobby is photography and I'm a Photoshop expert, but of course willing to learn more every day.

Do you have a web site that showcases your wares or discusses other aspects of SL? What is the URL?
My pages are:
http://www.koinup.com/GloryGausmanModel/works/
http://moolto.ning.com/profile/Gloriacortez
http://pixelook.ning.com/profile/GloryGausman
http://www.flickr.com/photos/27656120@N06/
http://www.avatarsunited.com/avatars/glory-gausman

Who is your favorite fashion model in SL and why? And this model need not have worked for you. And it's more than OK to say yourself! :)
Mina Pelazzi. I admire her perseverance and her strong personality which make her win. I also admire her inner beauty: beauty comes from the inside not the outside.
Unda: it's so easy to lose track of that last, essential fact in Second Life, and so refreshing to meet someone who remembers it. :)

What SL creators (of anything, not just clothing) do you admire the most?
The adventures we live every day, the friends we touch along the way, and the dreams we could not fulfill in real life for whatever reason… and here we able to do so, safe and fun in SL.
But i also admire this creator: Sonia28 Jie. She is a great lady, great designer, and my first inspiration here. The other is Helke Duettmann, my former boss and teacher. From her, I learned all about fashion and modeling in Second Life.
There are so many people [who have inspired me] and too little time to mention them all.

If you had one piece of crucial fashion advice you could give to new residents, what would it be?
Make sure you have a least one or two good skins and a couple of good shapes especially ones you can modify so you can put you own personality to the shape (make sure you copy the original before you start to play with it). It's fun and nothing to be afraid of, and you can always change the shape back to the original one.

If you had one piece of crucial advice you could give to experienced shoppers and fashion enthusiasts, what would it be?
Don't be impressed by high prices in Second Life. You can find many [fine] things in lower prices and give opportunities to new designers [by patronizing them]. You'd be surprised by our talents. Be open to exploring those 25*44*55*60 Linden specials. They really are good [promotions] and sometimes bring lots of surprises--or Explosions--of fun your way.
Unda knows this first hand! :D

I am interested in cool places on SL almost as much as I am interested in cool dresses. So I'd like to know what is your favorite public place or event is on Second life, the place you like to show other people? Feel free to expand on why you like it.
Lots of great textures for those who love to create.
Sissy's Textures:
http://slurl.com/secondlife/Paradise%20Landing/128/128/2
This is a great group with lots of stores but I love mostly her "Fifty5 Thursdays" group [search for that name in Groups] where you can find all kinds of special things the day you join the group.

The blog that displays the 55L Offers:
http://fashionalertsl.blogspot.com/2010/06/fifty5-thursday.html
The Group's In-World Headquarters:
http://slurl.com/secondlife/Tera%20Nova/196/205/24
The group's owner is my dear friend Yula Finesmith, owner of Finesmith Jewelry Design, a magnificent store filled with the wonderful pieces she designs. I love this shop:
Finesmith Jewelry Blog:
http://finesmithjewelry.blogspot.com/
Or on Facebook:
http://fashionalertsl.blogspot.com/
Unda Adds: But nothing beats visiting this gorgeous shop in-world:
http://slurl.com/secondlife/Tera%20Nova/196/205/24
I also love the group of Models & Fashionistas Y-DuCk by Xmyaxx Kaliopov. It is fun and very special, too.
Unda: Search for y-duck in groups or visit their blog:
http://xmyaxx.wordpress.com/
And not least, my favorite hair site is Tukinowaguma Hair Styles:
http://slurl.com/secondlife/Tukinowaguma/130/129/21
I also love this one too. I love her hair and the fact that she gives out a free hairstyle as a gift each week:
Alli & Ali Design
http://slurl.com/secondlife/Wonderland%20Beach/128/128/24

Glory Gausman clearly designs clothes from the heart. Please give her your patronage and support.

Current Mood:

giddy
Probably a misleading title. You can't really earn lindens from hunting. But you can gain some of the things lindens buy, by doing so. This is a very long article and is meant for people new to Second Life and/or to grid-wide scavenger hunts who want to become experts at this enjoyable and beneficial pastime. In other words, it's not for everyone.
One of the most enjoyable and profitable ways to get free things in Second Life is to join and participate in one of the numerous grid-wide scavenger hunts that vendors and vendor groups put on for promotional purposes. There is no cost to you--unless, of course, you see other things in the store you want and pay for them. The prizes you get on such hunts are often much more interesting and valuable than the stuff you get at freebie stores. Some are even spectacular. Even the "dud" prizes and things you will never use are of far better quality than the majority of free-store items. In particular, if your wardrobe is scarce or ugly, hunting is a great way to improve it. (Hunts don't just provide fashion items--but they are quite common.) There are things that are useful to know about being a successful hunter--this article lists a lot of them. It doesn't just explain how to do a hunt. It explains how to do one with style and skill.
How to Hunt... in Pictures

Find the hunt you want to do and click the starting SLURL.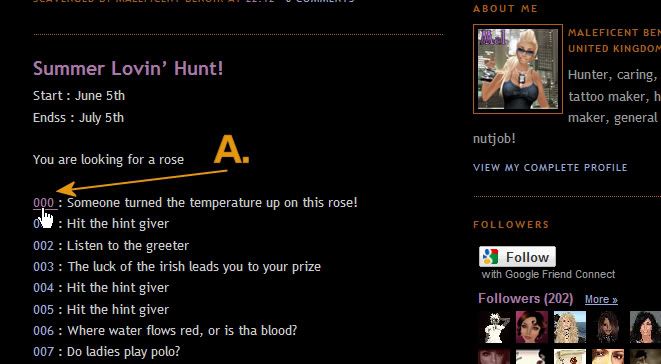 Click Teleport Now.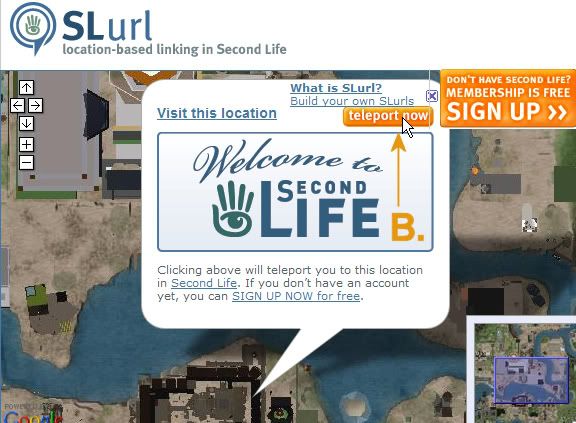 Click "Teleport" on the in-world Landmark.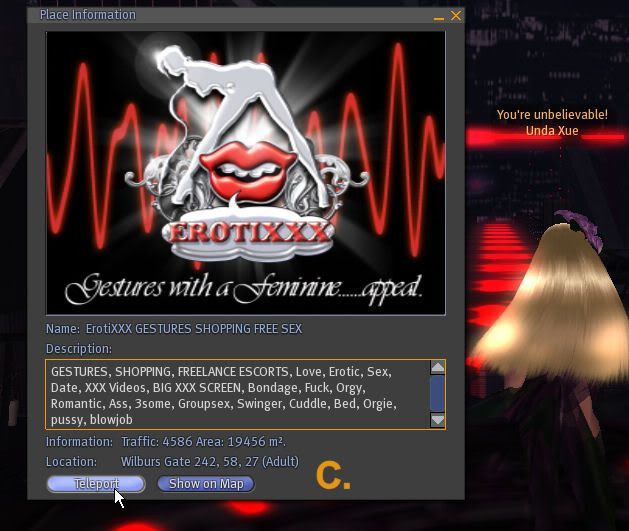 Find the Hunt Sign at the starting location. Then click it to join the group.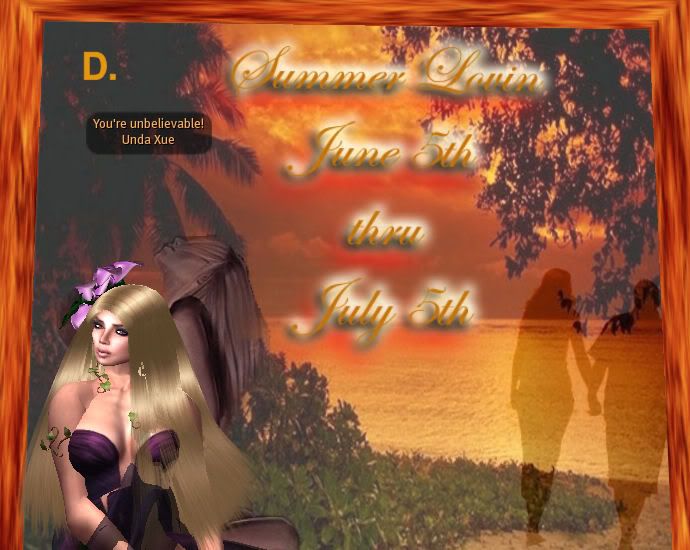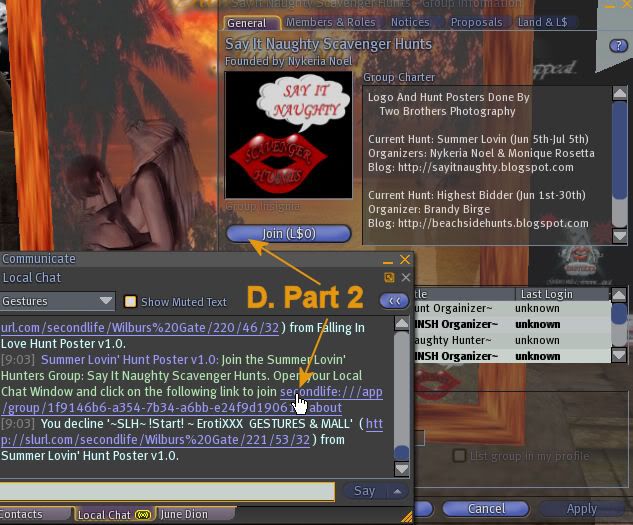 Find the first hunt object in the store.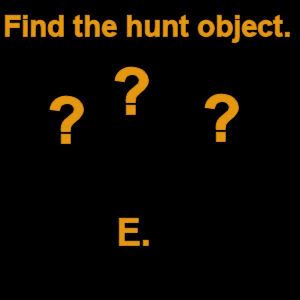 How to Hunt... in a Few More Words
Many people discover hunts when they are shopping around and happen to click a colorful hunt billboard pasted outside a vendor's shop. But if you've never seen one of those, here's what you can do to initially find a hunt.
1. Visit a hunt website. You can Google these phrases to find hunt web sites: "Second Life" Hunts (put Second Life in quotes) or "SL Hunts." Or visit a well-known blog that follows the hunts such as:
2. Select your hunt carefully. There are many hunts going on at any one time. Some may be relevant to your interests, others won't be. Some may look interesting but you might be dubious about the rewards. If you want to know what some of the hunt prizes are, google that specific hunt name. If the hunt has already started, somebody's probably posted blog pictures or a Flicker stream of the prizes. I personally try to avoid this as it spoils an element of the hunt I really enjoy: the mysterious prize objects and what is inside them.
3. Click the link to the first location in the list. It will take you to a SLURL. Now click the SLURL. What's a SLURL? SLURL stands for "Second Life URL." It looks like a regular web link. When you click it, however, it takes you to a Google map for Second Life. A little balloon message will appear over the map saying, "Teleport Now?" Click Yes. Second Life will start (if it isn't already up). Log in. You will see a landmark pop up on your screen. Click "Teleport " on the landmark to go to the hunt starting location.
I really wish we could travel around in First Life that way: Yay, no more jet lag! In the future, if that every happens, I'm sure of one thing: Google Maps will be there.
4. Go to the first location. There will be a big hunt sign posted somewhere: either on a wall or perhaps on an easel outside the store. Click the sign. It will give you information. More importantly, it will paste some links in your "Local Chat" window.
5. Accept and read the information you get. Normally this will include a note card describing the hunt, maybe a link to the hunt blog, and you may also get a landmark to the first hunt location (not useful if this is the first hunt location, but the signs don't know where you are). You will also get a link in your local chat window to a group to join.
6. Click the link in local chat to join the group. Always do this: always join the group. Even if you don't intend to ask your fellow hunters for hints, joining the group will often provide you with additional useful information, such as a note card listing all the links to the hunt places and hints on it. Plus it is fun, when you are well along on a difficult hunt, to give other hunters help when they need it. And... you may need other, non-hint help, like finding out what to do about a store that isn't there anymore or learning which vendors have dropped out of the hunt and that you need to skip.
All groups have a Notices tab. Open your group in-world (via the Info button on your Contacts window's Groups tab) and click the Notices tab on the group's window to see if there are attachments being given with the hunt. Sometimes the note card with the hints is there. Sometimes hunt "starting prizes" are there (not every hunt does those, so don't expect them.)
7. Figure out what the hunt object is. Sometimes the hunt object will be pasted to the hunt sign. Other times it will be described in words. There may be a picture of it on the hunt's web site. It's important to know what your hunt object looks like. Why? So you can find it!
8. Use the first clue to find the object at the first location. Hunt objects tend to be small and vendors are very clever about the places they find to hide them. Not all are hard to find, but often stores are big, so knowing the hint really helps. Usually the first location's hunt object is fairly easy to find, but not always.
Tip: if a store has many hunt posters up, they will generally have an object or a sign (often it is blueish) labeled "Hints." Click that to get all hints for all hunts currently going on in the store. Unfortunately, sometimes finding the hunt hint is harder than finding the hunt object!
9. Some hunt objects are collected by right-clicking on them and selecting "Buy" from the pie. Others need you to left-click on them. And some will come into your inventory as "objects" (in the Objects folder) if you click them the wrong way. You want the item you pick up from the hunt to be a new file folder in your inventory. Why? Because you can open the folder immediately and get the landmark to the next location on the hunt! Plus, you don't have to open and unpack the object later.
10. Follow the landmark in the folder or on your hint list to the next location in the hunt. Search for the hunt object. Rinse. Repeat.
A Word or Two (or Three) on How to Find Hunt Objects
Many hunt objects will be easy to find. A few, however, you may find fiendishly difficult. Here are a variety of methods and tips for finding the harder ones.
1. Walk. Besides "ask the group" this is my best piece of advice: It pays to walk around. You will not always be able to see the hunt object if you stand in one place and pan the camera around, although for an initial reconnaissance there is nothing wrong with that strategy. But frequently the hunt object will not rez until you get close to it, so wandering around the store is a very useful thing to do. (Sometimes the opposite happens: the object rezzes before the rest of the store, but that doesn't always happen.) Walking around does one other useful thin: it makes all the shop items you walk by rez faster and you will be able to tell more quickly if they meet the qualifications of your hunt clue.
2. Walk Close. It not only pays to walk around but it pays to walk CLOSE to things. Even when I'm about 10 feet away from a hunt object, I can still miss it if I'm just camming around rather than almost sitting on the object I'm looking at. Yes, get that close. It helps.
3. Object Appearance. Don't assume the hunt items are all going to be the same size or the same color. Some store owners change the color of the item and its size on purpose so that they can "blend it in" with another item or a display in their store, making it less easy to find. If the store is very small and you've searched everywhere, or if it only has one obvious object that perfectly meets the hint qualifications, then it's likely the hunt object is "blended" into the clue object. Again, what reveals this blending is getting close: as close as you can with your avatar (don't forget you can fly) and then cam in close to the object or turn on wireframes (see below for how).
4. Use the Hint. Try to figure out what the hint means before you start to search the store. Having an idea that you need to look for a bathroom can help you to not search fruitlessly around the miles of sofas. If you don't see anything in the store that resembles the hint (for example, the hint talks about a tree but there are no trees in the store), try to find a teleport to another area of the store, maybe the roof, maybe a secret room. It could be your tree is in one of those places.
Thinking about the meaning of a hint is crucial in those large outdoor shops with yards and yards of stuff in every direction. Walk those places, don't just cam them. Don't worry if you don't know which way to walk. Just choose a direction and go. Ideas will come to you about the clue when you walk around and see things rez.
Finally, some places just will not have a hint. If the object is also hard-to-find, well, that's what the hunt group is for. The people further along in the hunt will be able to give you a good clue, usually.
5. Teleporting In. When you enter a sim via a landmark, nine times out of ten you are going to be pointed in the wrong direction with your back to the place you came to visit. This only is confusing in large malls, where there is a store directly opposite you. Let things rez then turn around and go into the store behind you, particularly if neither store has an obvious hunt sign.
6. Things Change Over Time. A month--the typical duration of a hunt--is a very long time in online terms. It's similar to a year or two in real life, and that's plenty of time for things to change. If the store is empty or gone, check the abandoned structure or lot to make sure the vendor didn't leave the hunt item there. Look for a teleport link to the store's new location. TP to the new location and try to find a hunt sign. If you don't see one, If you don't see one, you can save yourself some trouble by consulting the group at this point. Someone ahead of you in the hunt will usually know if a moved store is still doing the hunt or not (and where it moved to if there is no teleport sign). It's typical for several vendors to drop out of a hunt for various reasons.
7. Helpful Hunt Settings.
Turn your time of Day to midday (World Menu - Environment Settings - Midday).




Open the Edit Menu, choose Preferences, choose Graphics, choose Custom. Turn your object bar all the way up.




Open your Advanced menu (Don't see it? CTRL-ALT-D). Choose Debug Settings. Open the drop-down and select rendervolumeLODFactor. In the number or value field, type 4000.
8. Wireframing.

Note: Some people consider this method "cheating," but it's certainly not foolproof--it still requires walking and camming.

Try looking at the world in a different way. Turn on Wireframes and then cam around, looking for an object shaped roughly like your hunt object.
Go to your Advanced menu. (CTRL-ALT-D).

Mouse over Rendering to open the submenu.


Select Wireframes.
No, you are NOT in the Kansas Sim anymore, Dorothy! When you select this rather fun option, everything (including yourself--which is kind of icky), all the textures turn off! Everything turns into hollow transparent three-dimensional objects, surrounded by the thin lines or "wire frames" that make up their shapes. Cam around in this bizarre hollow world formed of grids (it's hard to walk much in this view without bumping into walls or falling off 10-story buildings--which doesn't hurt but is a tad bit embarrassing) and look for a tiny discrete object shaped something like your hunt object. In a store holding many hunts, you will often find other hunt objects this way.
Wireframes view may not work if it is a large store and you are too far away from the hunt object. But it is kind of fun to look at things in the wired world. It's still several layers up from the zeros and ones of the Matrix, but you still feel like you're in a cool, "developer land." I suppose if you kept this view on all the time, you'd learn not to walk off the tops of buildings--but you might start to suffer from strange personality disorders. :/
To Turn Wireframes Off: do the same thing you did to turn it on. Advanced Menu. Mouse over Rendering. Select Wireframes.
9. Read the Words. Sometimes a vendor will have an advertisement that contains words used in the clue. If the object isn't obviously in sight, you need to let everything rez, and then slowly read each product names on the displays, searching for your clue words. Patience, Grasshopper!
10. Watch Other Hunters. Watch for the little laser dots to come shooting out of their hand, and watch where it points to. This is another technique that is sometimes considered cheating but, like wireframing, who exactly is going to catch you at it and accuse you of cheating? Just don't go boasting to the group about it or you may annoy the people who are being watched and they might try to trick you the next time you peep. I had one hunter follow me around for at least 10 teleport stops, this way, watching my every move and clicking where I did. It got rather annoying so I made it into a game: I tried to find the next object before she had a chance to rez there. ;) The fact is, that some of the hunters will know where to look or will find the object before you. I personally use this as a last-ditch method, because it feels like a fail to do it. YMMV.
Tip: A sometimes-fun way to do a hunt when you have the full list of sites available is to start at the last hunt location and work your way backwards. There is a lot less "traffic" this way and you won't find yourself in a large group of people all slowly teleporting to and rezzing in the same spot. On the other hand, if you are a more social animal, you may like having your group there in person with you as you hunt. If I am hunting alone, I will often chat with other hunters in the same locale as myself. It gives me something to do besides just hunt, plus we can share tips, hints, and funny stories about visited locations.
11. Big Areas Can Be Clues. In a very few very large stores, a single object isn't your clue. One entire room or display area in the store is your clue! Furniture stores with alcoves displaying furniture suites are a good example of this.
12. Come Back Another Day. This is a brilliant technique that I use with great success when I am totally stumped. Sleeping on something lets your very observant unconscious mind go to work on the puzzle. Your unconscious notices a lot of things that you do not. Often when I've spent almost an hour looking for a hunt object with no success and then come back the next day, boom! I find the object in a few moments.
13. Don Yon Hunting Clothes. At the time this article was written, wearing lots of HUDS, facelights, and, in particular, shoes/hair/jewelry with scripts in them made teleporting in SL slow to impossible. If you've noticed this happening to you, well, the worst place for it to happen is on a hunt, where you must frequently teleport. It can be very trying. Try wearing something simpler or "lite," with less scripts. Huds do not give me nearly as much trouble as the shoes, hair, and jewelry does.
Again, you could make a game of this if you chose. Dress like a newbie--and, if you really want to get into the role, drag out those freebie items from 2004 (yeah, I know, the skins--shudder!) and dress like a very unfortunate newbie. Your perspective will change when you aren't your normally gorgeous self. In some ways it is nice to be new again: people approach you more and offer you advice or free things to help improve your appearance. :D Of course, if they read your profile and see the link to your style blog, things may get a bit difficult to explain...
14. Hunt With Another Person. Two minds really are better than one in these things. A different person sees things differently and they will see what you don't whereas you will see what they don't. Hunts go much faster with a hunting partner.
15. Expect the Unexpected. Some vendors are quite playful. They may put a mini hunt inside the big hunt. If a note card pops up when you click the hunt item, read it. There may not be a prize in the hunt folder--the note card may be giving you a clue to the new place inside their store. A few vendors in some of the more "intellectual" hunts may even give you trivia quizzes you have to answer in order to get the prize! Luckily, with Google nearby, this is usually easy to do. A few truly devilish stores (Note my carefulness to not name names--although I would rather like to. ;) ) are masters at trickery and disguise and may even subject you to the occasional drug trip or a hypnotic optical illusion or even a forced march through a lit cigarette. Sigh. It's sad what hunters must endure at times to get the prize!
16. Ask the Group. Yes, suck it up and ask the group. Everybody has done this. There is no shame in it. It's like asking for directions. Tell them you read the clue and it did no good. Good group members will give you further elaborations on your clue--or an entirely different clue. Some will come out and tell you where it is (but that is considered bad form). Some kind souls will come to your location and herd you in the right direction. To feel better about this, be sure to help someone else who starts the hunt after you.
17. Tricky Hints. sometimes hints are misleading or you do not interpret them right. Everybody thinks in a slightly different way, and that includes the vendors who make these hints up. Sometimes they are just wrong--the shopkeeper moved the item without changing the hint. Sometimes the hint refers to a cultural experience (like a book you haven't read or a song you haven't heard) that you will miss. I don't watch television so I do terrible with the TV-show hints. That's why you ask for alternate hints in shops that stump you. Try not to over-complicate the original hint. In most cases the hint means just what it means. If it doesn't make sense, try to find something in the general ballpark. For example, "clean" generally (not always, but in most cases) means look in a bathtub. In the kinkier places, it might mean look for a French Maid's uniform. But seldom is it more complicated than that.
Tip: Sometimes a hint will have nothing to do with where you eventually find the prize. Be prepared for that. It can happen when the creator thinks people are finding the hunt object too easily, moves the item to a different spot in the store, and then forgets to change the hint (or you rely on the list hint and don't check the one in the store ). Or sometimes the creator just wants to redo their shop and doesn't realize the effect this has on the hunters. Some vendors warn you that they do this (shift objects and change their hints), but many don't. These vendors are being unconsciously tricky, I think!
Sometimes, though, this occurs because there are two items that fit the requirements of the hint, and you are stuck at the wrong one. You know what to do by now: check the in-store hint, if there is one. Then ask the group.
18. Perspective. Do you really want the prize at this place? Maybe the store sells a type of thing you will never use (like furniture if you have no plans to buy or rent housing or an art store that sells art you'd never hang on your walls). If it's also very hard to find, just pass it by for now, and don't frustrate yourself. You can always come back to it later, if there is time. Remember, OCD is seldom fun. :/
19. Mouse Look. Learn to use mouse look (this tip came from another hunter). I find mouse look awkward to use--basically the camera follows wherever your mouse moves, but some hunters swear by it as it allows you to zoom in close to objects. There's a mouse-look option on the View menu.
20. Camming Tips: Stop after several paces and use your camera to look up high, down low, behind things, under things, inside things that are meant to hold other things. Here is my checklist of "places to look" when hunting:
Go outside the store or around the entrance just inside and check around the hunt sign. Very occasionally, a vendor just dumps the hunt item on the ground by the sign.




Watch for items you can open: wardrobes, desk drawers, boxes, chests, coffins, refrigerators, large globes that contain liquor. Click them to open them. "Inside" is a favorite hiding place. On most hunts though, it's not considered good form to hide the hunt item inside something that cannot be opened.




Look on the tops of shelves or on the upper edge of the display posters on the walls.




Step about ten paces into the store and then turn around and look at the wall and door behind you. Look high. It's a favorite hiding place.




Look on the ceiling in the corners or under the rafters.




While you are up there, examine the light fixtures very carefully. Cam above that chandelier and look down. Now cam below it and look up.




Always check out the roof. You have to go there, usually, to do a good search. Stores sometimes have interesting (like a bargain store or demos of large objects or a pleasure dome) on their roofs. And they often hide their clues there. If the roof is empty, it is not likely to hold hunt objects.




With beds, looking under them is a given. Also look behind the pillows and behind the headboard.




Is there a small, closed-off room somewhere in the place? A closet with a closed door? A sauna? A darkroom even? Open the door and enter it. It's a perfect hiding place.




Always look under the stairs. And not just on the floor under the stairs.




Look on the sides of shelves or furniture. look between the furniture object and the wall. If there are long rows of ads, look between the rows (there is often a space) and at their edges. "Behind" and "Between" are favorite hiding places for hunt objects.




Look in the corners. If there is an object in a corner, very carefully look all around it, especially behind it. A fireplace in a corner is a little tricky. You have to get your camera above it and then look straight down, both behind it and in the flue.




Look inside deep bowls, vases, urns, and the like. Look inside fireplaces, not just in the flames are but against the inner side walls. Sometimes the object is not visible in there until you put the camera inside it.




Look very closely at product pictures. Sometimes the object is inside the picture, so carefully blended in, that you will not spot it unless you are quite close and zoomed in on the picture. Of course you can't always look at every picture, especially if it's an art store and there are hundreds of images. But try to look very closely at the ones that seem relevant to your hint.




Look under the furniture to see if the object is "pasted" to the bottom of it.



Do all of the above when looking at nearby items, not items far away. Stores can be deceptively big. With their huge display posters you can imagine them as smaller than they actually are.
Remember the Sacred Rule of Successful Hunting: Thou Must Getteth Close!

Advice to Fellow Hunters For A Pleasant Hunting Experience
1. If you're not enjoying yourself on a particular day, don't do it. Some days you just don't feel like hunting. You want to go out and dance, or explore, or have fun in some other way. Hunting should be fun, and not a job you feel you have to do. It is easy to get caught up in a sort of obsessive-compulsive groove when you hunt, and that can make it not fun. Try to shake loose from it for a few days if you feel that happening.
2. As you hunt, plan your next hunt. A store usually enters more than one hunt: for a store, a hunt is kind of like a tattoo or a potato chip: it's hard to stop at just one. You will see hunt signs posted in some prominent place. Click the signs to get info about the hunts and read the note cards later to decide on your next hunt. Maybe there will be one that appeals to some special interest of yours or that promises to have prizes of a type you really want. Hunts come in all levels of difficulty. If you are looking for a challenge, try the Twisted Hunt (very hard) or the Steampunk Hunt (very creative hints) some time. Or try one of those hunts that does not give out any hints, they just give you a list of stores.
3. As you hunt, keep your eyes peeled for all the other ways to get free stuff in stores. There are so many promotional methods. Some stores will have Midnight Mania boards or Slap-n-Dash boards. Click them even if you do not want the prize--you can always delete it and it helps your fellow hunters who DO want that prize. Others will have free gifts, sometimes for all, sometimes just for group members. So join the group, get your gifts, and then leave it if you want. Often there are benefits to staying in a group whose vendor sells things you like. You will get more free stuff. Some stores will have lucky chairs or boards: check for your first name's letter. Others may have camping chairs. And there are many other promotions. You will likely find other hunt objects as you look for your own. Good! More free stuff! Sometimes it is very funny (although also frustrating) to count how many other hunt objects turn up before you find your own hunt's.
4. If you see something you really like in a store, and you have lindens to spare, buy it. It's a treat for yourself and It tells the store owner that their hunt strategy is working and that it does pay off to put on hunts and give away valuable items. Everybody wins.
5. Men: read the hunt description carefully before starting it. Sadly, hunting, like Second Life shopping, is largely a woman's game. A few hunts insist vendors provide either unisex items or prizes for both men and women (and I really hope more hunts take up this practice!) but as of this article's writing, hunt prizes are biased toward women. Sometimes you can tell by the nature of the hunt if it will have something you want . A few hunts are obviously clothing hunts just for male avatars. But do read the fine print. A hunt called "Fashion Followers" is likely to have nine female outfits for every one male outfit. It's a shame this is so, as I'm sure many women would enjoy having male hunters in the group with them, but it does reflect the Second Life vendor economy in which the majority of clothing made and sold (and bought) is for women.
5. Be a good hunter. What does that mean? Many things. First and foremost, don't bother the vendors or their personnel for hints. Your hunt group is for that. Don't just take from these people. Give back something. Help your fellow hunters out when you feel moved to but don't blatantly show others where the hunt object is: give them a different sort of hint that will also help them find it. Don't just read them back the hint from the blog or note card. Nine times out of ten, they wouldn't be asking for help in a group if the hint on the blog made any sense to them! Don't say anything rude or mean about the store in public, and that includes in the group. You make all hunters look like spoiled, selfish, greedy brats when you do that, and make it less likely the vendor, who is often lurking in the hunt group, will want to do another hunt. Don't be rude or crude on the group, even if others are. And once in a while, if you do have lindens, buy something in a hunt store. Don't be cheap. It's like tipping an entertainer at a club: you show your appreciation for that store and their hunts in this way.
And for heaven's sake, DO NOT EVER start the hunt on the very last day, and then greedily ask your group for a hint for every other store. And then, when someone is gracious enough to reply, don't ask again and again for half a dozen more hints if the first hint given is not totally obvious to you in two seconds flat. People are smart: they can tell when they're being used, usually. Do not insist that someone tell you the equivalent of: "Look in the blue vase at the top of the stairs ten paces to the right of the stairway." (That's not a hint, that's a dead giveaway.) This sort of behavior (which I observed recently on a hunt I was on--surprisingly the hunt members put up with it) will get you remembered as a rude, lazy, annoying hunter just in it for the free goods, not for the fun of the hunt or helping others out. Hunting is a small world: some of the same people who did the hunt in which you behaved badly will be on another hunt that you try. They will be a lot less likely to help you out in the next hunt, and if it's one of the more difficult ones, you're going to need that help to finish it. In some hunts, the hunt management might even boot you for that sort of rude "gimme gimme" behavior.


How To Know if You're In a Bad (Disorganized) Hunt
1. Neither the hunt sign nor the website shows you a picture of the hunt object.
2. Despite the hint, the hunt object is very difficult or impossible to find at the first site.
3. It's early in the hunt, but the group is very, very quiet.
4. Not all locations have clues or hunt signs, or both, or not all locations are even there and there is no explanation why or instructions to skip them.
5. The hunt organizers or participating vendors spam you. One notice once every day or two is perfectly fine. But if you get constant notices on the hour, you're in a vendor promo group thinly disguised as a hunt.
6. A band of vampires--no, make that Goreans--jumps you the moment you enter the first store, and drags you off to their lair.
More hunt hints?
MORE HUNT HINTS!
Please post in the comments, if you have a good one.
Current Mood:

creative
(the last day for this famous SIM is June 30, 2010)
I materialized amidst what seems to be a huge hole in the ground strewn with gigantic dinosaur bones.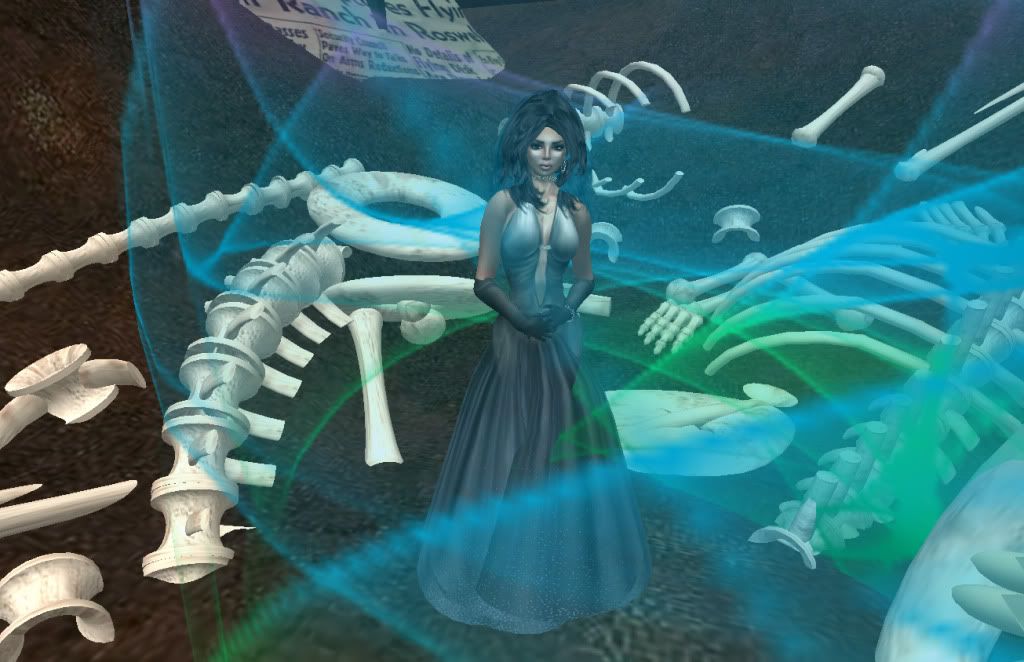 And also gigantic newspapers.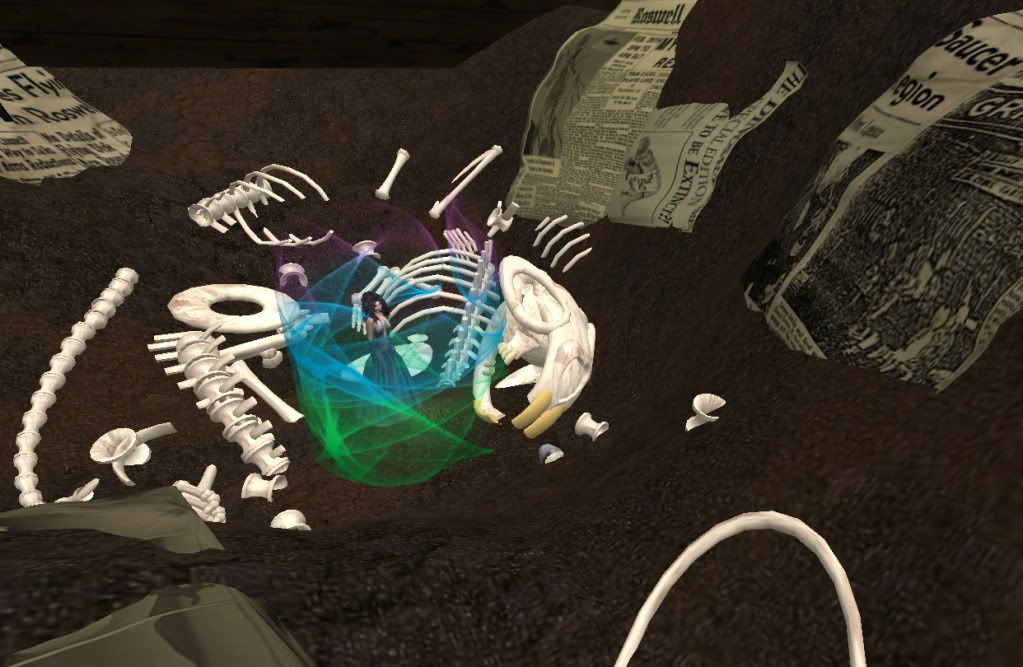 I remember the wonder I felt when I first found this place, when I was new to Second Life. Actually, at first I didn't feel wonder at all. I looked around the dirty hole and thought, "Where am I?" and "Is this IT?" Back then, I was struggling with creating a look, struggling with learning the interface, struggling with the controls, and feeling very much like an ugly duckling. I knew no one, had been jeered at several times for my ugly look, and was very close to saying to hell with Second Life and never coming back, the way I expect a lot of newcomers do. I am stubborn and I stuck with it, but places like Greenies gave me hope. Hope that there was more to Second Life than just appearance contents and high-schoolish cruelty toward clueless newcomers.
So I wandered up this rabbit hole, back in 2007, wondering where this dirty little tunnel was going to lead and why people raved about this place. And finally, I emerged from what looked like a jagged hole cut in a wall into this gigantic room. The scale was unbelievable. A common chair was as high as a multi-storied building and the light fixture was so far above me that it might very well have been the sun.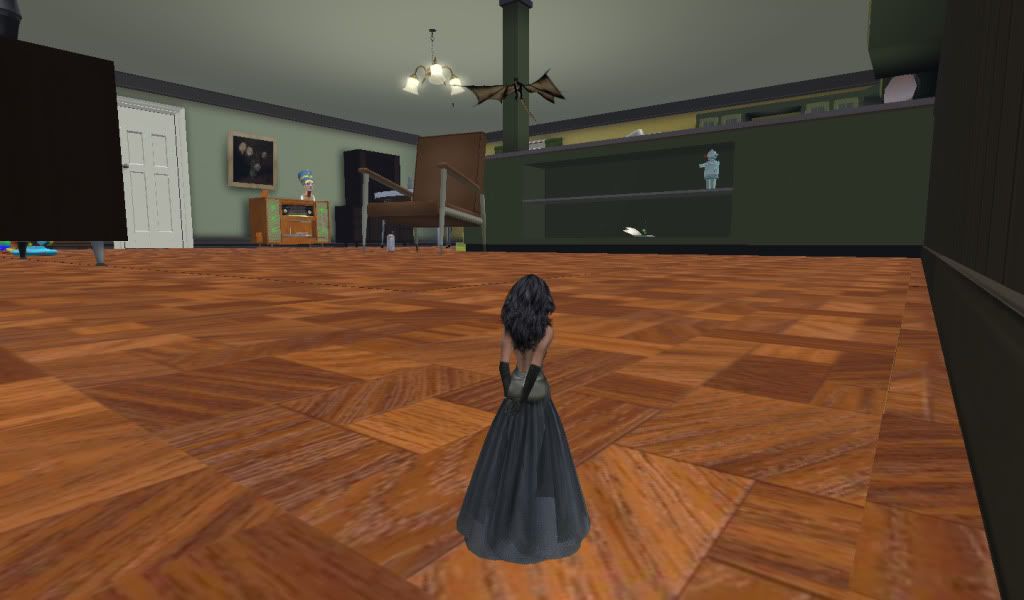 That is, if I hadn't been able to fly. Back in 2007, I was so new, I often forgot I could fly, but exploring Greenies made that mandatory. Before I show some more amazing Greenie's pictures, let's talk a little about the dress. I wanted to say goodbye to Greenies before it closed, and what better way to do so, I thought, than in a lovely green dress. Green... green... what did I have that was green? There was this Grecian-style dress that looked lovely...as long as I wasn't wearing it... Nope, not that one. :/ But I remembered that the same designer had made another dress, a fabulously sexy one that was also green, and I had picked it up last month on SLExchange. So I dug her name out, found it in my inventory, and doffed it.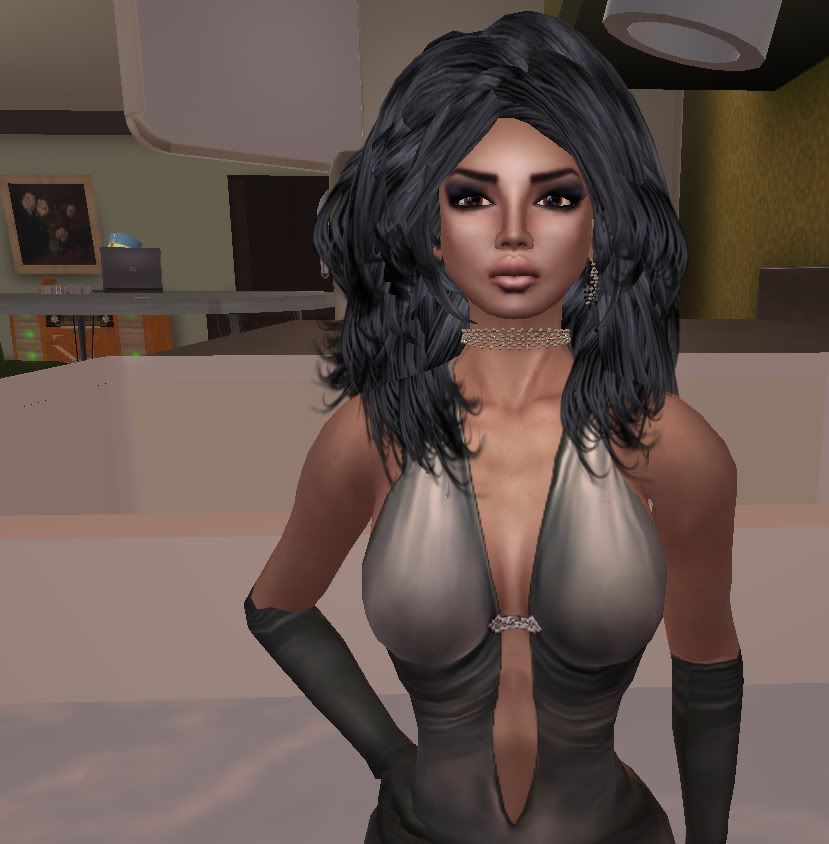 To my great surprise, it was not green. Oh man, did I buy the wrong dress AGAIN? (holds finger-gun to head). Actually, it was the only one of this type she sold. It's just one of those neutral-colored dresses that pick up the colors around them, and the sales photo must have been shot in a green-lit environment. I decided to stick with it, as it had other "redeeming values."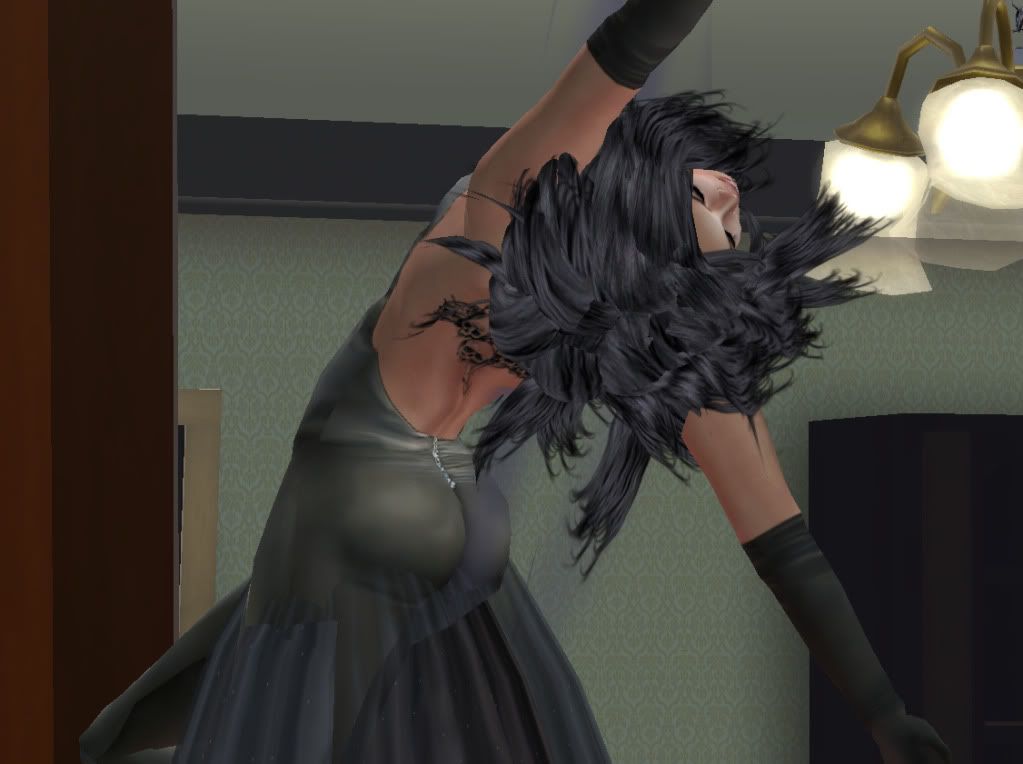 Or not. I suppose it depends on what your idea of "redemption" is. ;)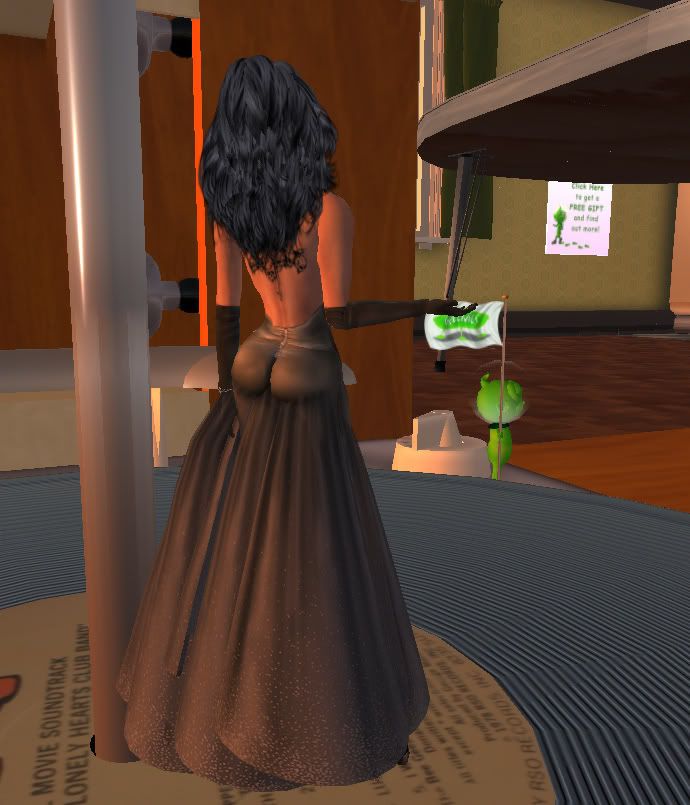 Anyway, I not only liked the dress's look but for some reason it also made me feel nostalgic and a little sad, which is what I also felt when thinking that the SL mainstay, Greenies, was going.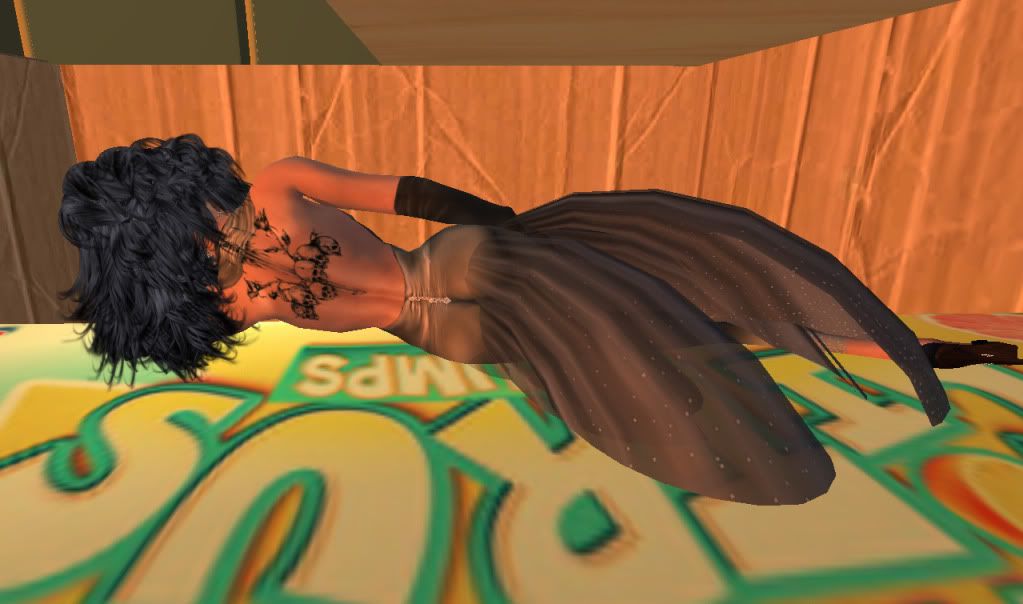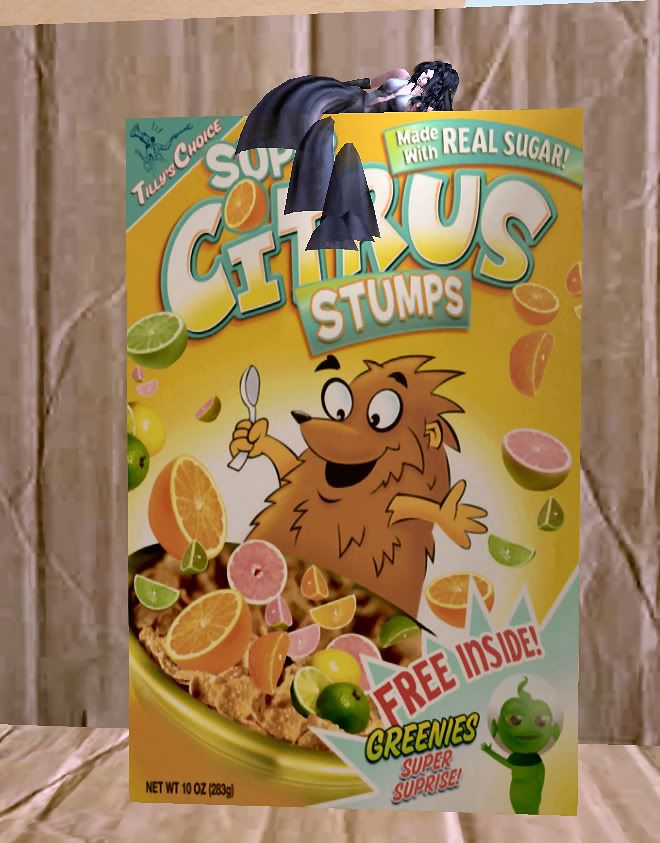 Virtual Life is very strange in many ways, and one of the strangest (as well as the one of the hardest) things to get used to is it's ephemeral quality. Things are never permanent in virtual worlds. They shift and flow and ping out of sight. Nor are they in our real(er) world, but the pace of change is much slower "out here" than it is "in there" so change is easier to accommodate and grow used to. You get used to a virtual "place" being there or being in one spot in the metaverse and then ZING! suddenly it's moved--or entirely disappeared. You get used to certain virtual people, the avatars you meet and the individuals behind them, always being there, too, but they are even more ephemeral than the places, it seems...
(shakes myself) Anyway, there's a reason why this giant house is/was called Greenies. There are no giant humans around. just their pets, but the place had, at some point in the past, been invaded by...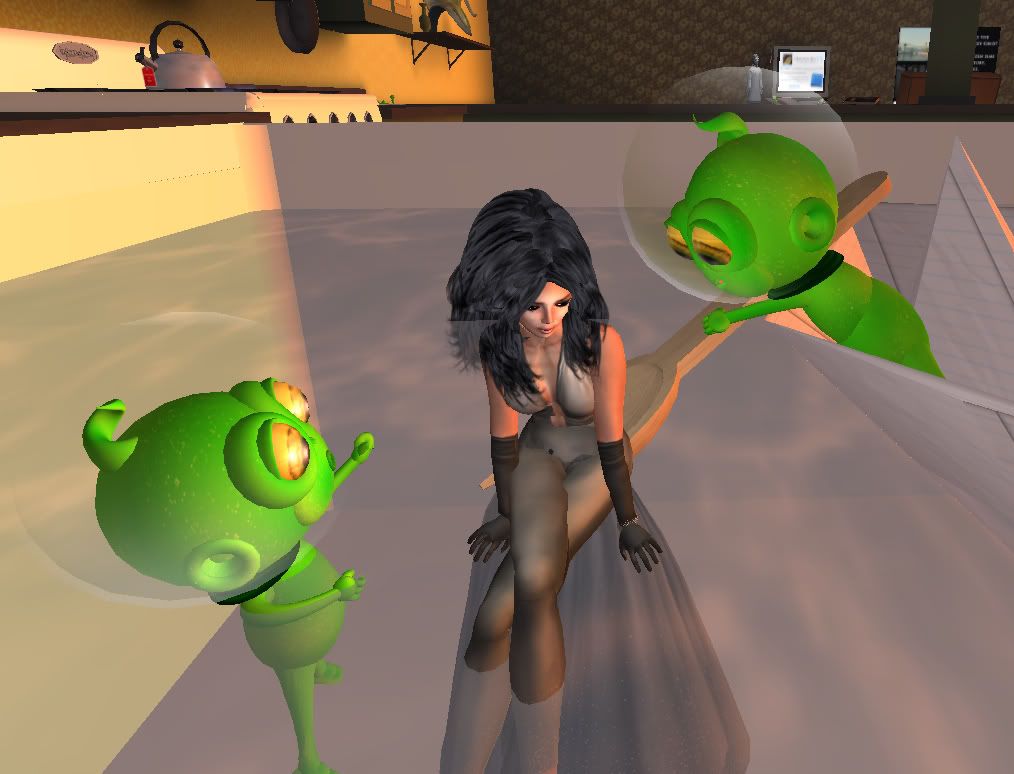 ...Little Green Men. :D Wearing space helmets, of course. Everywhere you go in that house you encounter them.

In the toaster: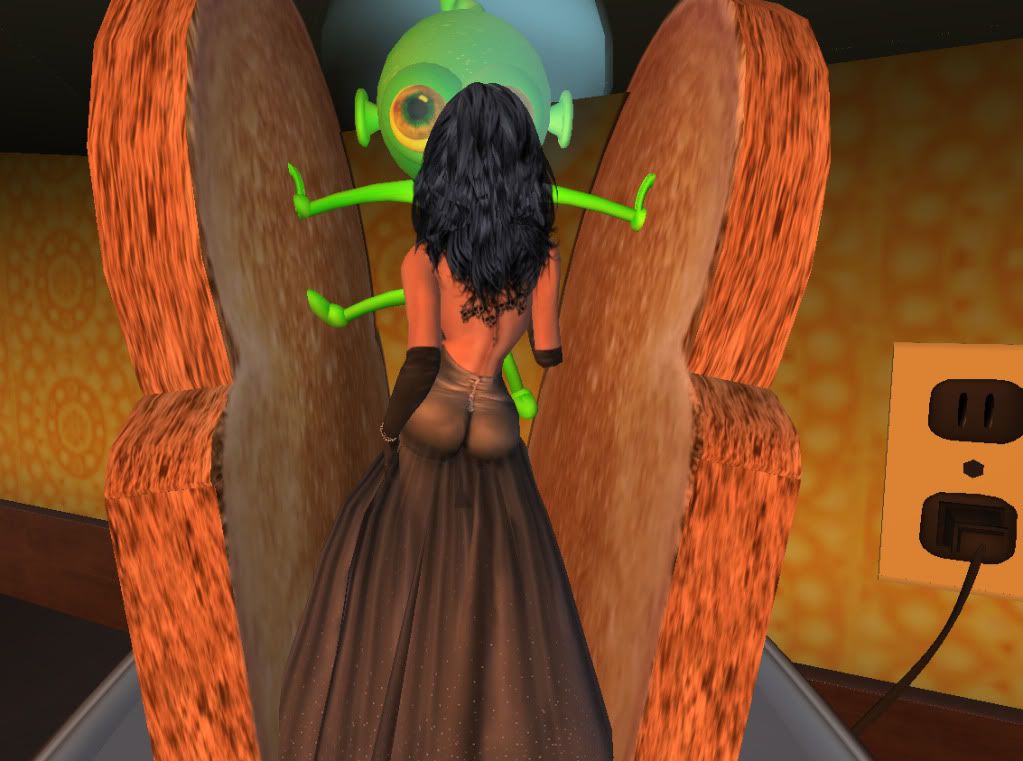 In the cat kibbles: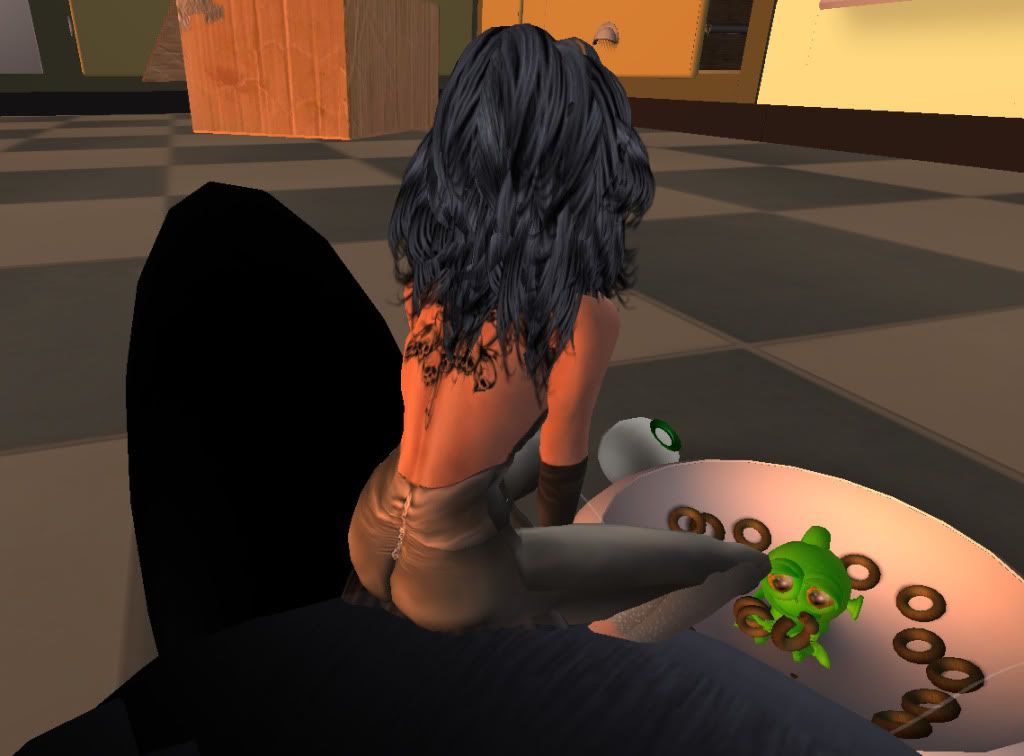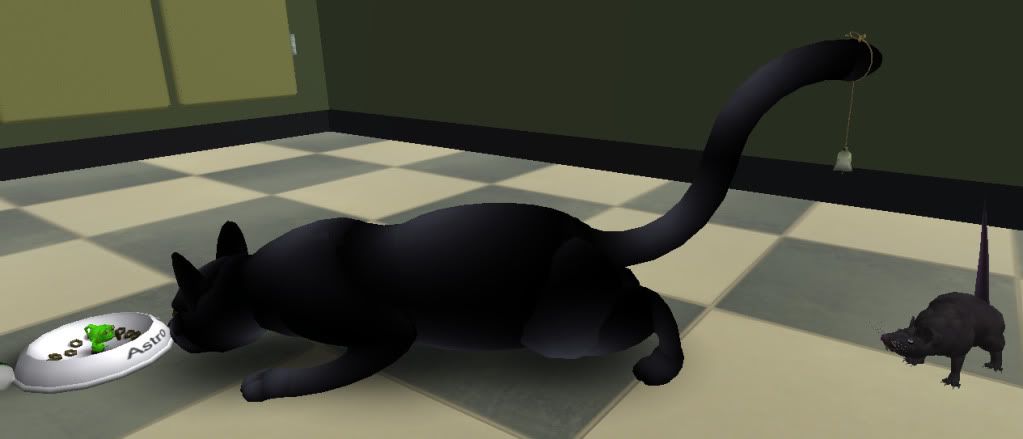 Getting drunk...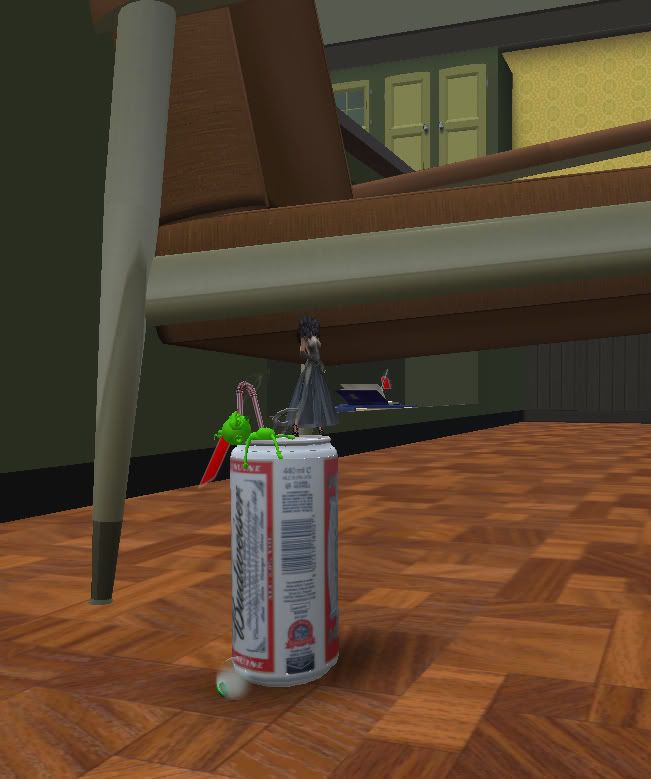 Even in a secret drawer, riding "Mother's Little Helper." (Yes, I know I'm staring rather intently. I've got something of an exobiology...jones.)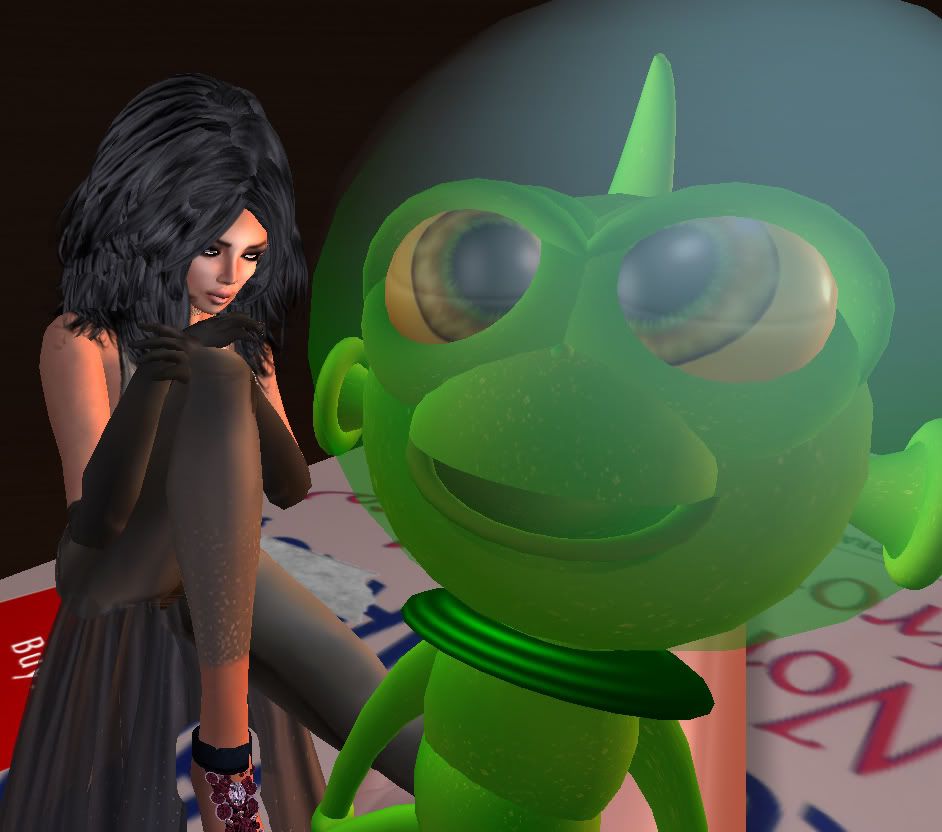 The book we are all perched upon, by the way, is, quite appropriately, "Men are from Mars, Women are from Venus."
Alas, this will all be gone by the end of June 2010. Greenies, Goodbye.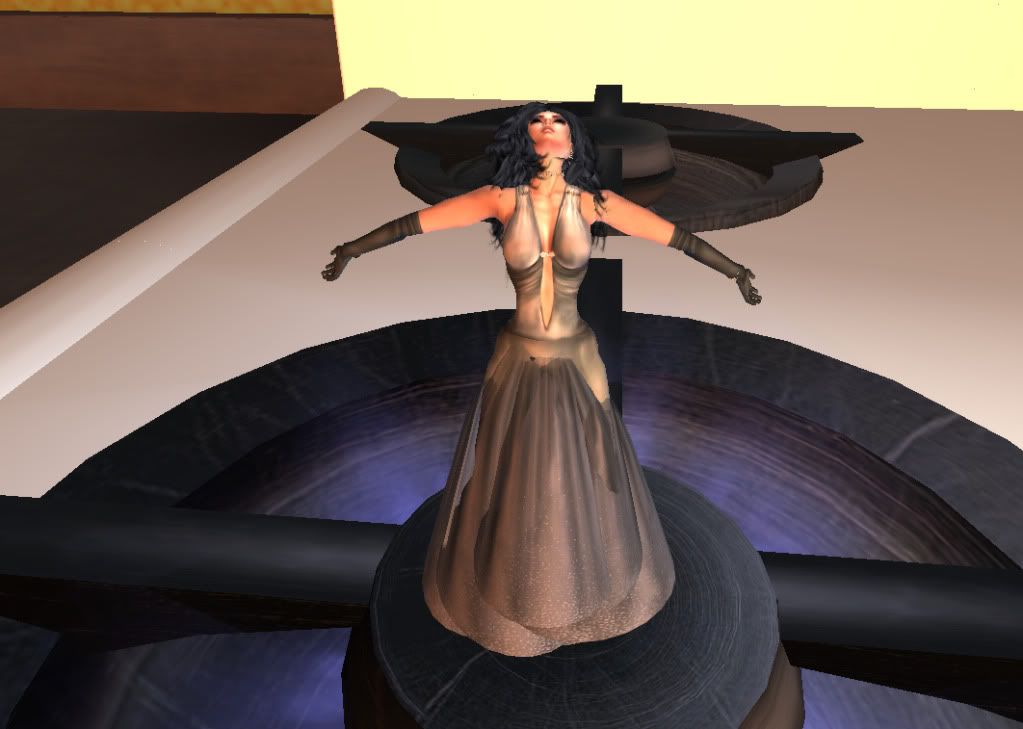 I will miss you, as I miss every place and everyone who passes from my life. And I will remember you, at first with pangs of loss; later, I hope, with happiness at the wonder and joy you brought brought an ugly-duckling newbie, who wasn't sure she belonged in such an ugly, commerical, and, at times, heartless world.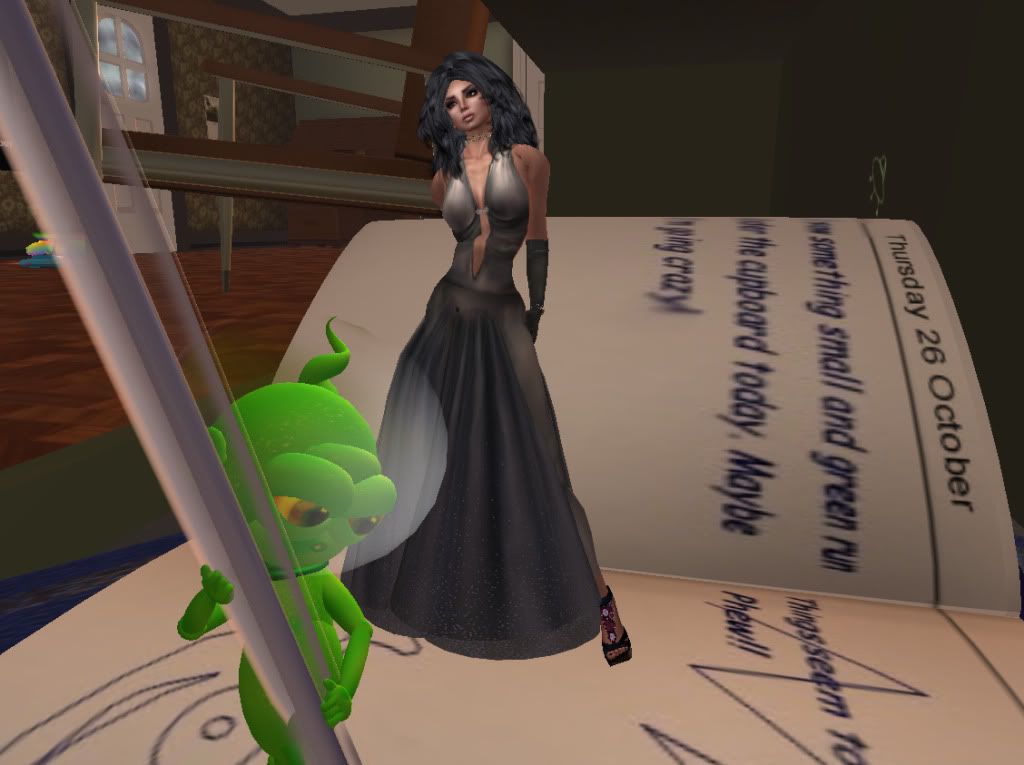 ...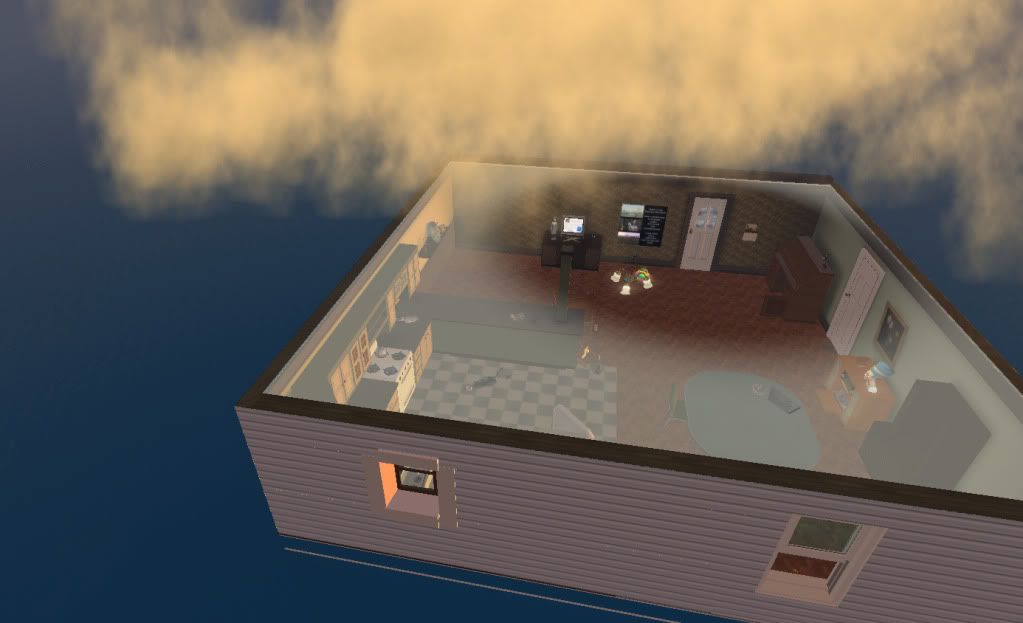 Current Mood:

melancholy
I am writing these words on June 26, 2010. If you are reading these words many moons later, these skins may be long gone--but it never hurts to check!


When I was new to Second Life, and I discovered there was this thing called a "skin," my initial skins came out of the massive "boxes of everything" in the huge freebie stores. Many of these skins were from 2003-2004 and quite a few were hideous beyond description. But I didn't have money and I thought this was all that was available for newbies, so I donned one, made homemade changes to my also-hideous free shape, and considered myself lucky.

Much later I discovered camping for goods (not as much of a practice as it used to be) and competing for lucky chair drops, but I have a busy first life, and seldom found the time to do those things. I eventually just bit the bullet and bought a skin. My first skin was a lovely one: Nefertitti by Beauty Avatar. I still wear it at times, it makes nearly every shape I wear look good.

(Whoops! Did I just tell you the name of a skin I wear? --bitch slaps self-- Oh well, the pixels are on the screen. It's too late now. :/ Sigh. I so like being mysterious.)

Speaking of which, all of Beauty Avatar's older skins are being sold for ridiculously low prices. Skins that used to cost $900L each are now $10-20L a pop. You can find them at Glam Affair, the new Beauty Avatar outlet, which has a new set of very expensive (and very lovely skins) to sell for the old prices. Yes, they are a little bit old these days, but most are far more stunning than you'd ever expect a 10L skin to be.

But back to the 1L skins. They are at A Piece of Candy, on the second floor. Like Beauty Avatar's, they are a bit old now, but their quality is that which you find in many 100-400 linden skins today.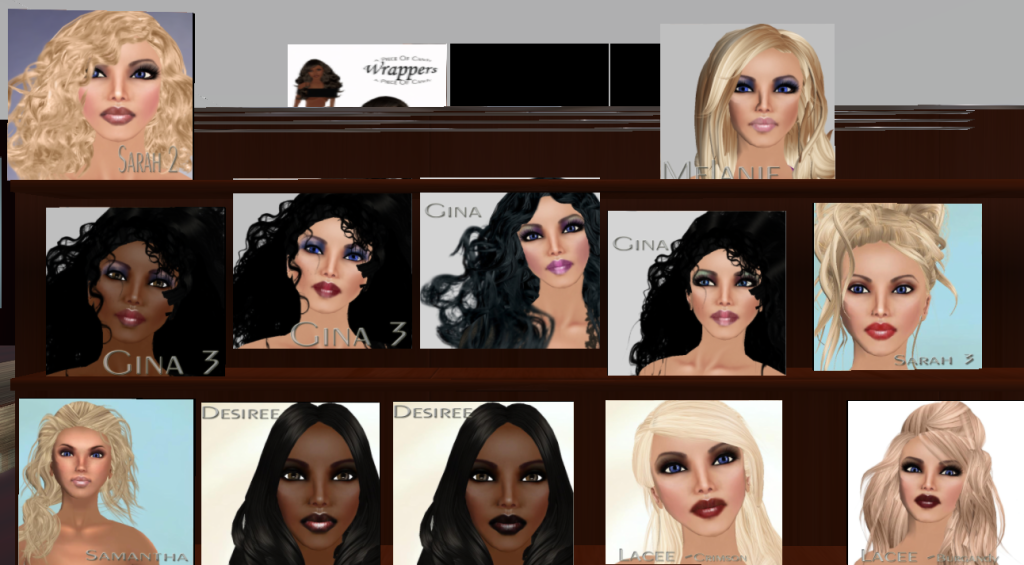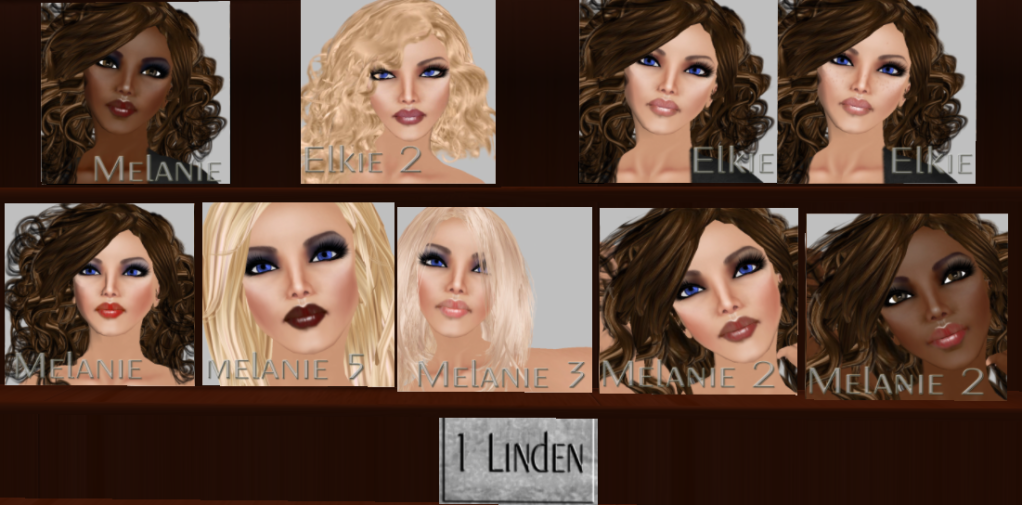 The worst drawbak to the skins is that the lips are sensually drawn so if you already have a shape with rather large lips (as I happen to), some of the skins will look caricaturish. But some won't. The sensual lips gave me, at their best, a Zsa-Zsa Gabor look (well, the hair I was wearing at the time probably added to the effect), and that is not bad. Zsa-Zsa, in her prime, was a gorgeous woman. :) Here's some I found for my fat-lipped self that didn't look too bad (and at 1L a skin, I could afford to experiment).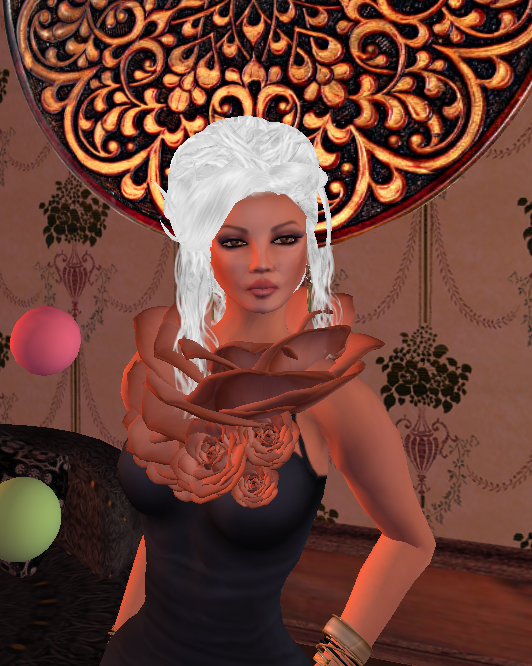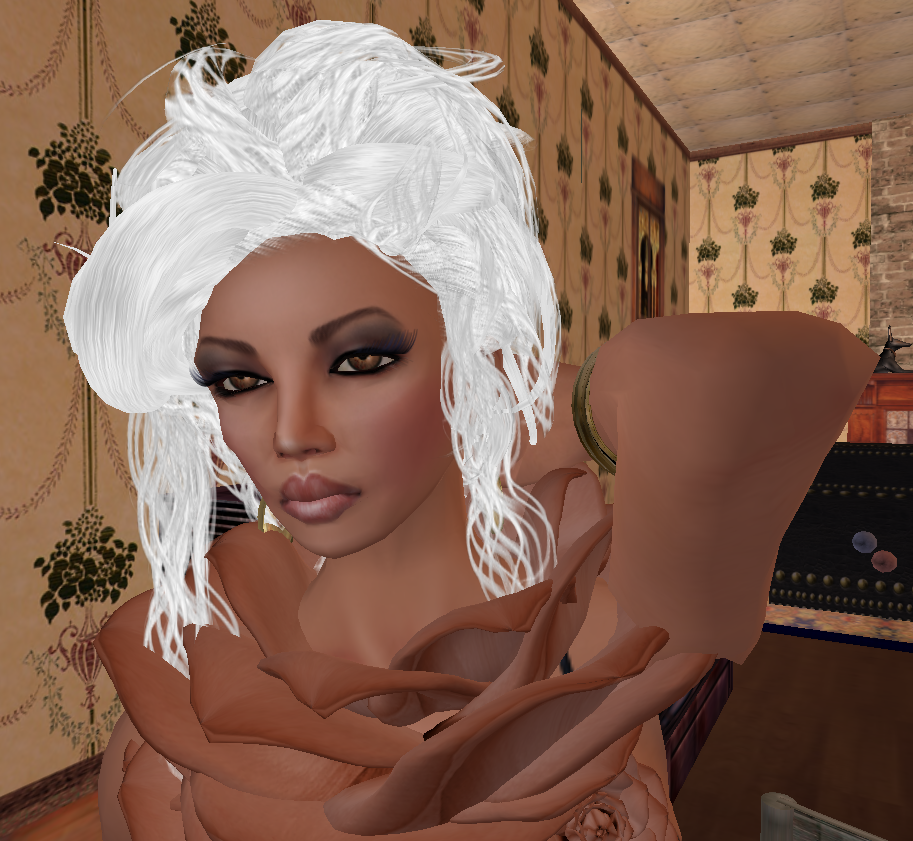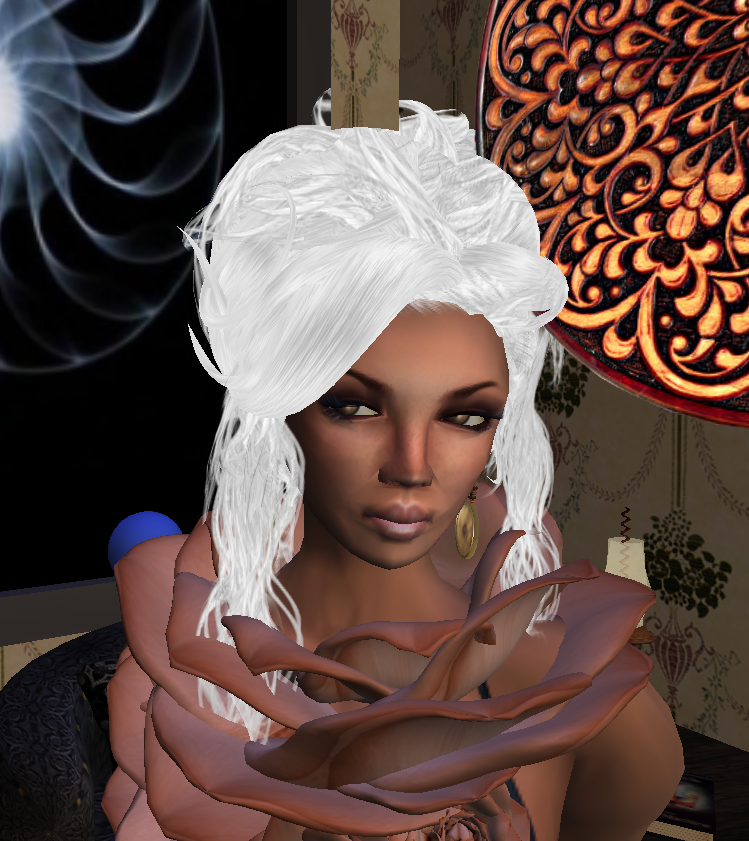 Tip: Do not ask the store manager for demos for these bargin-basement wonders, kk? She's already doing us all quite the favor by letting them go at this wonderful price.

Hair (in case anybody else wants to look like Zsa-Zsa): Ali&Ali Pirella Hair 11
Current Mood:

content
A Few Notes About the Locale: Rez is deceptively simple: up close it's this snowy little world: a woods with a tiny house and a mysterious yellow cave that you can't really enter. But as you wander across it and sweep your camera around and play with time of day (I recommend sunset), you may find it, as I did, a visual masterpiece built from light. And what is this snowy little world doing ... well, that would be telling. Just cam around, and the mysteries of this sim will deepen. Warcraft veterans may be reminded a bit of mountainous Blade's Edge, had those mountains been a bit less arid. :)
How I Found It: I had already picked out the next dress, my lovely, stained bondage-bandage dress, and was thinking a little about finding a place that would well display it. A grunge-neko city would have worked, but it seemed so predictable. So I was undecided. Which was Ok, as I hadn't put together the accessories for the dress. Time passed, and I found myself shopping in a rather sleazy lingerie store and semi-bored. I cammed up to the roof. Sometimes there are interesting things on a vendor's roof. This time there were a handful of naked slave girls, all in the arms-outstretched Editing Appearance pose (and a few clothed overseers as well, but all standing stock still--as if they were the batteries that powered the store). I was rather annoyed by this tableau, so I checked my map to see if there was any place nearby I could teleport to and rid my mind of this silly sight. As luck would have it, I saw a perfect triple octagon practically next door (just a few ocean leagues away). I happen to love octagons and was very curious about why someone had built something like this as their sim. I scanned for a teleport point and yes! There was one! So Whoosh! I arrived.
And was so taken by the peace and beauty of the place that I completely forgot my curiosity about triple octagons and jI ust wandered about, immersed in its splendor. On my first visit to Rez, I saw a raven, flying through the trees. I haven't seen it since. But ravens, like owls, are symbols of death, sometimes, and a story came to me, about death, rebirth, and visiting other places.
And so here it is.
Once upon a time, not too long ago, a little reddish-gray fox in the Canadian woods was having a hard winter. She had been shot earlier, in November, by a BB gun, and it had lamed her back leg. As a result, when the snows arrived she found it much harder to catch food to eat. Her ribs shows through her dull pelt. She was cut and bruised in many places on her body due to her inability to move quickly or silently (her leg dragged behind her) and the attention this caused. .She was starved and slowly dying, although she probably didn't know that. All she knew was that her life was miserable and getting more so with each day. The snow had fallen steadily all day, and even with her warm fur, she was frigidly cold.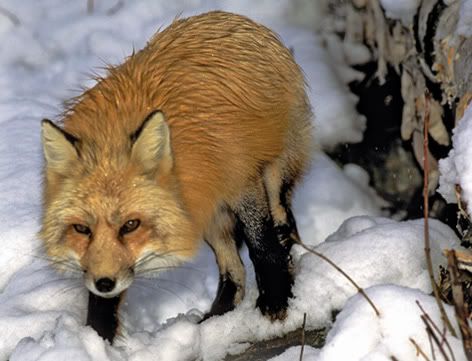 As twilight fell, her normal hunting time, she felt too exhausted to search for prey and welcomed the sight of a mound of old tires that someone had recently tried to burn. It made a welcoming shelter from the snow and wind. She crawled in the pile of stinking noxious tires as deeply as she could then curled into a ball, her long tail wrapped around herself for protection against the cold. She fell into a shivering, exhausted sleep...
When she awoke she was falling, tumbling over and over through a blue, cloudless sky, as she hurtled toward t white snowy ground that seemed terribly far away. She didn't feel surprise, just terror at her situation. She tried to get her feet beneath her so her landing might be less devastating.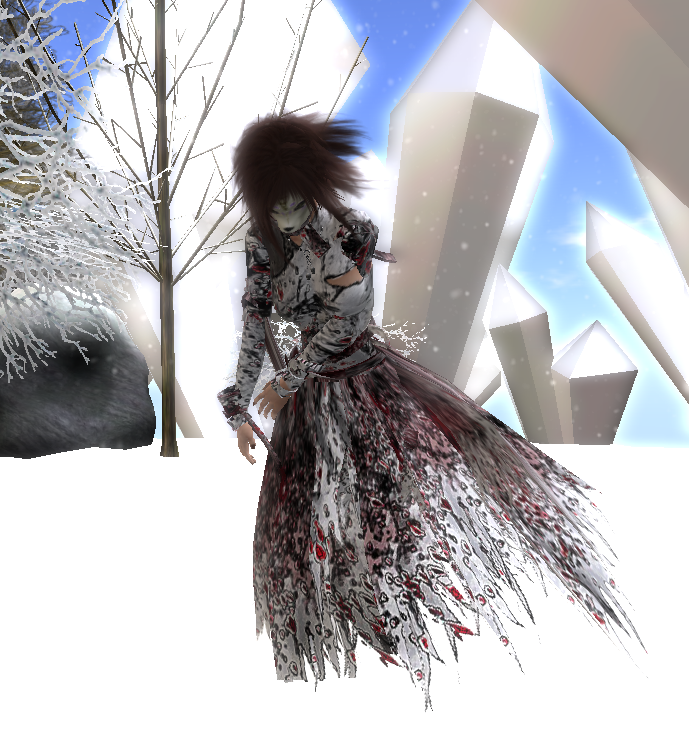 The ground grew closer and closer. And then suddenly she was in the snow, crouched.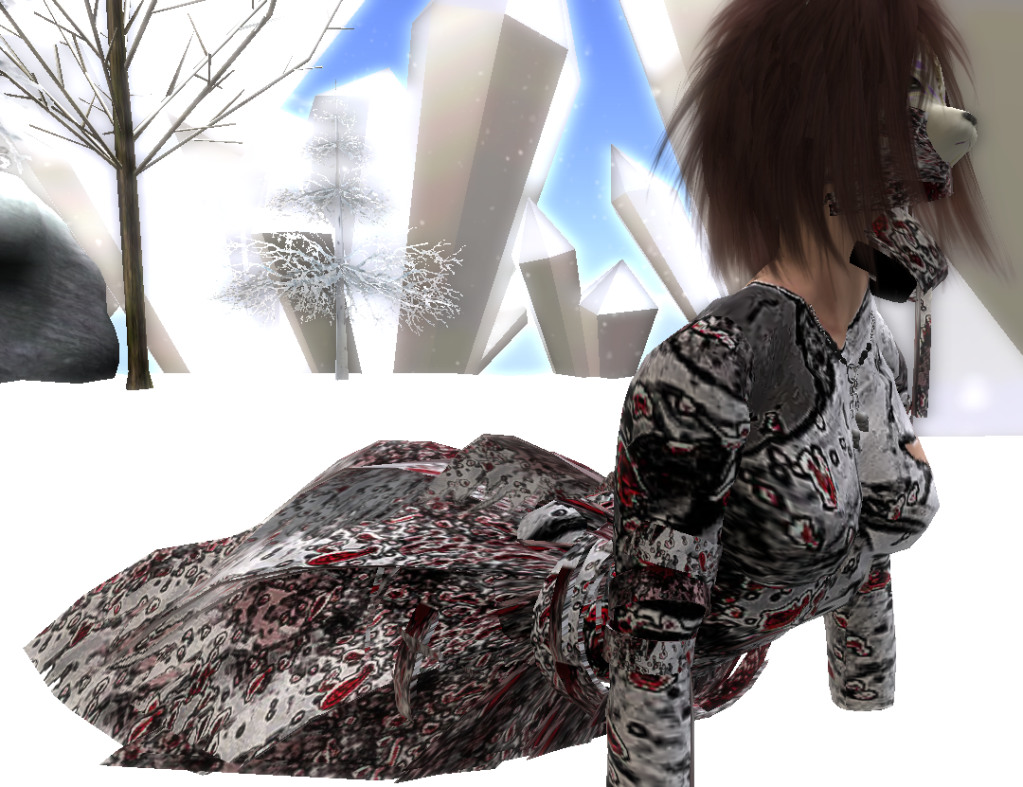 She wasn't hurt at all by the fall, in fact, she didn't hurt anywhere on her body. She wasn't even hungry. But crouching down felt awkward so she raised herself to her full height, on her hind legs.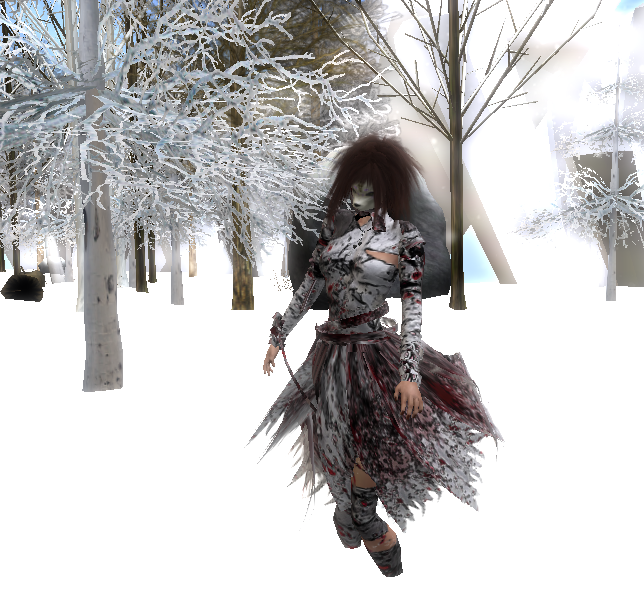 On her hind legs? This confused the little fox. The only time she stood fully on her hind legs was when she had some sort of shelf to place her front paws upon, for balance. But now, standing that way felt natural, far more natural than staying on all fours. So she began to walk through the snowy woods and explore her world....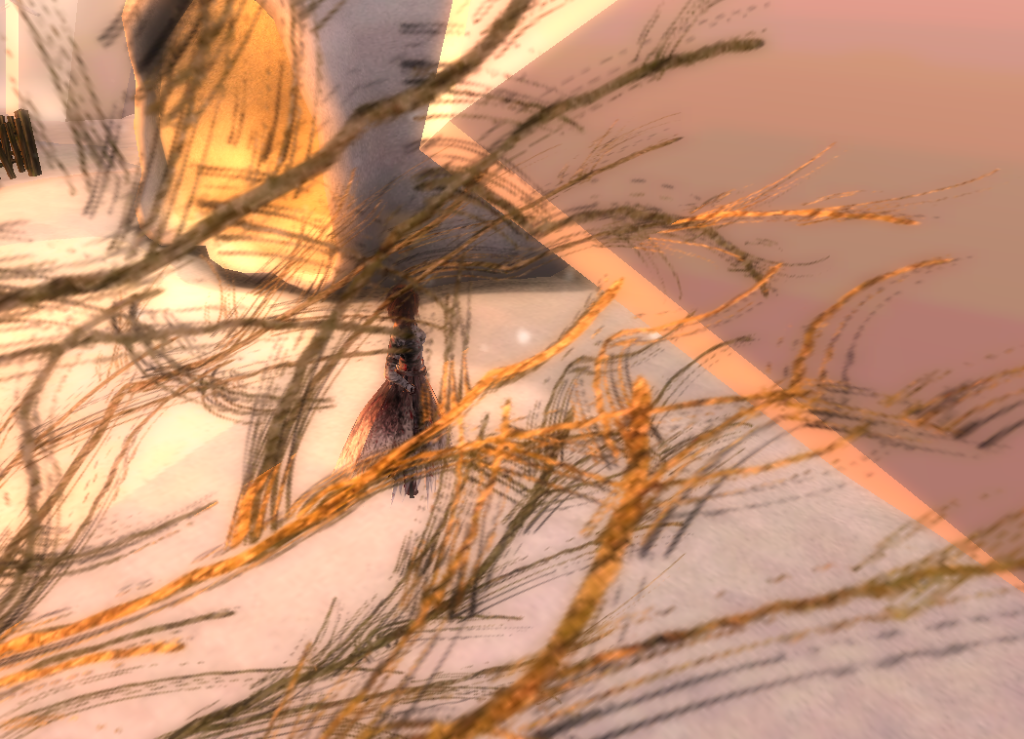 The woods were beautiful, silent and pristine and glowing strangely with inner colors... Occasionally she heard a bird call, but other than that it was utterly silent... The light in some places blinded her...

She came across a tree stump where somebody was had set out some colored candles and nectar which had attracted hummingbirds, who were greedily gathered around the free food, much like newbies at Yadni's Junkyard...

Newbies at Yadni's Junkyard?!? Where had that thought come from? Nothing in her past experience corresponded with it, but nevertheless she saw an image of Yandi's, blazing in the night sky, next to a large highway...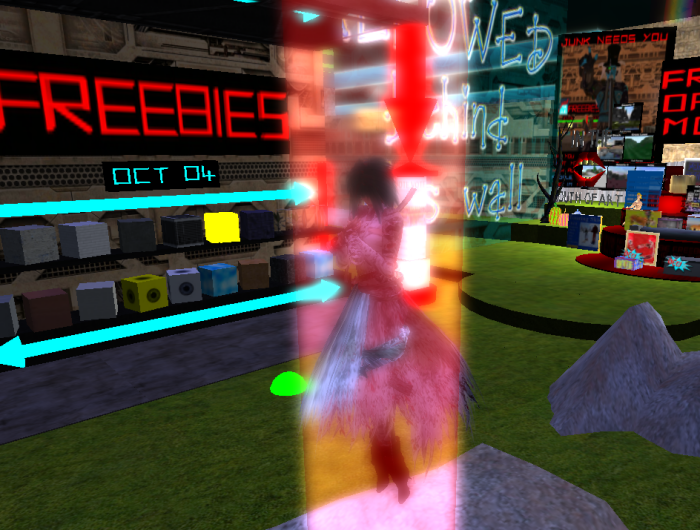 She shook her head and continued her explorations... One of the hummingbirds started to follow her around...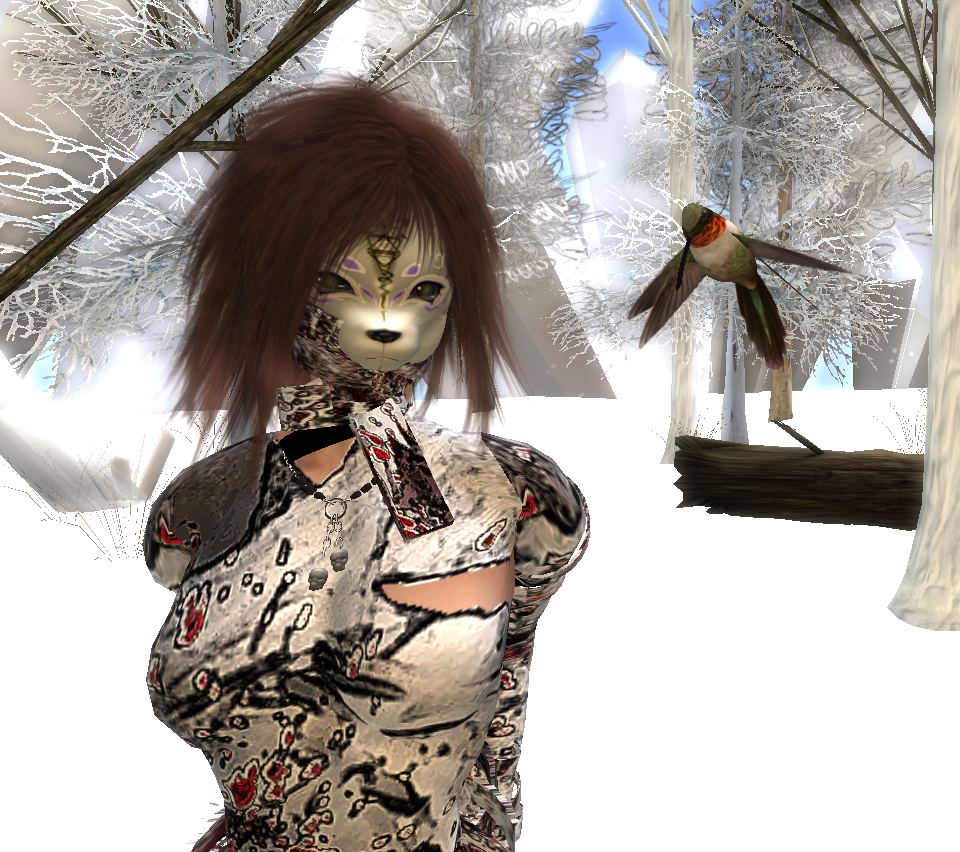 At the edge of the woods were imposing crystals, reaching toward the sky and in one, she caught a glimpse of her reflection... And nearly fainted from terror. One of the hated human monsters was staring back at her! But somehow, she realized she was looking at herself (a realization she would never have had were she still a real fox). She realized she had changed... although at heart she still felt herself to be the same.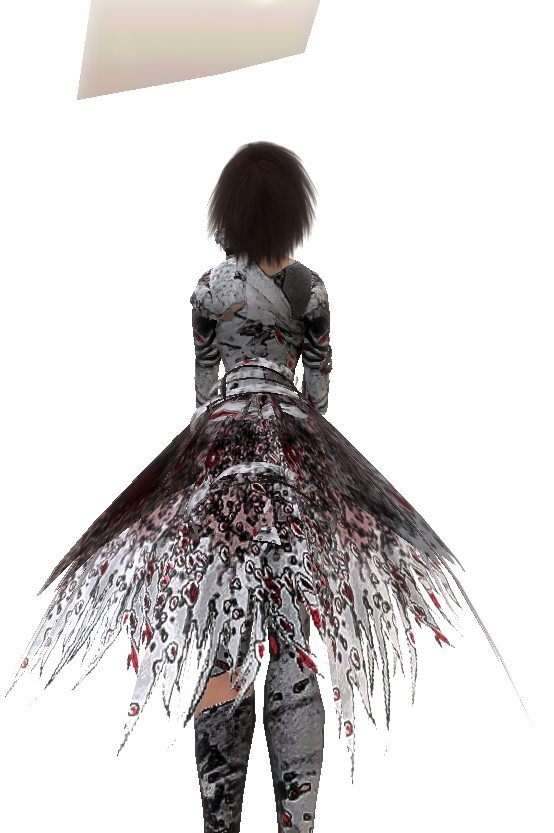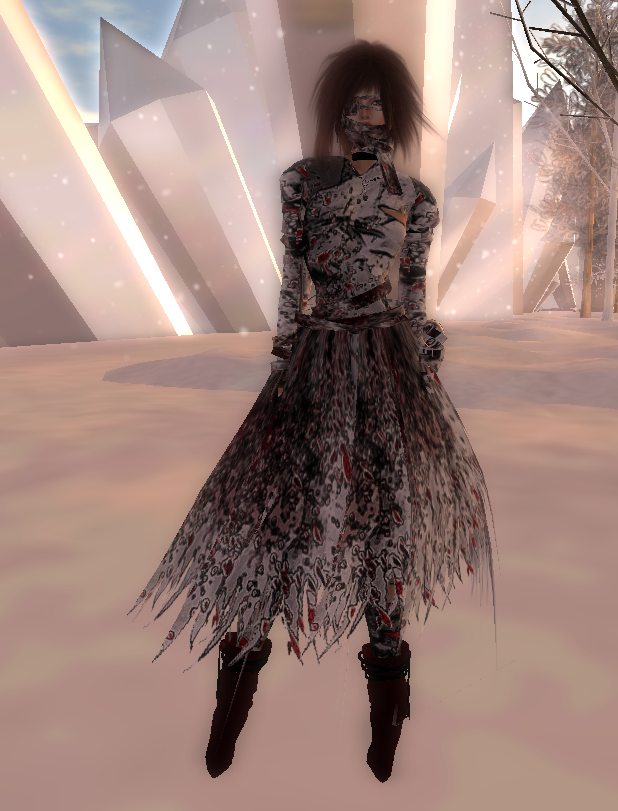 She began to explore what her new, tall body could do: streching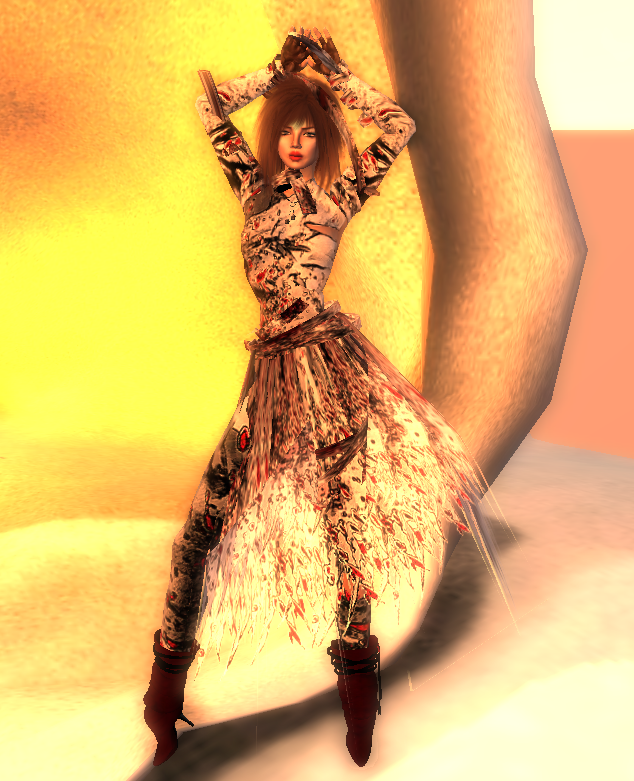 And Crouching...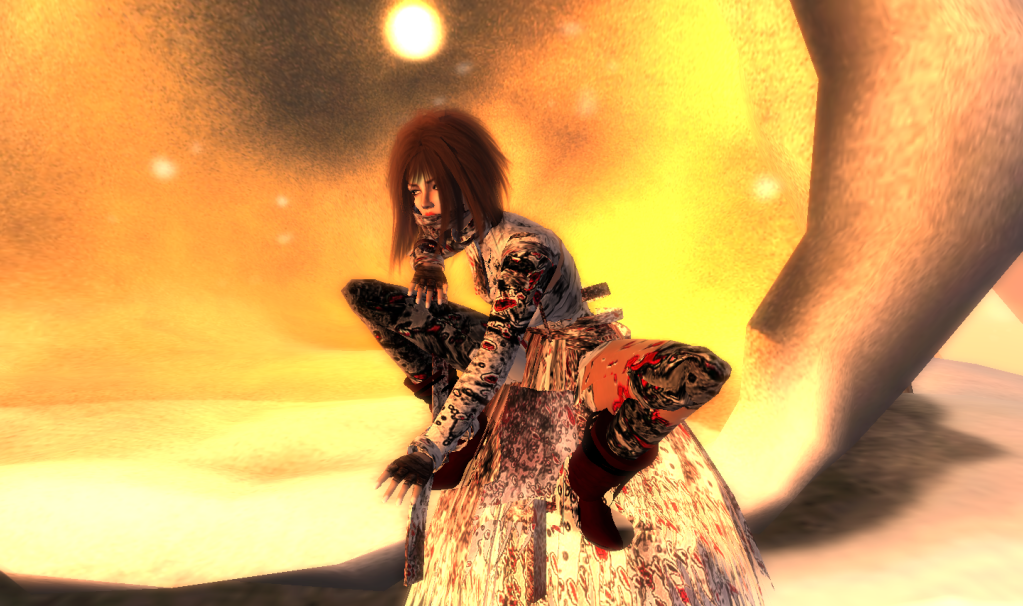 And Dancing...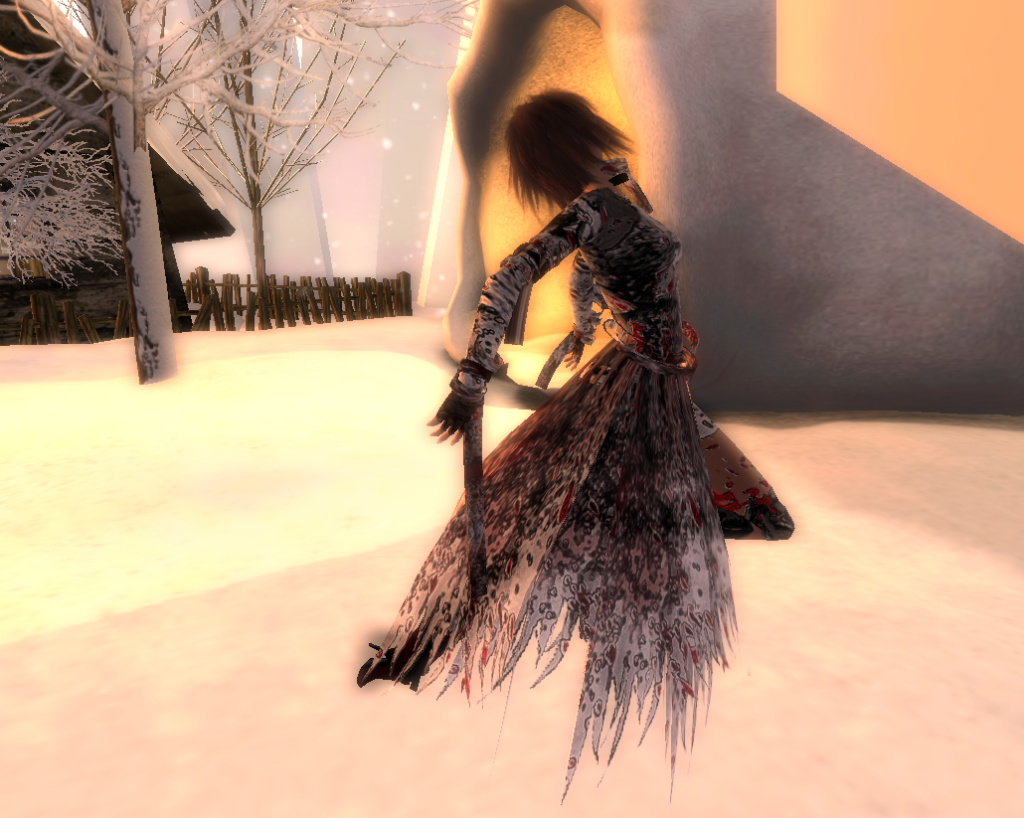 When she emerged from her trance of discovery, she found herself near a small cabin, a terrifying place that, in her old life, she would only approach if the alternative was starving to death...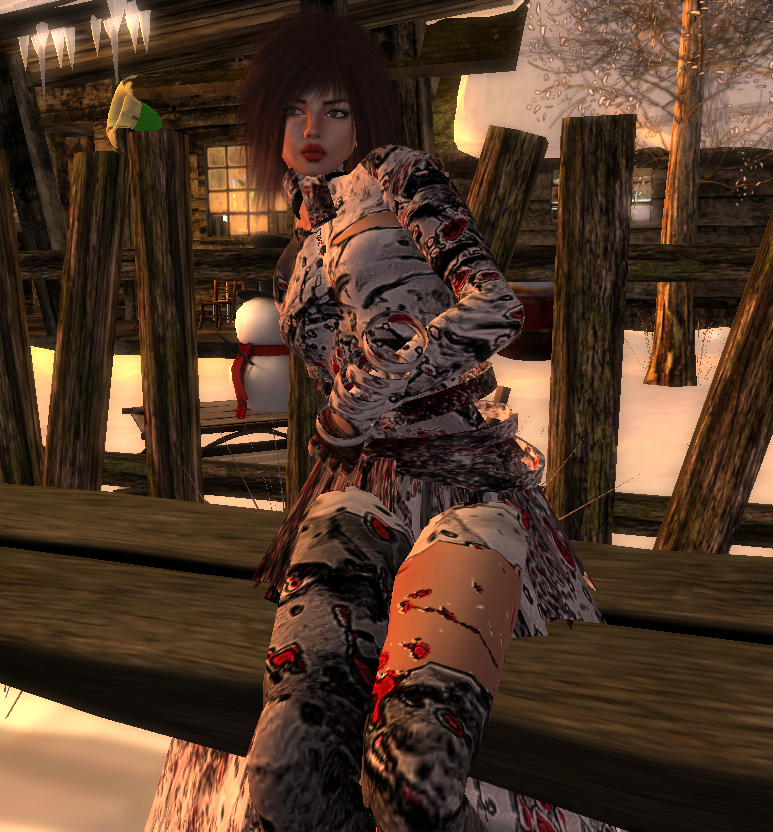 She entered the cabin and looked around... It was peaceful here and the light of the sun fell generously through the windows... It would make a find shelter if it started to snow harder....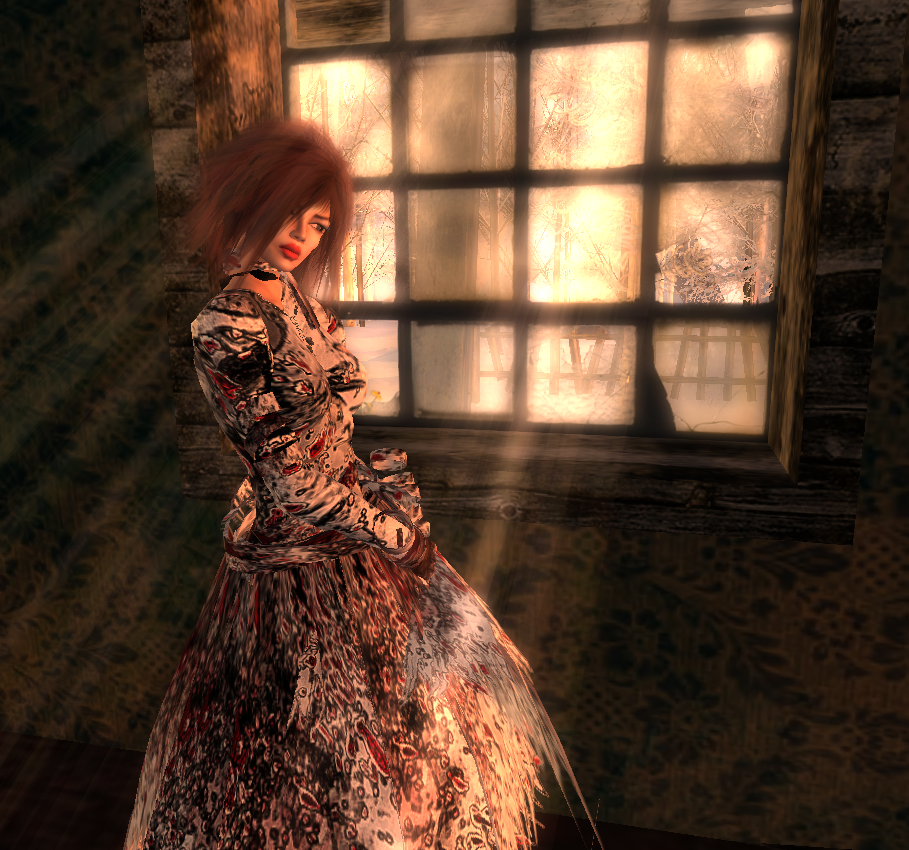 (While I have an adventurous spirit, I have never "changed" nor visited places that are vastly different from the one I live and work in. But I have always had friends who did and who, when they trusted me, told me of their adventures. This little tale is dedicated to them. :) )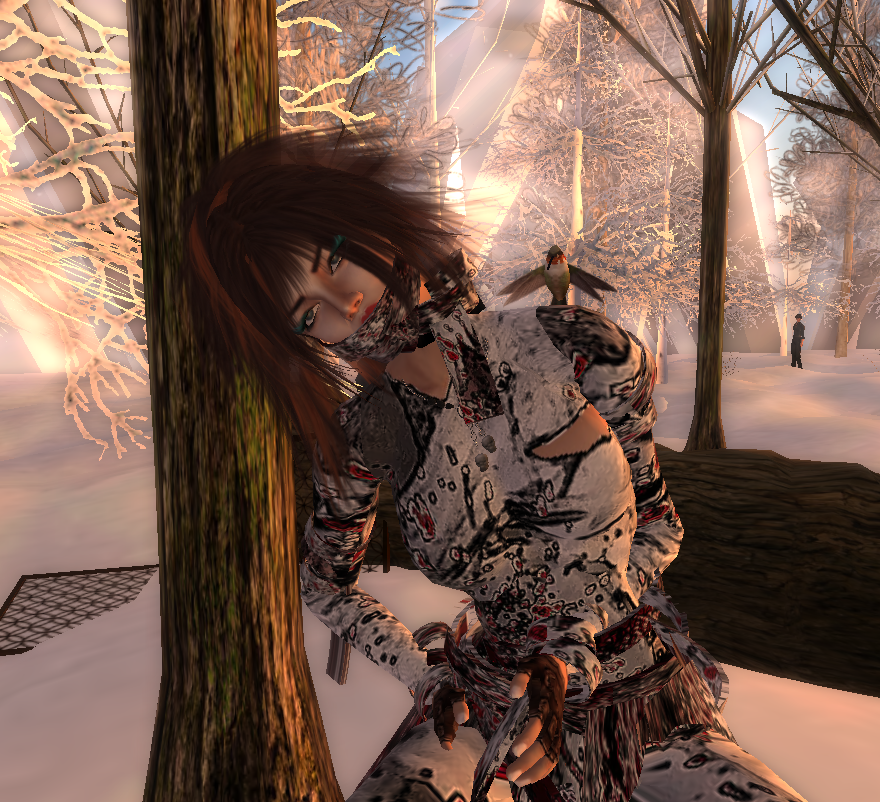 Sometimes a dress inspires a question.

And sometimes a question is answered by a dress.

In my case, it was a little of both. The question was: what do you wear to visit a queen? And here is my answer. I'm afraid I don't know which came first.

Do I let her win?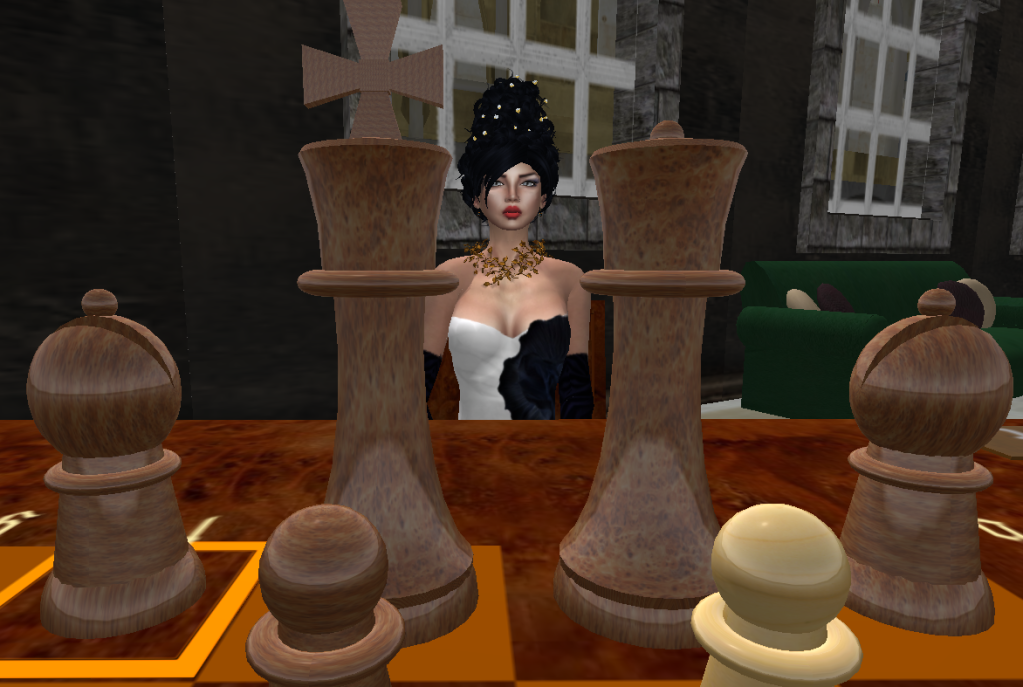 Conversing about ethereal topics: "God, the king is hot!"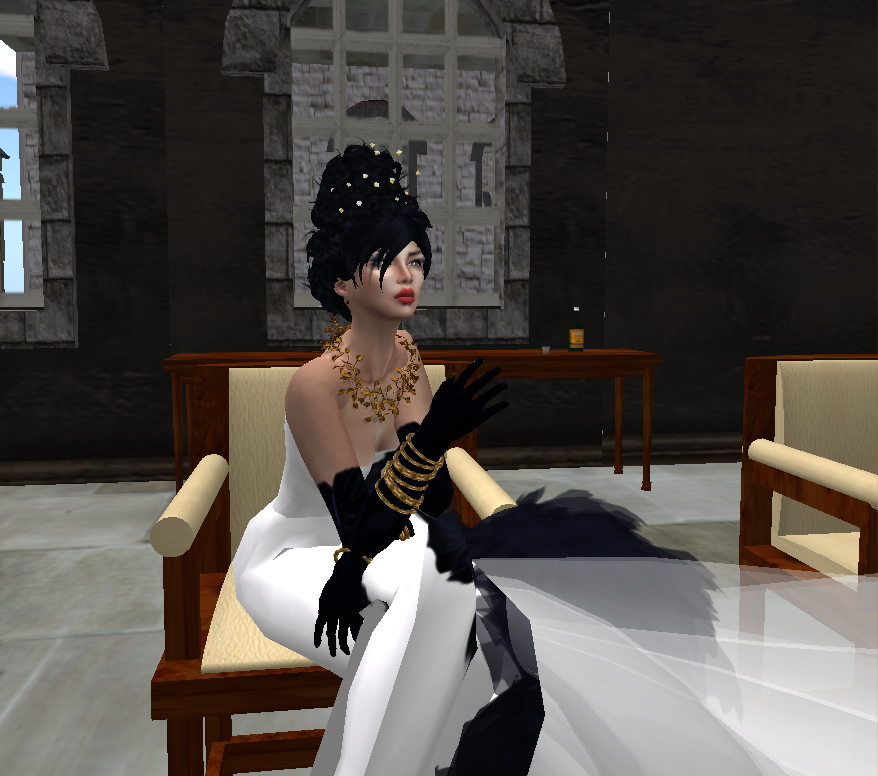 Touring her fine art collection: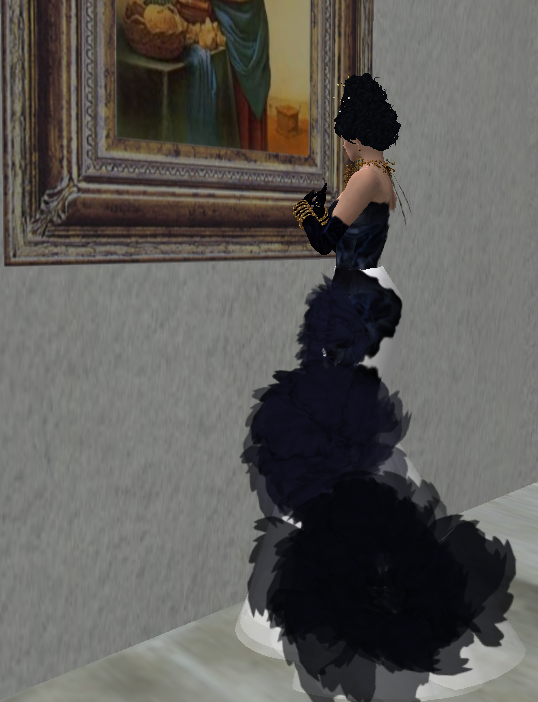 Relaxing in the gallery overlooking the grand ballroom: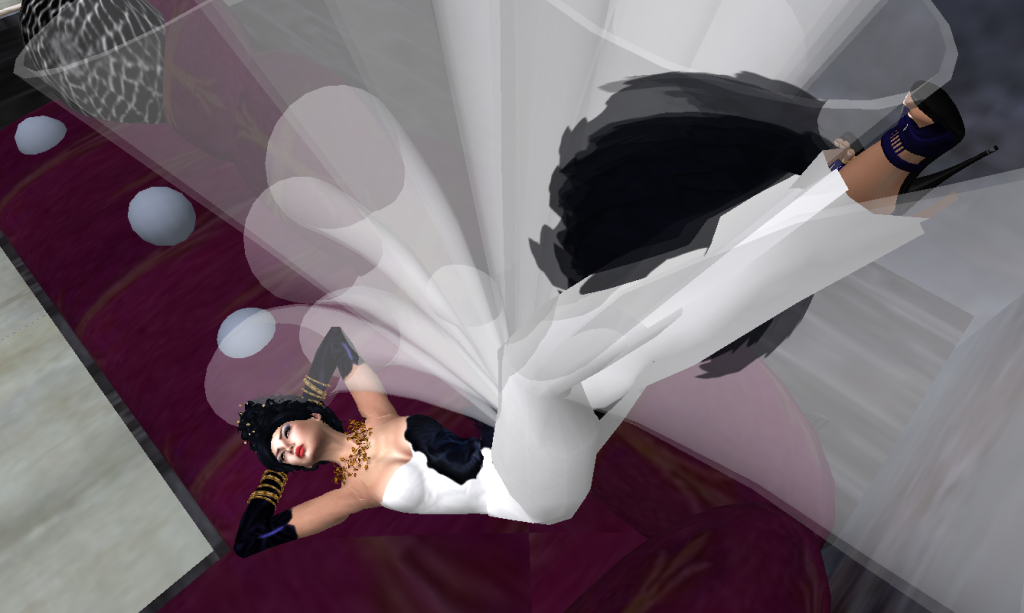 And... (terror of terrors!) being formally presented to Her Magesty: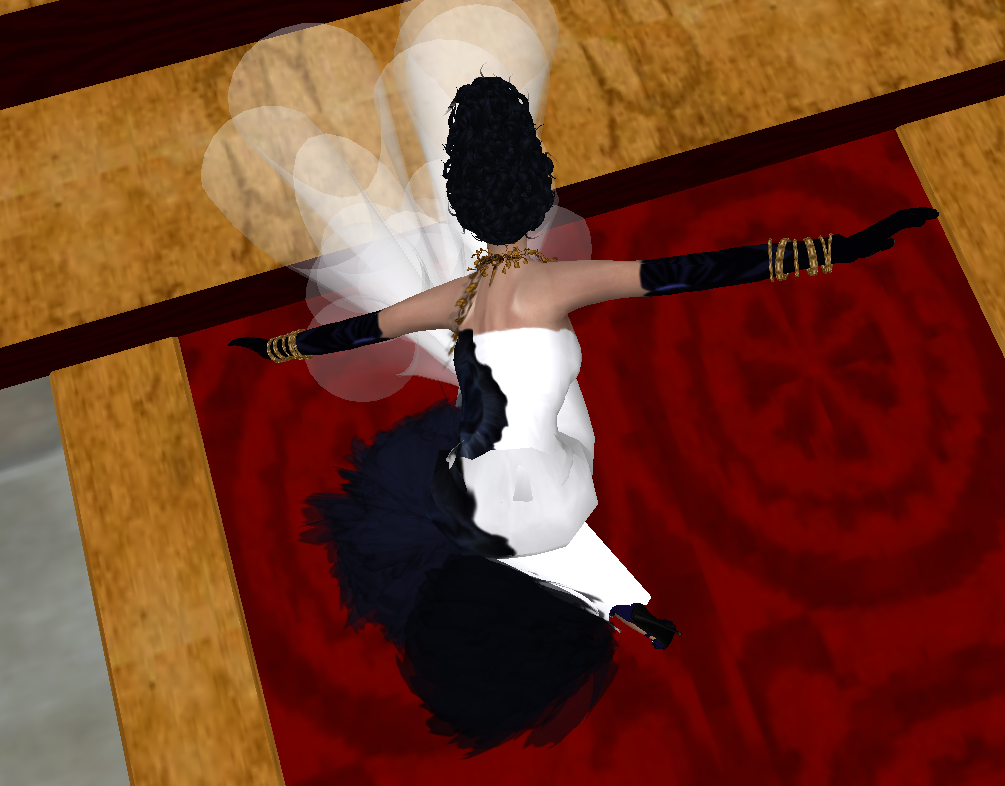 Dear God, plesae don't let me pee my pants now.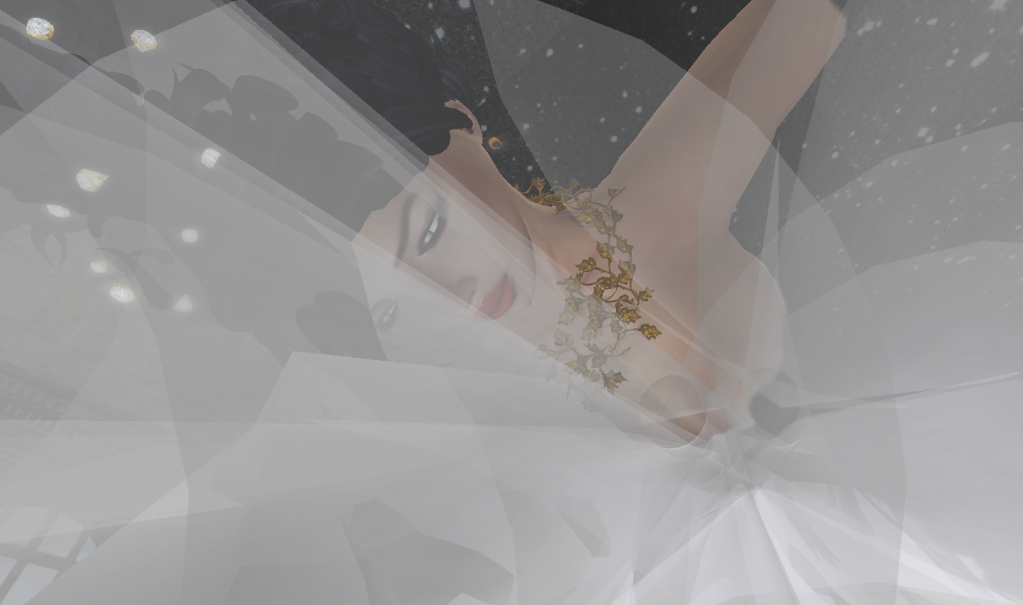 My visit over, standing on the balustrade overlooking the front of the castle, feeling like the innocent heroine about to be bitten by the evil vampire: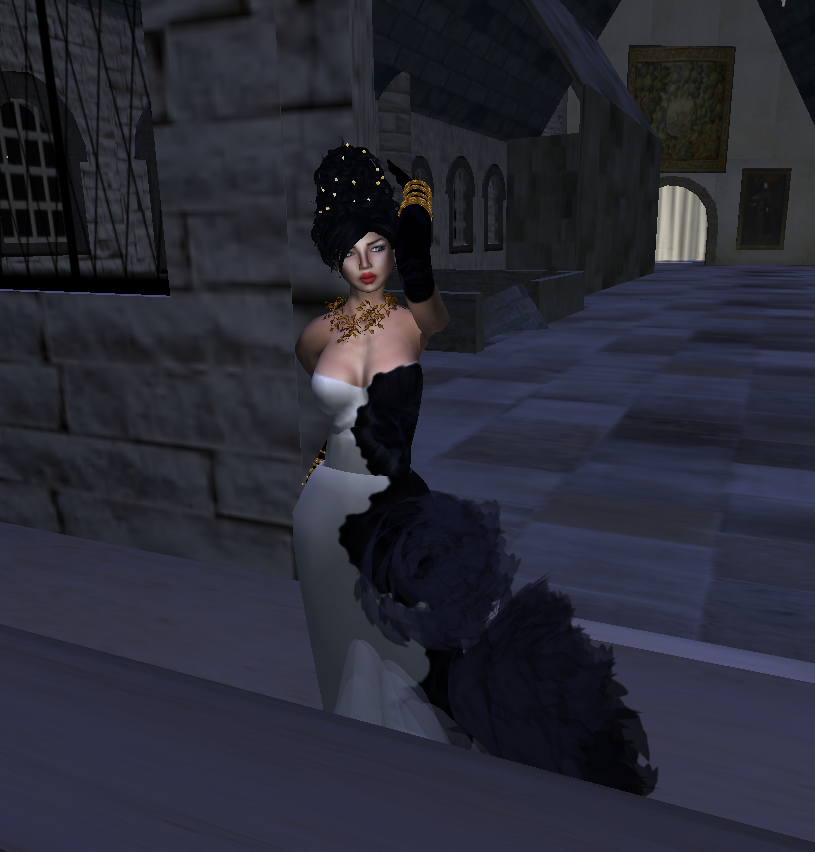 ~~~~~~~~~~~~~~~~~~~~~~~~~~~~~~~~~~~~~~~~~~~~~~~~~~~~~~~~~~~~~~~~~~~~~~~~~~~~~~~~~


SPECIAL: AN INTERVIEW WITH THE DESIGNER

BLISS BENINGBOROUGH


I send all the designers of the dresses I feature in the blog a set of questions to answer. As the answers come back I will post them with the dress. Bliss Beningborough graciously responded to my questionaire about her work and about virtual "fashion in general." Here is her interview:

Unda: What do you like best about designing clothes in Second life?
Bliss: The fact you can make the impossible in real life possible in Second Life. You can let your imagination go where it takes you.
Unda: What do you do that is different from other designers do?
Bliss: Well, I don't really take any notice of other designers so I can't really answer that one other than I like to experiment with shapes and sculpts and I hate normal flexi skirts so I experiment with my skirts a lot to try to do something different and something that moves well with animations so you aren't showing legs.
Unda: Can you tell me anything special about the dress featured in my photos? Who or what inspired it? Was it hard or easy to make? Any funny or weird stories about it you care to relate?
Bliss: This was inspired by the flexi flower that decorates the front of the dress. I had been experimenting to make a proper flexi flower with movement instead a sculpted prim which most flowers are made of here. it was the skirt to another gown but there were so many possibilities with it once made. It inspired other gowns, too, Clarisse being one of them.
Unda: Do you create/sell anything besides fashion or other things avatars wear?
Bliss: I like to create shapes from time to time and have dabbled recently in jewelry but designing clothes is what mainly interests me. I like to work quickly when I have an idea for an outfit; a gown is usually done in 2 days. I find making jewelry time consuming and fiddly and rather boring. I don't have the patience. I like to start and finish a project quickly. I'm not the type to spend weeks on one thing, lol.
Unda: Do you have a website that showcases your wares or discusses other aspects of SL? What is the URL?
Bliss:

http://www.flickr.com/photos/house_of_beningborough/
http://houseofbeningborough.wordpress.com/
http://moolto.ning.com/group/HouseOfBeningborough


Unda: Who is your favorite fashion model in SL and why? And this model need not have worked for you. And it's more than OK to say yourself! :)
Bliss: Well I don't really have a favorite model. I was a famous model myself in a previous sl life so I appreciate a model who can style and edit properly and who isn't afraid to push the boundaries.
I do prefer to model my own clothes for my vendor pics as I can create the look I want to show them and its much easier to photograph yourself than other models ,which can be time consuming and difficult to get the right lighting etc..
Unda: What SL creators (of anything, not just clothing) do you admire the most?
Bliss: I am a very private person and do not socialize or shop much in sl other than for skins and accessories so do not know the latest sl designers. I always admired Paper couture.
Unda: If you had one piece of crucial fashion advice you could give to new residents, what would it be?
Bliss: Buy one good outfit instead of buying lots of cheap ones. The finish will be better, the prims will be attached and edited properly. The most popular designers may be more expensive but they are expensive for a reason. You are paying for quality and original design.
Unda: If you had one piece of crucial advice you could give to experienced shoppers and fashion enthusiasts, what would it be?
Bliss: In the words of Chanel, the last accessory you put on is one too much.
(Unda laughed hard when she read this response. This is so very true--and quite possibly personally relevant--blush!)
Unda: I am interested in cool places on SL almost as much as I am interested in cool dresses. So I'd like to know what is your favorite public place or event is on Second life, the place you like to show other people? Feel free to expand on why you like it.
Bliss: I'm afraid I don't see much other than my skybox. I'm always designing when here :)

~~~~~~~~~~~~~~~~~~~~~~~~~~~~~~~~~~~~~~~~~~~~~~~~~~~~~~~~~~~~~~~~~~~~~~~~~~~~~~~~~
Unda thinks Bliss's skybox must be a very interesting place! Thank you very much for the interview, Bliss! I appreciate your taking the time to answer all of these questions.
If you enjoy this designer and wish to follow her work, be sure to check out the links posted earlier in the interview!
Current Mood:

tired



Wearing shoes in Second Life, let alone wearing them well, is not only an art and a science but requires considerable intestinal fortitude.



Have you ever zoomed in on the feet your avatar was born with? Really close? Try this sometime (If you are new to Second Life, use the blue camera/view controls HUD or (my preference) hold down ALT and CONTROL at the same time and then slowly and carefully move your mouse toward your feet.) If you do, perhaps you'll come to the same conclusion as I: that our avatar feet were designed by a man, and one who by no means ever had a foot fetish. :/

A Pair of Standard Feet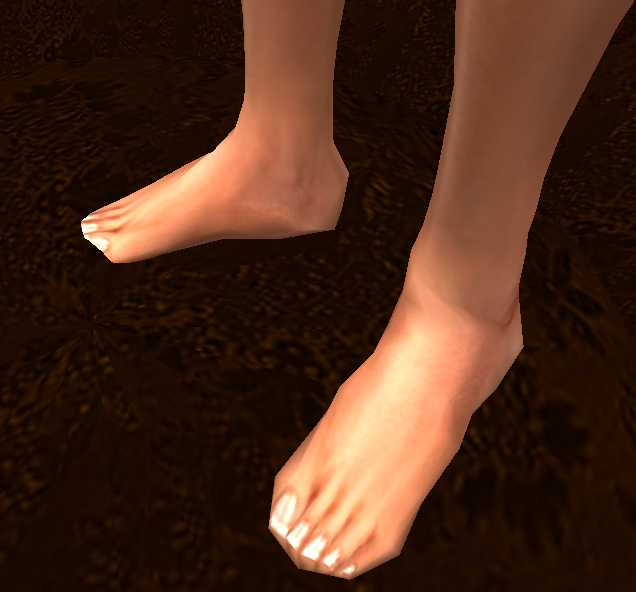 From a distance, I suppose, feet aren't too bad, they are overly tiny and narrow, but that can look kind of cute. Not very well-shaped or realistic but still, they look like feet and not like car tires. But zoom in really close and you'll see gigantic ugly misshapen toenails that are the leg's equivalent of buck teeth.

Horror #1: Our Toenails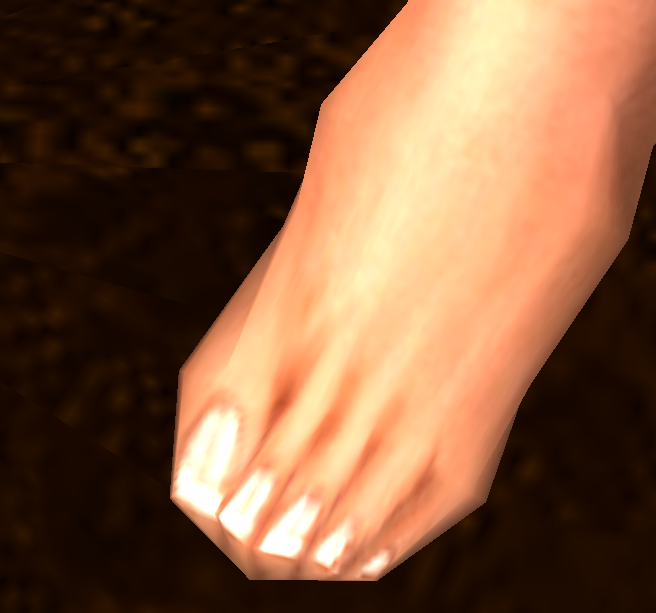 Still, feet, as unrealistic as they are compared to the rest of the body, aren't that bad ...until you have to put on some shoes. Then the true horrors begin. Almost every pair of shoes that you wear in this place, except for some very old ones you can still get as freebies (flats, which are actually often not that bad) come with this grotesque torture device that makes bastinado seem like a soft fluffy carpet: the shoe base. (shudder) The things this little object does to our feet should have a PG rating for violence. Your toes aren't just chopped off by a shoe base, the tip of the foot is carved at both ends so what is left is a narrow point of flesh. Your heels get a similar carving and then the bone in your leg is pulled downard to form the "high" heel that you will soon be wearing.

Horror #2: A Shoe Base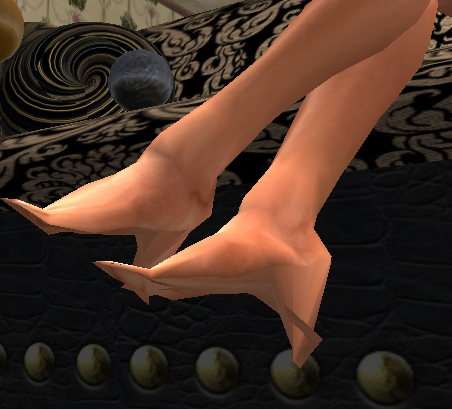 There is a real-life equivalent to this (or there was, the women who have had this done are almost all dead now). I speak of the old and mostly defunct Asian foot-wrapping practice, in which they broke the bones in the toes and forced them under the foot. Here is a foot that has been wrapped for decades. Is it not unlike a Second Lie shoe base?

A Chinese "Wrapped" Foot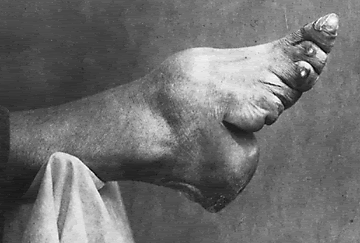 Sigh. I suppose things could always be worse. I suppose some blind-as-a-bat convenience-minded geek could have come up with the "brilliant" idea to give all avatars feet with the shoe bases as permanent parts of our bodies, "so we wouldn't have the complications involved with all those various shoe parts." Thank god, geeks don't rule the world...yet.

But wait! This B-Movie isn't over with yet. There's still more. You finally put the shoes your avatar has suffered so terribly for on. And... if you are very lucky (or have a lot of money) they look... passable. If it's a standard pair of shoes, they actually highlight and make totally apparent the ugliness of your toes, are so huge that that they dwarf your feet, making you look like you're wearing clown shoes, or look like very poorly designed horses' hooves. In case you may not remember, this is the sort of footwear that comes in those "60 Free Womens Stuffs!" boxes at Freebie stores everywhere.

Horrors #3, #4, #5, and #6: Typical, Poorly Designed Old-Style Shoes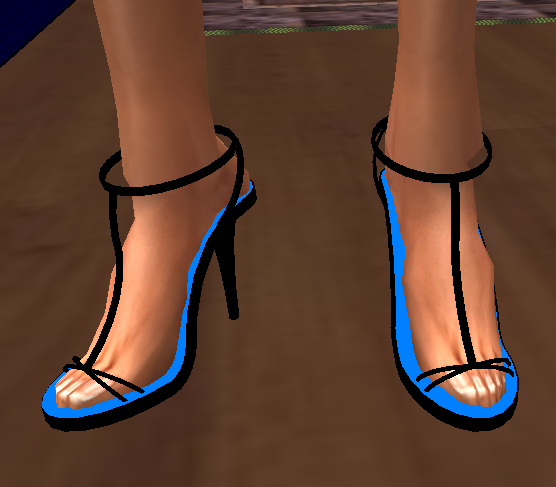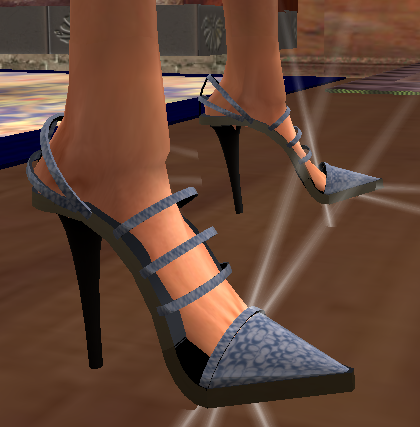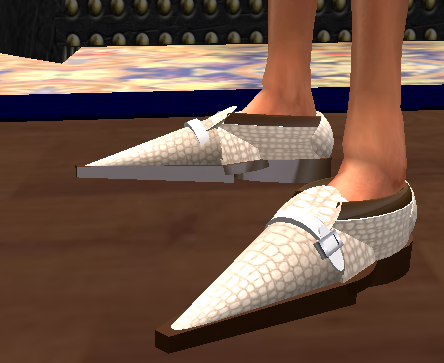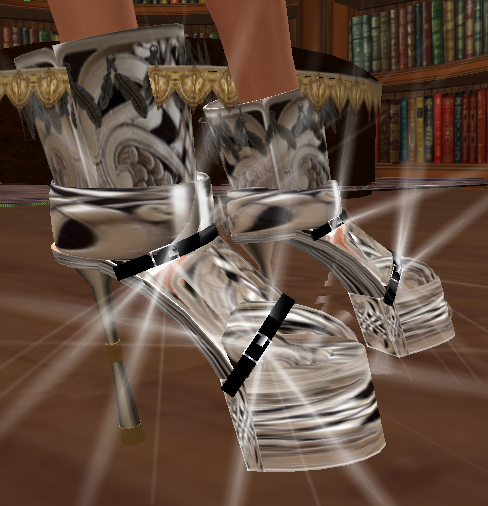 And virtually all pairs of shoes for some totally insane reason are designed to fit a size "1" foot. Guess what? Unless you want bits of your monster-movie shoe base peeking out of the edges of the shoe or have other problems with fit, you need to go into Edit Appearance mode and change that nice normal ankle of yours from size 20, the size your avatar is born with, to size 1, so all pairs of shoes on SL will fit you. But keep in mind that while the shoe base savagely chops the foot down to the right shape and while you can reduce its size so that this shoes fit, none of these manipulations affect your ankles, which were designed for a size 20 foot. So what you end up with is grotesque ankle overhang:

Horror #7: The Overhanging Cliff Ankle: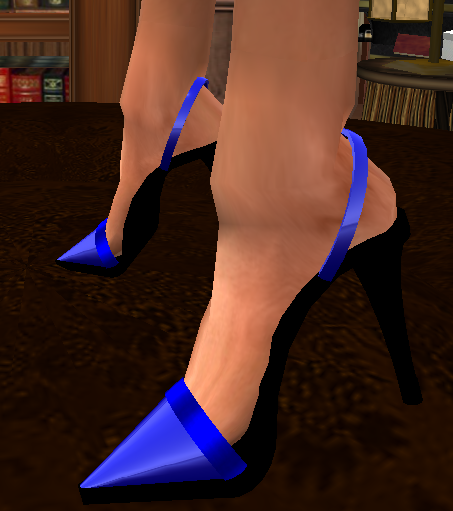 Why don't shoe designers make size 20 shoes? I have no idea. Perhaps all the shoe templates they have to work from are size 1, due to some geek who did have a shoe fetish? Perhaps it's "just the way things are done?" Perhaps size 20 shoes look even worse on avatars than size 1's? Who knows? All that we really know are that size 1 shoes are a deforming fact of Second Life life.

So far all I've been talking about are the standard shoes that newbies are faced with, shoes that probably cause many women to leave this virtual world in droves after their first few days here. There are better shoes out there, of several varieties. Let's talk about those types now.

Sandals: The Art of Concealment

Some conventional shoes are carefully designed to minimize the two ugliest flaws caused by the virtual foot/shoe situation: the ugly toenails and the cliff ankle. Sandals, for example, come in many varieties. The best have purposefully narrowed toe holes, so only a relatively decent looking bit of deformed toe sticks out. In addition, have you noticed how many of the nicer styles of shoes come with ankle straps? These straps, if they are well designed, go far in hiding the typical cliff ankle. But they aren't perfect. A shoe's price, I have sadly learned is no guarantee that it is well designed this way. It's always best with expensive shoes to try a demo first. And if they don't offer a demo, and don't seem to have the toe and ankle concealers described here, I'd be very wary about buying them. An almost dead giveaway that a shoe is going to look terrible when worn is when the beautifully designed advertisements for them do not show an actual foot in the shoe. Total giveway. Do NOT buy that shoe, unless you want to use it's beautiful shape as a doorstop!

Good design in a Traditional Shoe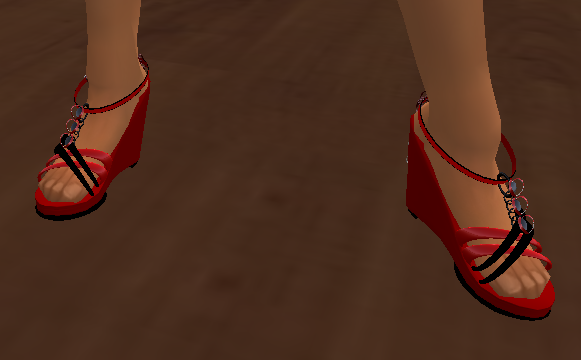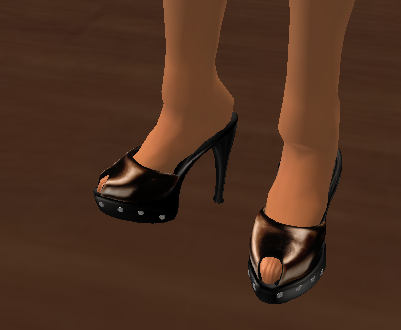 Boots

It's hard to go wrong with a boot: they completely cover up the two eyesores. But you can't wear boots with everything (they rather clash with evening gowns, particularly evening gowns being danced in--when your leg goes high in the air you don't want to give your dance partner a whiff of your smelly boot, do you?) And they occasionally have their problems. The foot part of the boot is sometimes unrealistically large or grotesquely shaped. Boots often need a lot of editing and resizing to look right. The top part of the boot, a separate object from the shoe part, may be misaligned, too far to the left or to the right of the shoe. Or too far in front. Skin may be peeking out of the leather in places. Adjustments take time and patience, and moving or sizing the upper often causes it to fit badly elsewhere. The shoe part may be grotesquely large, a problem you see with many poorly-designed pumps. Luckily, most boots come with resizing scripts and also allow you to manually adjust their position on the foot or leg. Through careful sizing and positioning you can usually get it too look right--if worn with the right outfit. Boots will not work over most pants, for example. The pant fabric will show through unless the pants are more like leggings, with a skin-tight fit around the ankle.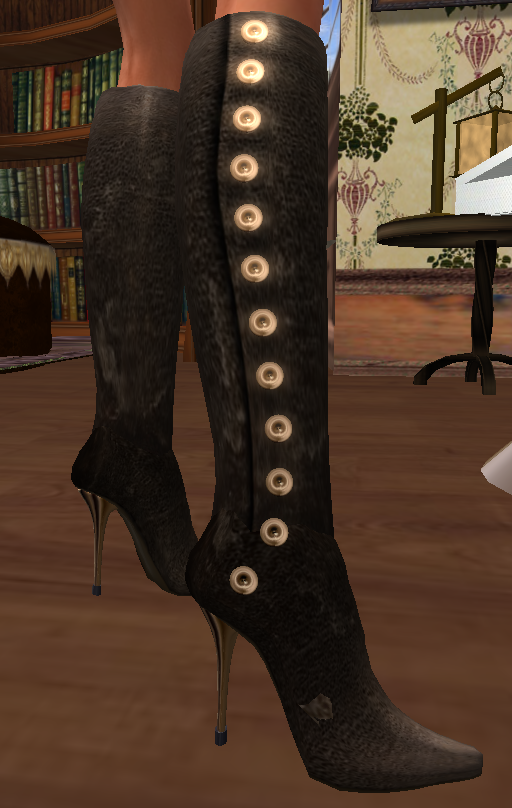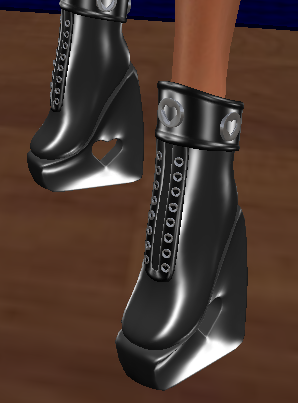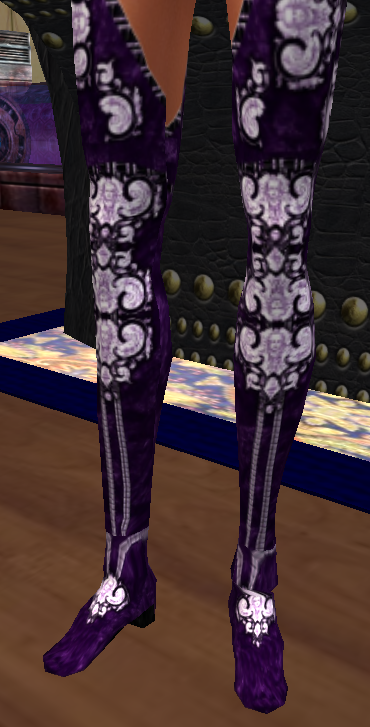 Pumps

I haven't actually figured out the art and science of buying a good pump. They all look great...until the get on my feet. :/ The pointed toed ones often make a single foot look like it is two feet long. Anyone want to offer me a few tips? Actually I did find one pair I liked...but you can't wear retro all of the time:

Good Pumps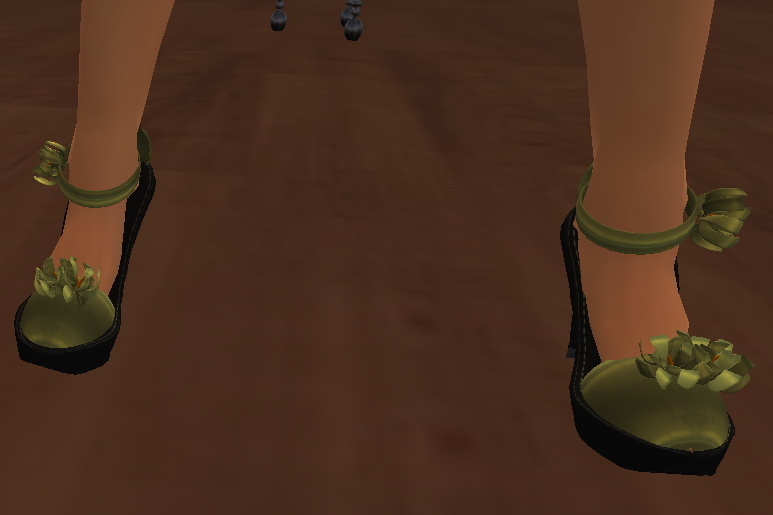 Bad Pumps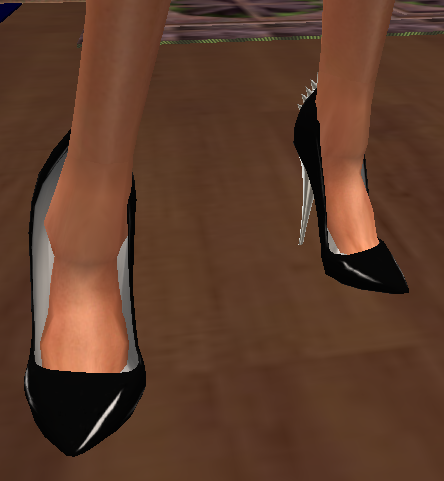 A Trick for Pumps

I thought of this one myself, but I'm sure it has occurred to others before. To minimize the ugly cliff ankle, particularly in dresses that show the ankles but which you wish to wear a pair of stilletos with, lace stockings, particularly lace stockings with a little bit of frill at the ankles do wonders. For the dress depicted below, I decided on black lace ankle socks because (a) I could not find full panty hose (waist to feet) in lace in a five minute search and (b) the typical start at ankle/end at mid-thigh stockings clashed badly with my glitch pants (imagine wearing a pair of those in real life over red silk pants). The anklets seemed a perfect solution. The anklets can be purchased from Creative Kaoz Designs. The fancy pumps, which come in several colors, are called "My First Stiletto" or "Finchy: First Stiletto" and I purchased them on the second floor of Anastasia Magic's Studio Nail store.

Tip: If you decide to buy some of her lovely nails and you've followed all instructions and they still don't seem to fit right, it's due to a viewer bug. Logging off and logging back on fixes the problem.


Above-Ankle Dress: Plain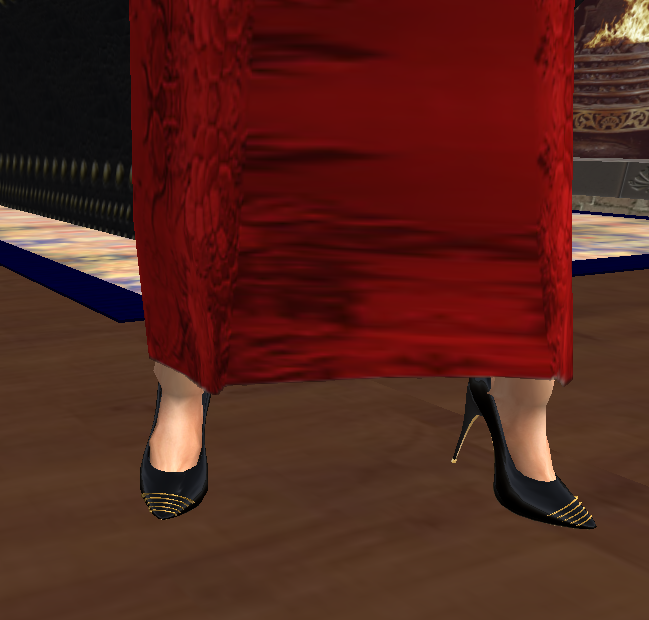 Above Ankle Dress: With Lace Stockings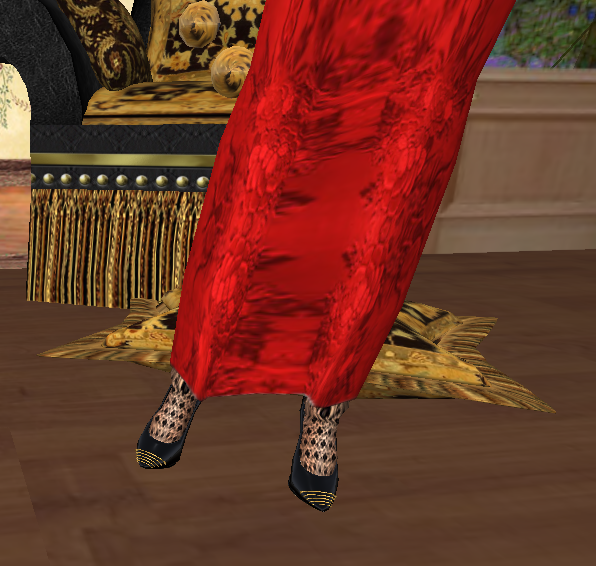 Above Ankle Dress: Lace stockings and flexi frills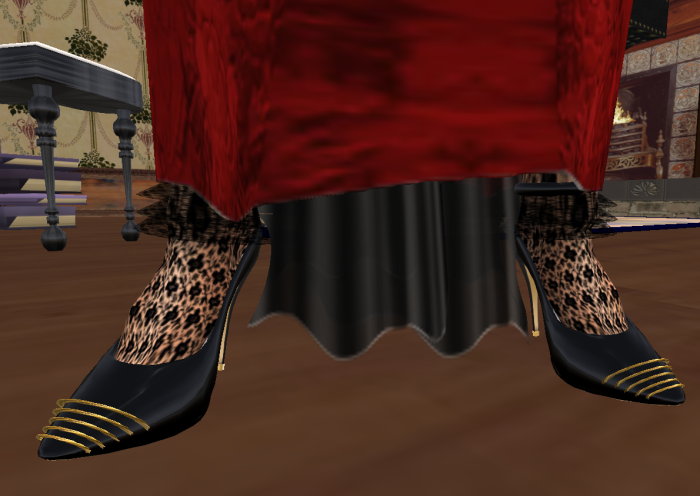 Sculpted Foot Sandals

When you see a woman with a really nice looking, shapely foot in a sandal, it's a sculpted foot. These shoes are wonderful. They look gorgeous on one's feet. The way they work is that the hide your regular feet (the technique varies depending upon which viewer you are using) and replace them with cute, perfectly formed feet in shoes. It's not perfect, particularly in viewer 1.x: you sometimes have to adjust the invisible parts so they cover up your old feet which peep out, but they're miles above any other type of shoe, IMO. They come with HUDs or scripts that let you easily change the foot color to match your leg, change your toenail color, change decorations on the shoes, and sometimes even change the shoe leather color. Options vary, so read the descriptions of the shoes carefully, or better yet, demo a pair that allows you to play with the HUD.

Some Lovely Sculpted Foot Shoes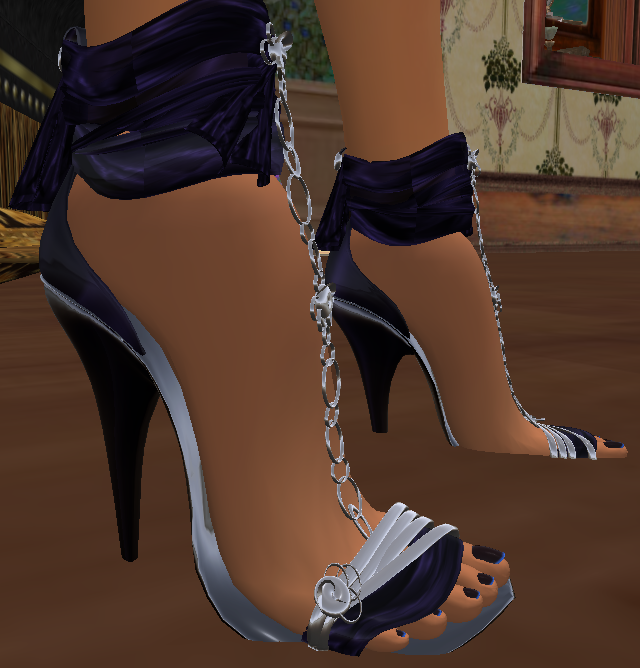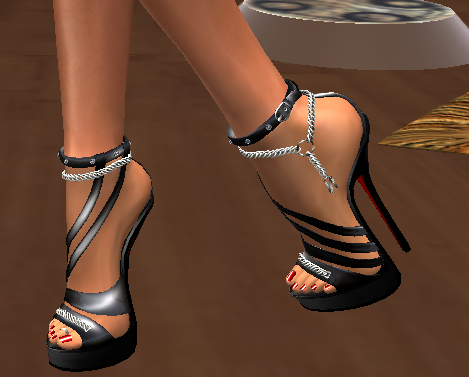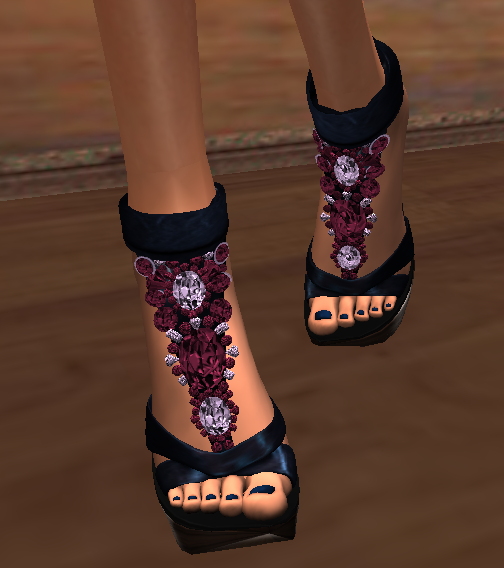 This type of shoe used to be very expensive, and some places still try to convince you to pay huge amounts for them. But you can get the very inexpensively these days, either on the SLexchange website or inworld. Here's a pair from Aniri's Boutique that were about $50.00: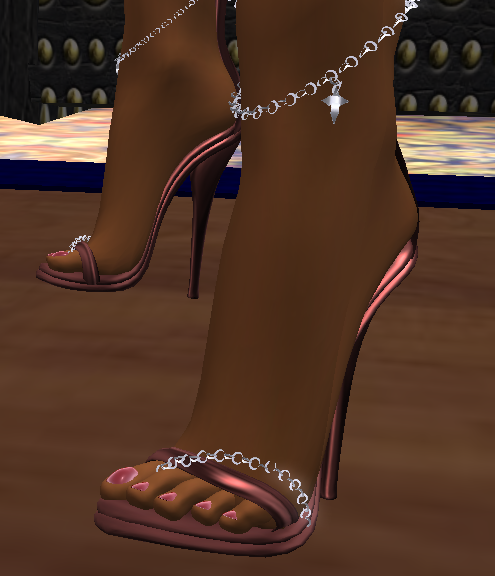 Of course, If money is no object, many couture or high-end clothing stores sell fine-looking shoes. A very popular shoe brand in this genre is N-Core Infinity (the black pair, above). Get them at their main store.

Sculpted Feet


The whole sculpted shoes business took off after somebody very talented designed a pair of sculpted bare feet. Such feet are very nice to own for days at the beach or casual island-wear. Unfortunately you cannot wear standard foot jewelry with them, but I'm sure some versions must come with the foot jewelry pre-attached.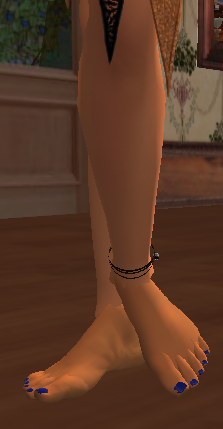 Finally, I wanted to share with you this ancient, hideous, one-piece shoe, perhaps even the very first shoe ever worn in this Brave New Virtuality. I have dozens of these gorgeous things inside my freebie folders, which, after 3 years, I have not yet had the heart to sort through. When I eventually clean house, I think I may save just one pair of these, just like I am saving certain loopy old hairstyles, just because it's ...history. :)
Ancient History Shoe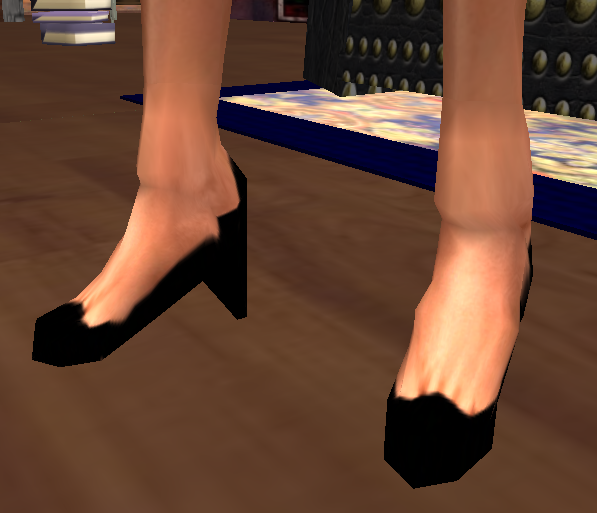 Current Mood:

amused
This gown makes me want to tell a story. Actually, many things make me want to tell a story--it's just the way my mind works. The gown is graceful, blue/purple/pink, like a morning sky, and billows in the breeze. So here's how this one goes:

Once upon a time, down in

Carlisle,

a sailor loved a lady, many years ago. And she had good reason to love him back, as some of you may already know. :) They spent many happy years together, but one cold, stormy autumn she contracted a serious illness. By November, she was dead.

The sailor nearly went mad with grief and loss, but as the months passed he concieved of a goal that channeled those emotions into something constructive. He applied his not inconsiderable skill at whittling to carving her likeness out of a large piece of sandelwood the ship's master had discarded as ruined. He carved and whittled and then carefully painted for months. He kept the doll in a special box he'd also carved for this purpose, on his back porch. He looked forrward to returning from his long voyages so that he could continue working on her. At last, she was ready. He dressed her in a beautiful dress he'd acquired on a stopover in England. A lovely blue/purple/rose gown that caught the colors of the rising and setting sun on the waters near his home.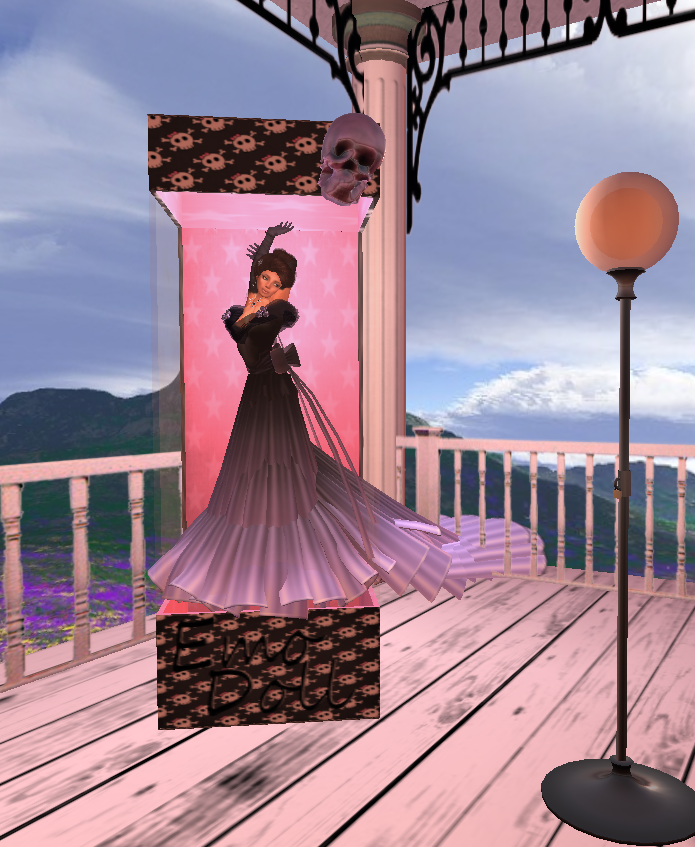 In the end, the likeness of the doll to his beloved was incredible. On impulse he kissed her and... her eyes blinked, her cheeks blushed rose, and she came fully to life.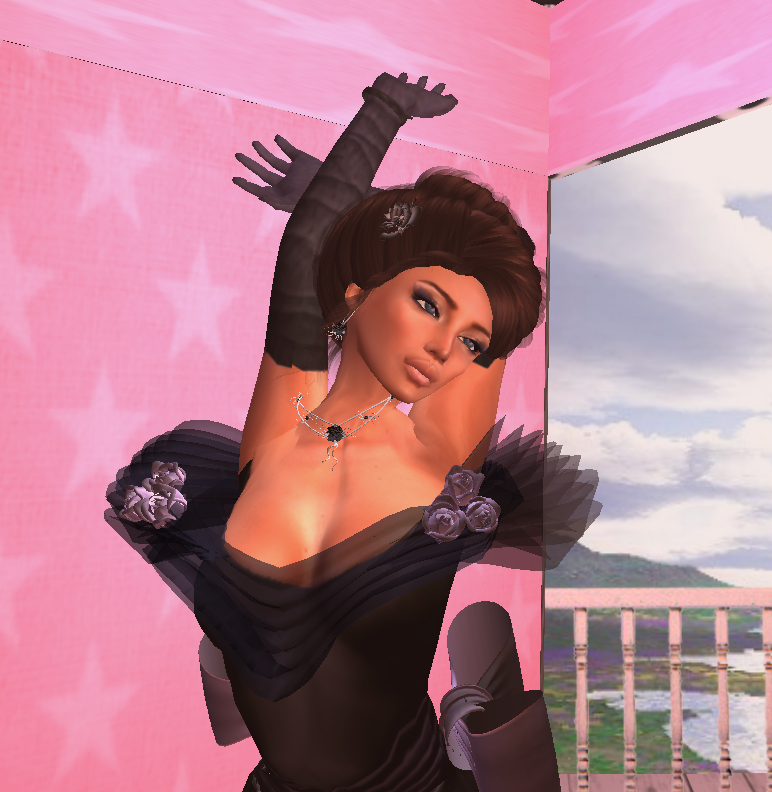 The sailor was amazed, although he soon came to realize that the spirit inhabiting this living doll was not that of his beloved. But the doll loved him and he slowly warmed to her, and when he went on long sea voyages, he could just conveniently put her away in her doll box, where she awaited, frozen in time, for his return.

But one day, something went wrong. The doll awoke, long before he was due back. She missed her handsome sailor so badly, and while she was very frightened of the outside world, she decided to venture out in search of him.

She took a few wrong turns...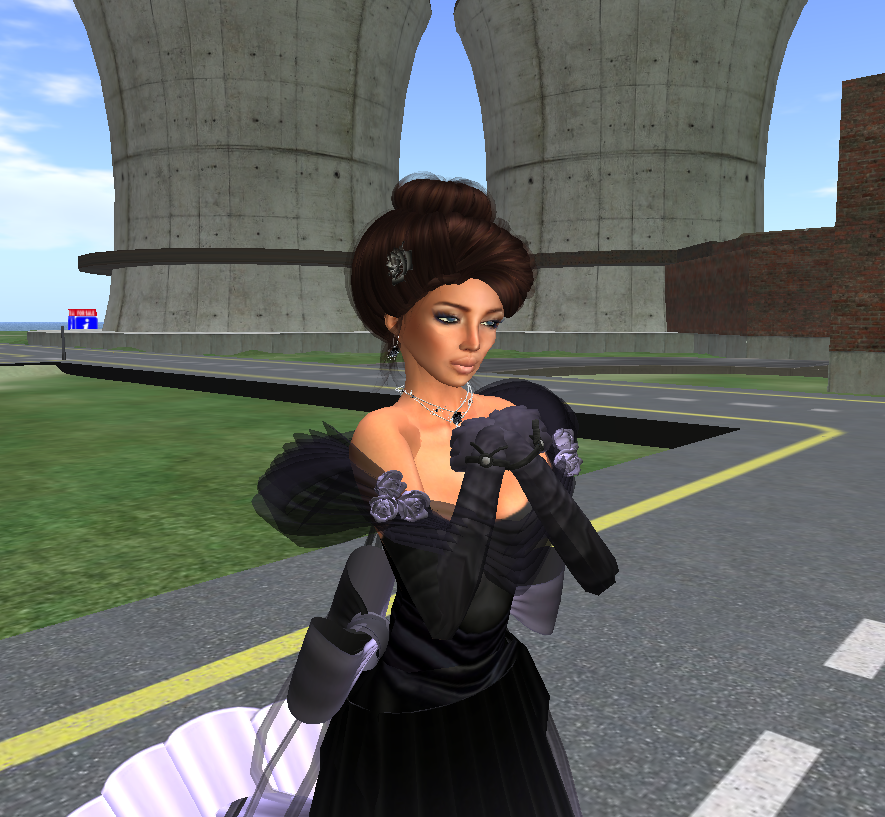 ...But she was a ....
...little doll and eventually she found her way to the harbour, where she began watching, in vain, for his ship. The rest of her story concerns her adventures in the harbour as she attempts to find the man who made her and whom she adores. I'll let you decide how it ends. :)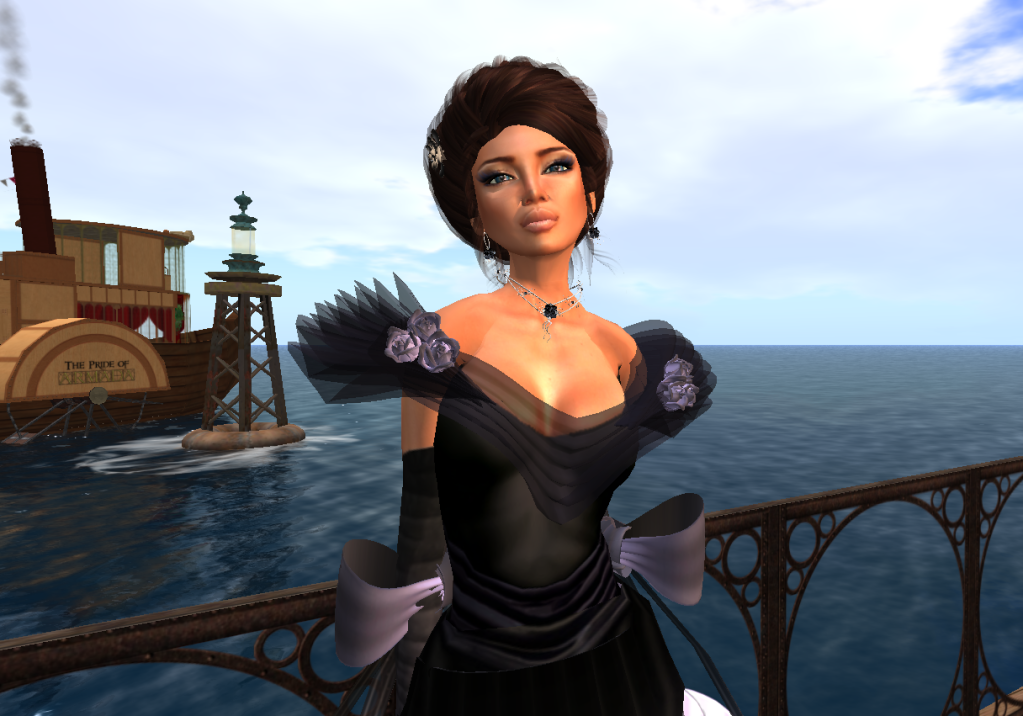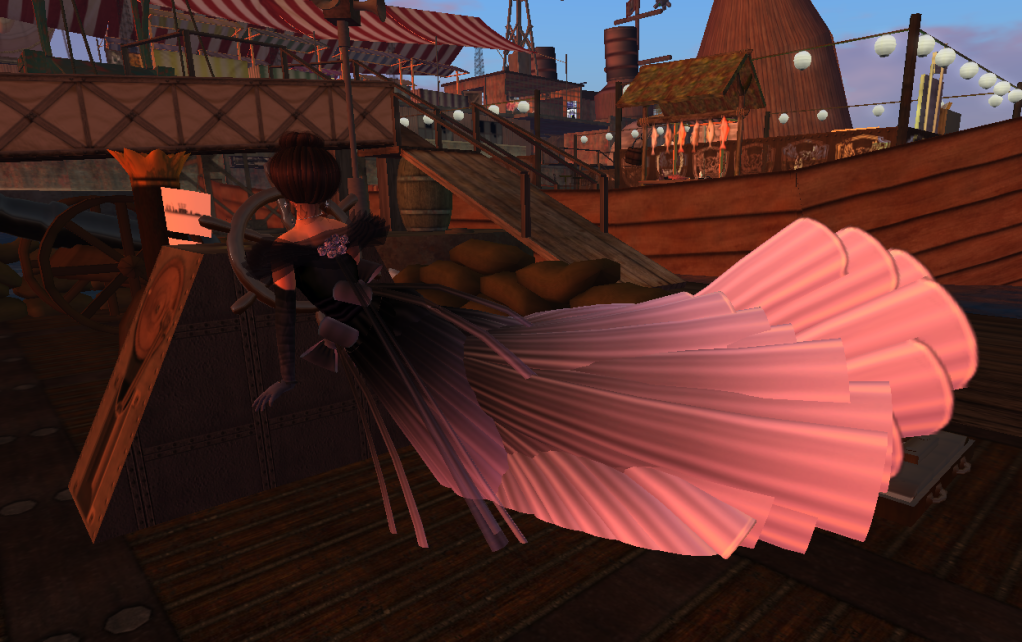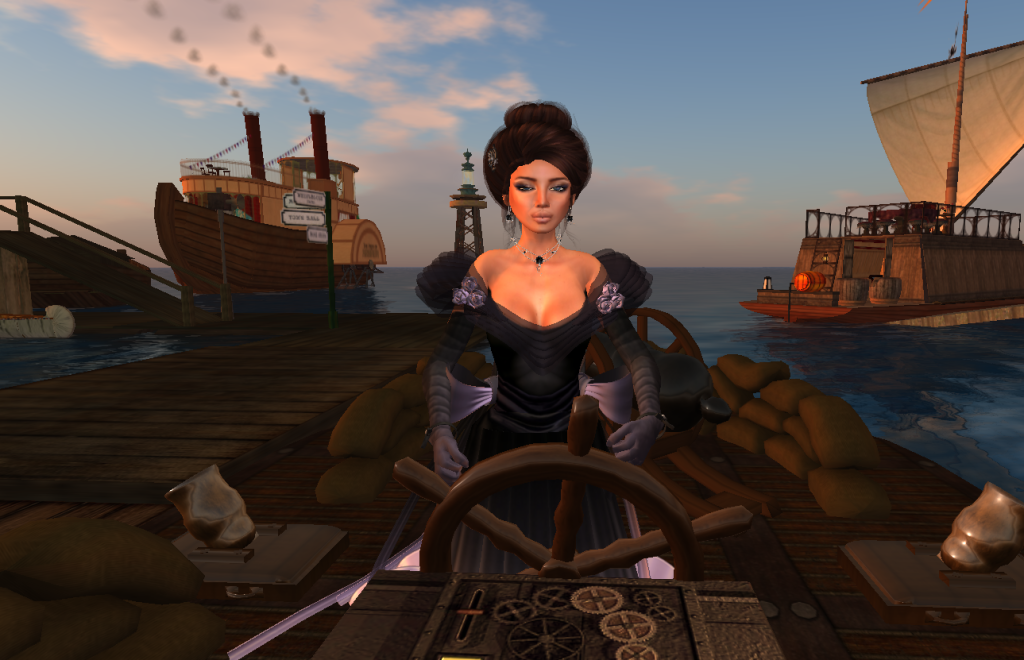 Current Location:

My Box

Current Mood:

melancholy
Prefatory Note: These tips are intended for people new to Second Life, but who knows, experienced traveler? You may find something of use or interest here.

Ever see someone dressed to the nines and wondered where she got her outfit from? Here are some things you can try to investigate this matter.

1. Take a photo. Now. Before she "poufs."

The snapshot button is at the bottom of your browser. Learn how to use it. Learn how to zoom in on someone so that you can see the outfit clearly, so that it fills your screen. Take the shot, so that if she teleports away before you can inquire further, you have something to work from or show other people. Store the snapshot where you want. I store mine offline initially. I can always upload it later. If all else fails you will be able to show people what you are looking for rather than just describe it, and you may have more luck with locating the outfit that way.

2. Inspect a part of her dress.

Right-click on a piece you believe to be a flexi, a detachable part as opposed to a piece of basic clothing that you "wear." Quick Tip: if it moves when she does, it's likely a flexi. From the right-click pie, chose More, choose More again, and when you see "Inspect," click it. You should see a table with a bunch of stuff it. Ignore that. Click the "See Creator Profile" at the bottom of the window. Voila! You're almost there. Read the info. in the 2nd Life Tab of her profile. Sometimes creators list their stores there. If not, switch to the Picks tab, and look for a link to her store there.

3. Ask her.

This will not always yield results. Some people do not talk to strangers. Some do not want to reveal to others the sources of their clothing. Always be polite, and remember charm and intelligence go a long way in interpersonal matters. Start with an IM. If she doesn't respond, follow up the next day with a politely worded note card. If you receive no response, accept "No" for what it is and drop it. Don't badger the avatar.

4. Search for the outfit.

There are a number of approaches you can take to do this:

In-World Approach: Click the Search button and the bottom of your browser, and have at it! Search in Places, sub-category shopping, and search in all. The keywords to use are those associated with the style of clothing she was wearing: Steampunk, Neko, Ballroom, Formal, Couture, Cocktail, Casual: all these terms will turn up clothing stores. You must then visit the stores an examine their wares. One way I narrow such searches is by trying to find a venue, such as a ballroom for formal dresses or a combat sim for neko/urban wear, that has a mini-mall attached to it. I visit every appropriate store in the mini-mall, and pick up two things: the free gifts (grin) and the landmarks to the main stores. I do not spend much time browsing these tiny stores: they usually only contain a small fraction of the creator's total output. I visit the main stores and examine everything they sell.

Website Search Approach: I go to www.slexchange.com, a large catalog of good website and search for the item there, using appropriate keywords. If I don't know any good keywords, I start very general: I type something like "red dress" in the search box. When the results come up, I page through them quickly looking for a dress that is sort of like the outfit I admired. When I find such a dress in the results, I click to view the full page. Then I look at the "breadcrumbs": the list of words near the top of the item page (just under the advertisement). It looks something like this:

Back to item results Category: Home --> Gadgets --> Tools

I click the last category in the breadcrumbs (in the above example it is Tools) and browse the category, seeing if the outfit is there. A site like this typically contains only a fraction of a creator's total goods, but you may get lucky and the dress you are search for might be one of the ones advertised here. If so, you can buy it directly from the web page (this site is owned by Second Life--log in with your username and password) and receive it in-world.

Ask an Expert Approach: There are numerous fashion magazines in world and on websites and blogs like this one. Find out what the big ones are (hint: I am not a big one. I am very tiny) in your genre and approach them with your inquiry. If you have a photo, they may know who makes or be able to refer you to someone who would know. Key words to search for in-world "Fashion, Magazine, Style, Couture, Publication." Key words to search for on the Internet "Second Life Blog" "SL Blog" "Second Life Fashion" "Virtual Fashion" "Second Life Clothing" etc.

I hope you found this tip helpful! Watch for more of such tips, in-between the "just one dresses". And if you know of some trick for investigating the clothing someone is wearing that I have not mentioned, please fill free to share it with us in a comment. :)