Sometimes a dress inspires a question.

And sometimes a question is answered by a dress.

In my case, it was a little of both. The question was: what do you wear to visit a queen? And here is my answer. I'm afraid I don't know which came first.

Do I let her win?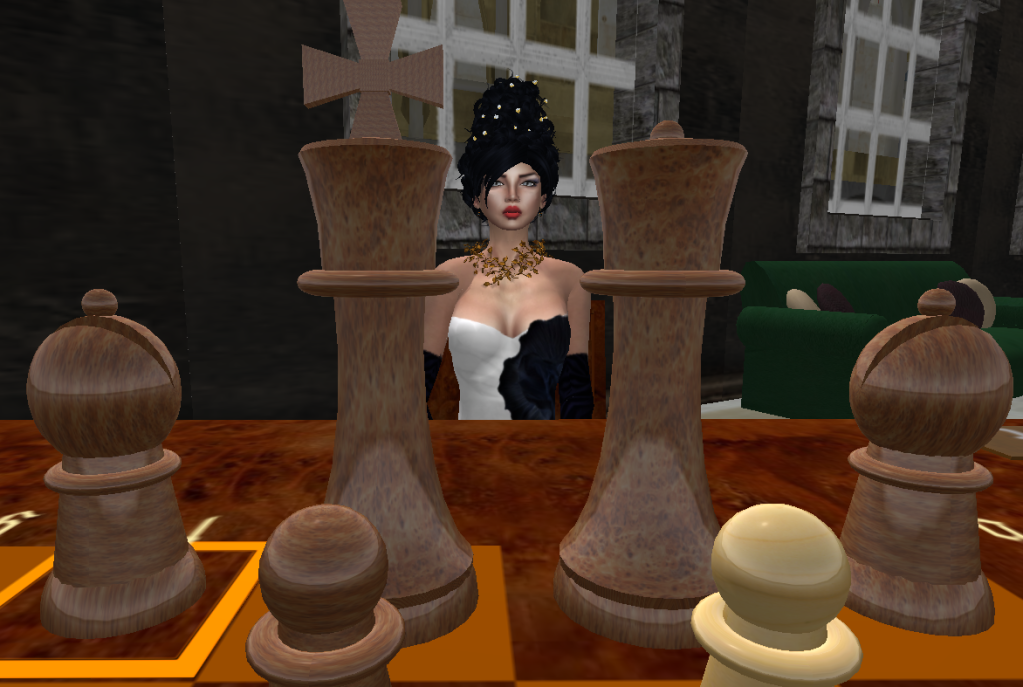 Conversing about ethereal topics: "God, the king is hot!"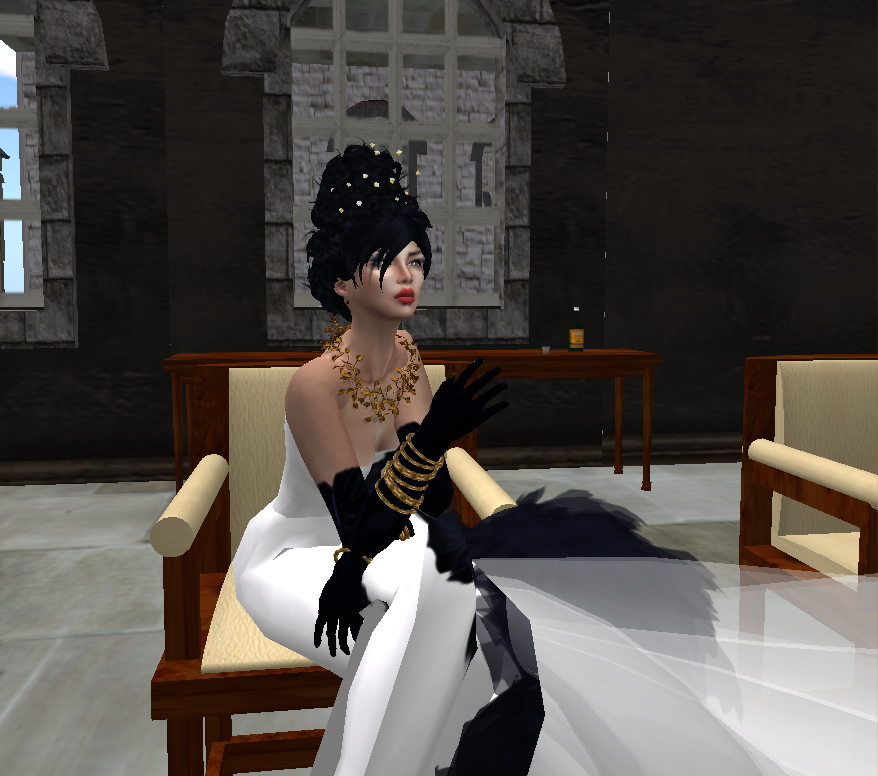 Touring her fine art collection: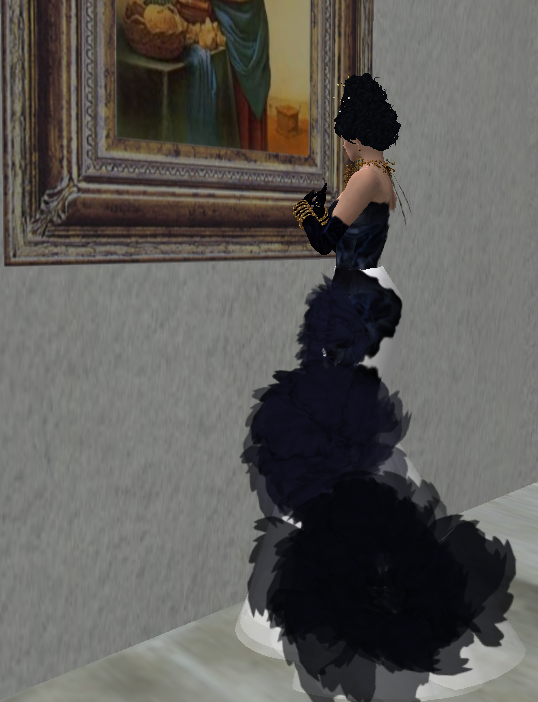 Relaxing in the gallery overlooking the grand ballroom: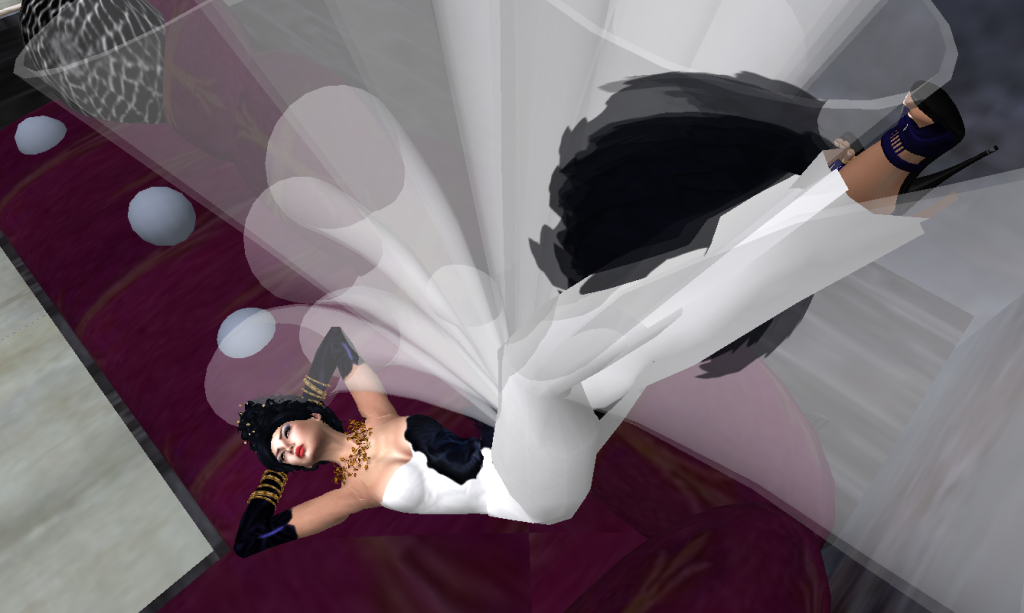 And... (terror of terrors!) being formally presented to Her Magesty: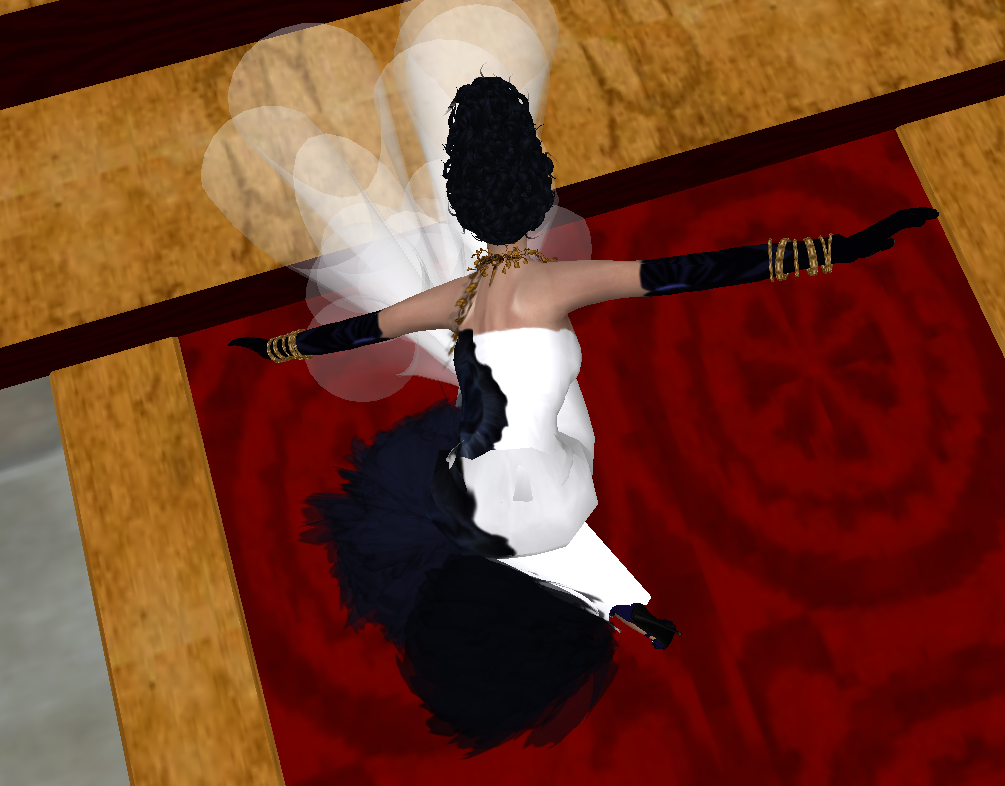 Dear God, plesae don't let me pee my pants now.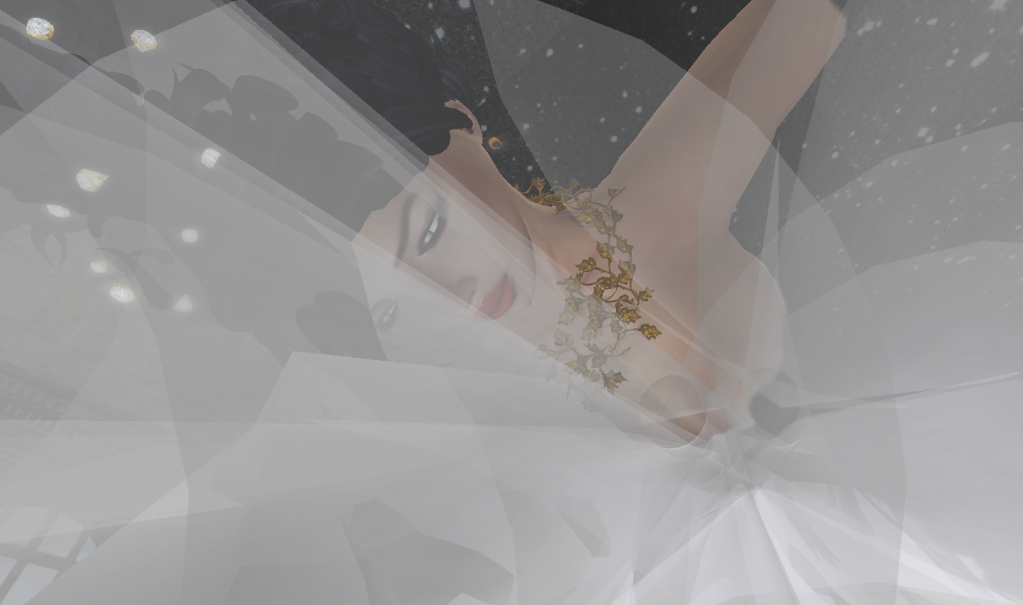 My visit over, standing on the balustrade overlooking the front of the castle, feeling like the innocent heroine about to be bitten by the evil vampire: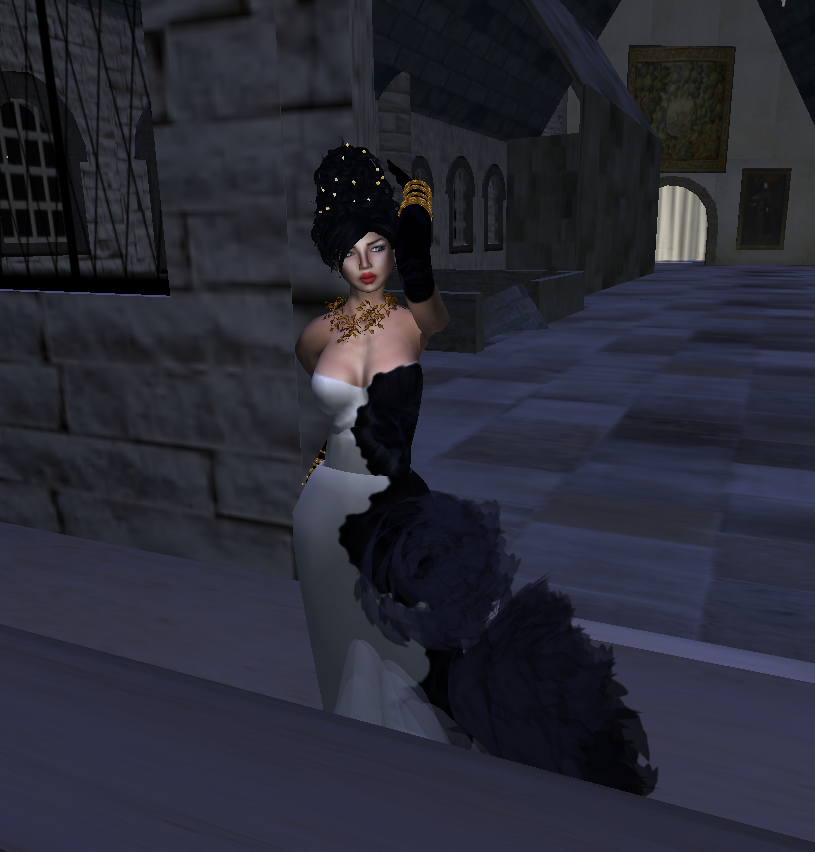 ~~~~~~~~~~~~~~~~~~~~~~~~~~~~~~~~~~~~~~~~~~~~~~~~~~~~~~~~~~~~~~~~~~~~~~~~~~~~~~~~~


SPECIAL: AN INTERVIEW WITH THE DESIGNER

BLISS BENINGBOROUGH


I send all the designers of the dresses I feature in the blog a set of questions to answer. As the answers come back I will post them with the dress. Bliss Beningborough graciously responded to my questionaire about her work and about virtual "fashion in general." Here is her interview:

Unda: What do you like best about designing clothes in Second life?
Bliss: The fact you can make the impossible in real life possible in Second Life. You can let your imagination go where it takes you.
Unda: What do you do that is different from other designers do?
Bliss: Well, I don't really take any notice of other designers so I can't really answer that one other than I like to experiment with shapes and sculpts and I hate normal flexi skirts so I experiment with my skirts a lot to try to do something different and something that moves well with animations so you aren't showing legs.
Unda: Can you tell me anything special about the dress featured in my photos? Who or what inspired it? Was it hard or easy to make? Any funny or weird stories about it you care to relate?
Bliss: This was inspired by the flexi flower that decorates the front of the dress. I had been experimenting to make a proper flexi flower with movement instead a sculpted prim which most flowers are made of here. it was the skirt to another gown but there were so many possibilities with it once made. It inspired other gowns, too, Clarisse being one of them.
Unda: Do you create/sell anything besides fashion or other things avatars wear?
Bliss: I like to create shapes from time to time and have dabbled recently in jewelry but designing clothes is what mainly interests me. I like to work quickly when I have an idea for an outfit; a gown is usually done in 2 days. I find making jewelry time consuming and fiddly and rather boring. I don't have the patience. I like to start and finish a project quickly. I'm not the type to spend weeks on one thing, lol.
Unda: Do you have a website that showcases your wares or discusses other aspects of SL? What is the URL?
Bliss:

http://www.flickr.com/photos/house_of_beningborough/
http://houseofbeningborough.wordpress.com/
http://moolto.ning.com/group/HouseOfBeningborough


Unda: Who is your favorite fashion model in SL and why? And this model need not have worked for you. And it's more than OK to say yourself! :)
Bliss: Well I don't really have a favorite model. I was a famous model myself in a previous sl life so I appreciate a model who can style and edit properly and who isn't afraid to push the boundaries.
I do prefer to model my own clothes for my vendor pics as I can create the look I want to show them and its much easier to photograph yourself than other models ,which can be time consuming and difficult to get the right lighting etc..
Unda: What SL creators (of anything, not just clothing) do you admire the most?
Bliss: I am a very private person and do not socialize or shop much in sl other than for skins and accessories so do not know the latest sl designers. I always admired Paper couture.
Unda: If you had one piece of crucial fashion advice you could give to new residents, what would it be?
Bliss: Buy one good outfit instead of buying lots of cheap ones. The finish will be better, the prims will be attached and edited properly. The most popular designers may be more expensive but they are expensive for a reason. You are paying for quality and original design.
Unda: If you had one piece of crucial advice you could give to experienced shoppers and fashion enthusiasts, what would it be?
Bliss: In the words of Chanel, the last accessory you put on is one too much.
(Unda laughed hard when she read this response. This is so very true--and quite possibly personally relevant--blush!)
Unda: I am interested in cool places on SL almost as much as I am interested in cool dresses. So I'd like to know what is your favorite public place or event is on Second life, the place you like to show other people? Feel free to expand on why you like it.
Bliss: I'm afraid I don't see much other than my skybox. I'm always designing when here :)

~~~~~~~~~~~~~~~~~~~~~~~~~~~~~~~~~~~~~~~~~~~~~~~~~~~~~~~~~~~~~~~~~~~~~~~~~~~~~~~~~
Unda thinks Bliss's skybox must be a very interesting place! Thank you very much for the interview, Bliss! I appreciate your taking the time to answer all of these questions.
If you enjoy this designer and wish to follow her work, be sure to check out the links posted earlier in the interview!
Current Mood:

tired