Where were YOU on July 4th, 2010?
I was here: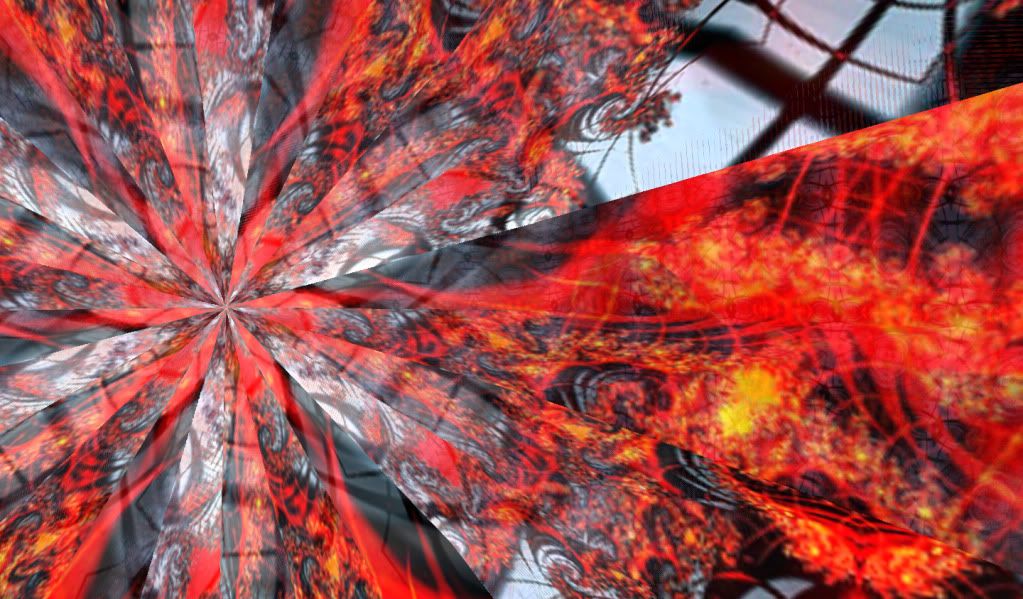 I mean, IN there. See me?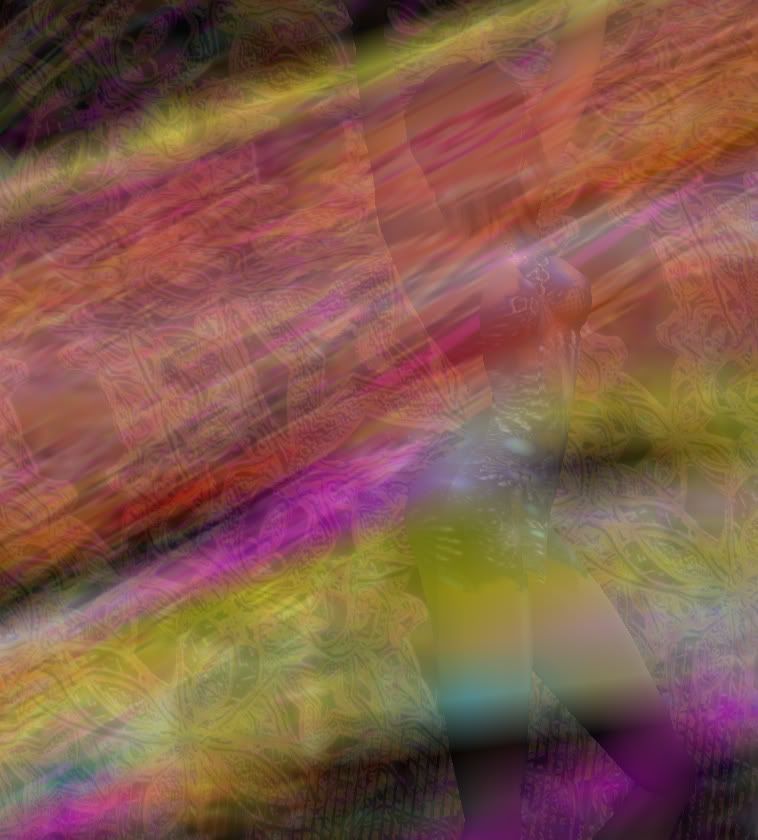 I was kind of bored, all dressed up in a Fireworks outfit and nowhere to go. I browsed the events list in the search window, and saw something that brought back some fond memories. There was an Oddball! On the Fourth no less!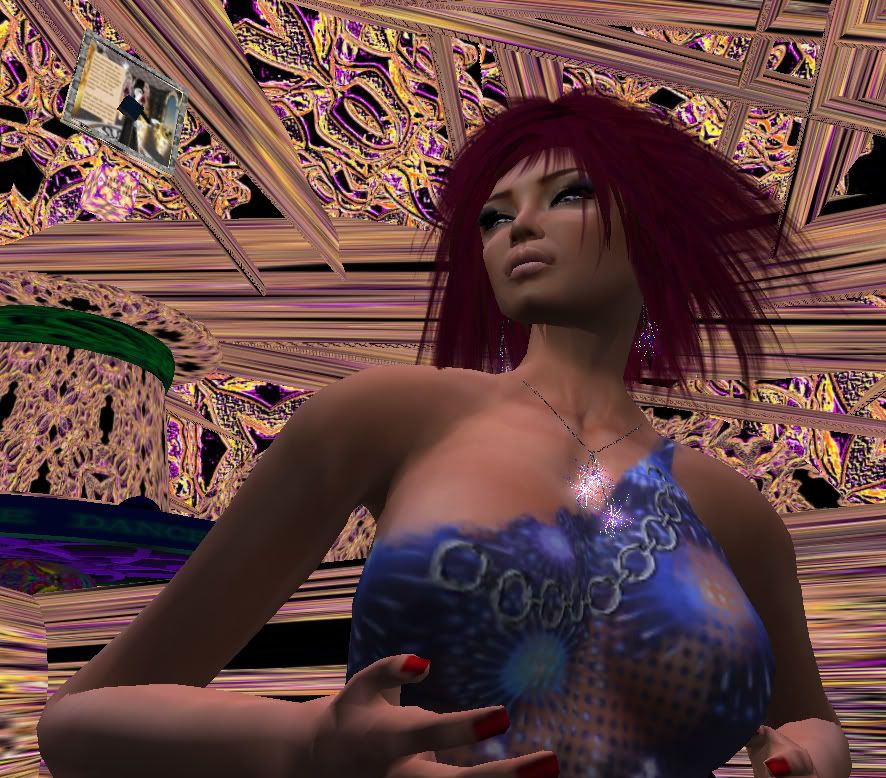 So I went to the Oddball at the Tunaverse, dancing within an amazing light show that made me feel the way I feel when I turn on Wireframes view or participate in an ultra-immersive MMORPH: that instead of just staring at a computer screen with pretty colors on it, I am actually in another world. And what a strange world the Tunaverse is!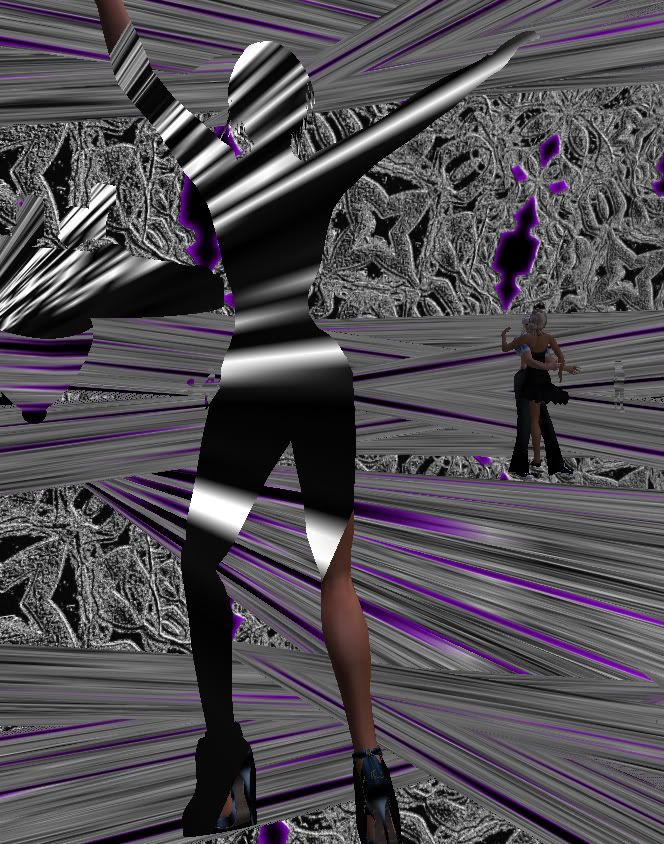 For those wondering what in the world I am talking about, here is a bit more explanation. Tuna Oddfellow is an avatar on Second Life who creates works of art, that combine texture light displays projected onto the inside of a giant sphere (called the Tunaverse) and hypnotic trance music. The combination is called an "Oddball." The combination is reminiscent of a rave, or their predecessors, the laser light shows set to rock music. This art form cannot be fully captured in images (although I did my best). You must enter the Tunaverse when an event is scheduled, listen to the music, partake of the mind-altering substance of your choice (optional, but I chose a glass of wine), and dance. Especially dance. Watching your body swirl and move to the music within the surreal and psychedelic textures is an important part of this participatory art experience.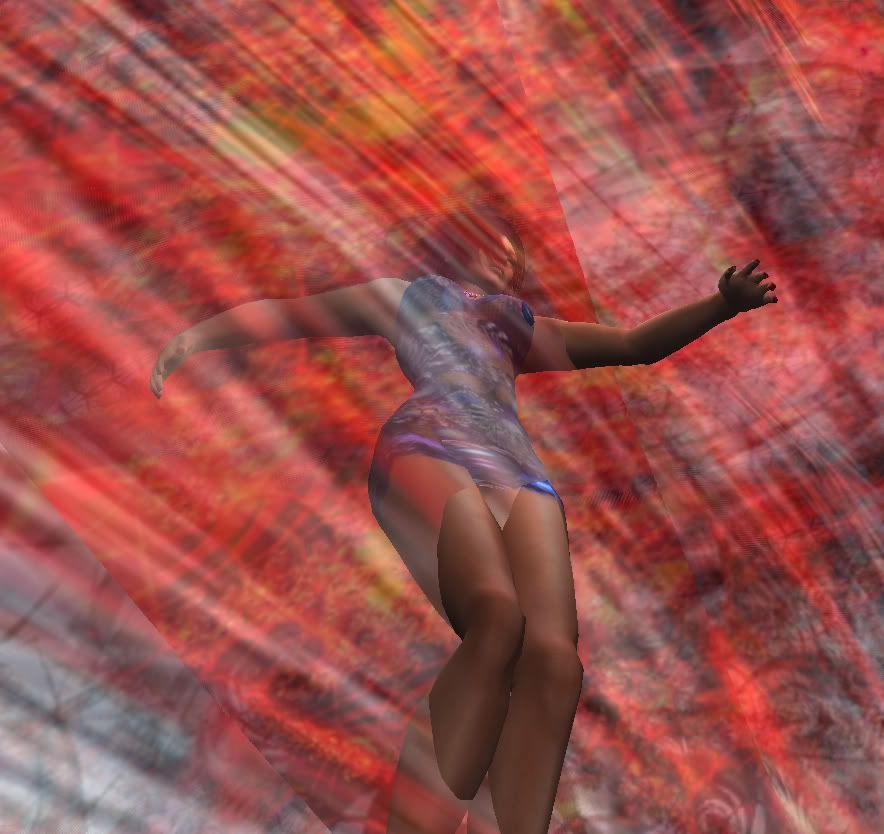 For the Fourth of July, Tuna Oddfellow made his textures from the American Flag. As you can see from the pictures below, when he got through with them, they didn't exactly resemble the flag much, but according to the show, it is what he started from. :)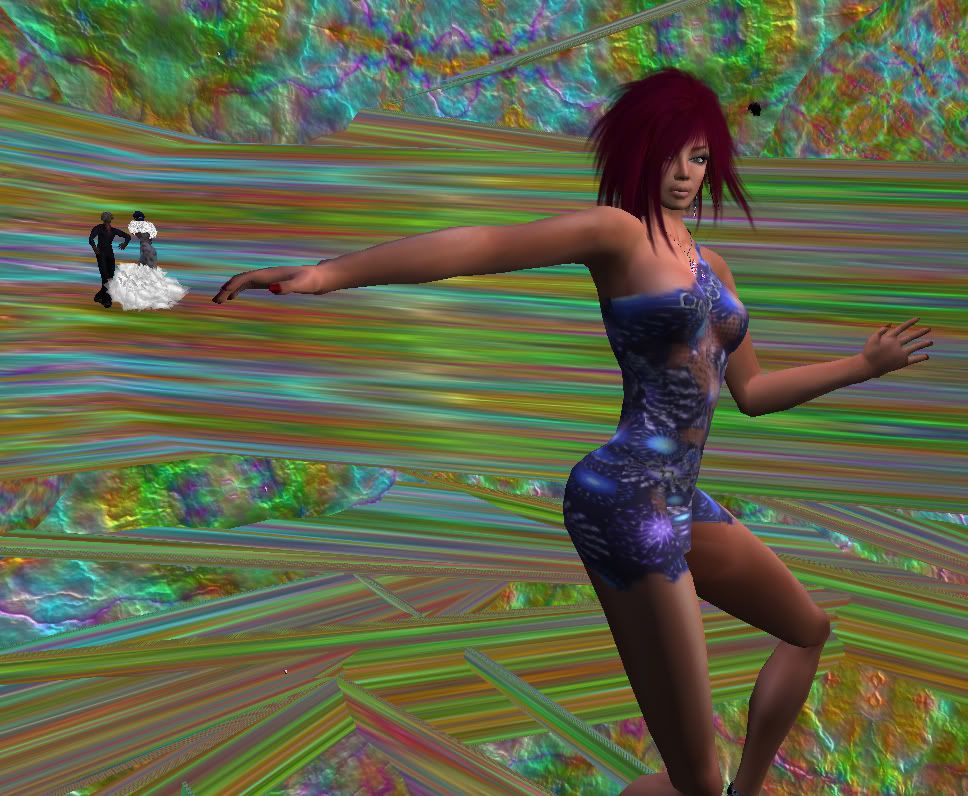 When you dance at an Oddball, you dance within the textures, they aren't just outside of you projected on the insides of a big ball. This caused some interesting effects with my dress and avatar, as you'll see in the images. The experience is one of being truly within the textures and also affected by them. The cleverness of this art show cannot be fully described. You have to see it. People dancing around you look like they're above you or below you when actually everybody is on the same flat plane in the middle of the sphere. And avatars at a distance sometimes take on a black silhouette effect which looks very cool against the colored patterns of light.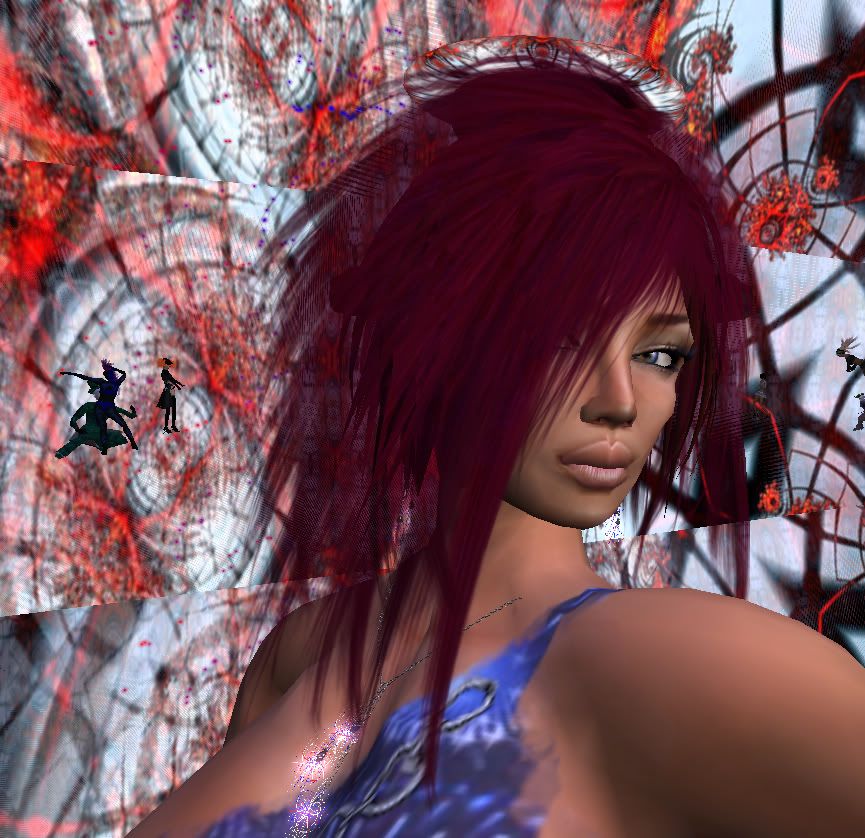 But let me back up. I found this dress a few days before the Fourth on one of those 40-50-55-60 Linden lists that come out weekly on various days. The first and most well-know of these lists is 60L Weekends (formerly 60L Sundays). The signs for this shopping event can be seen in many participating shops. You will also see red footprints on the floor that lead you to the item. On the appointed day you get a note card (or three) with links to vendors that have put up an item in their shop for 60L's. Sometimes this is a real bargain; sometimes not. I don't pay much attention to the bargain aspect. I just look at the pictures embedded in the note card, and if I see something I really like and I have 60L, I teleport to the store and buy it.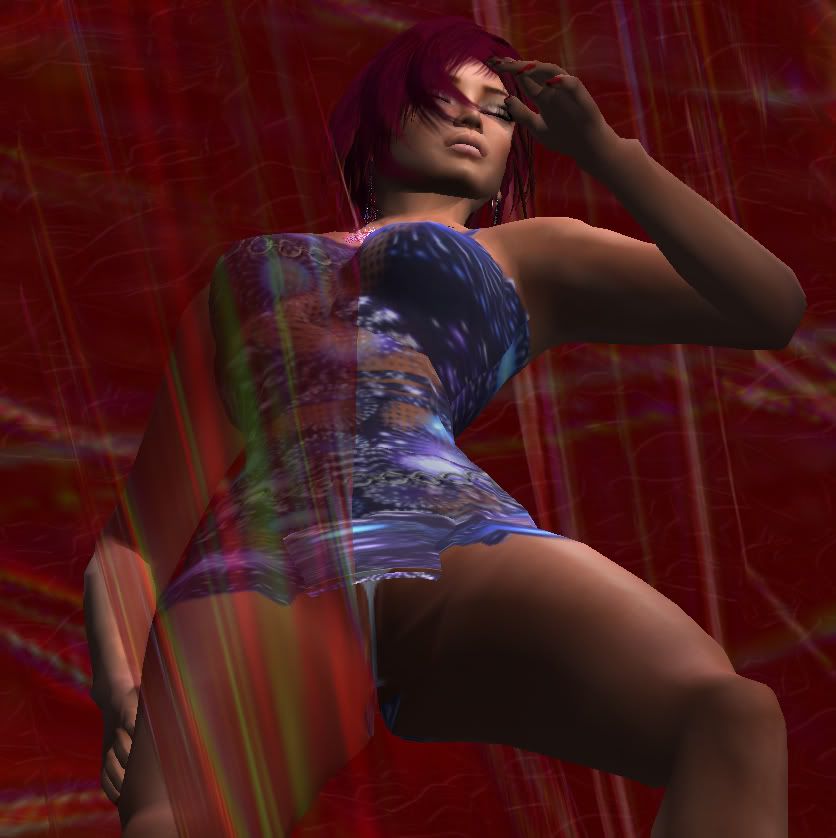 So that's how I found my "explosion" dress. It's a simple, sleeveless mini, with all of the pros and cons such a piece of apparel has on Second Life, but to me, it is outstanding in several ways. First, there's the beautiful fireworks pattern. The colors in this blue pattern are beautiful and quite reminiscent of fireworks.






The dress has a more subtle feature to it, that I didn't notice until much later, because the skin I wore with it didn't advertise the fact: it has many select transparent spots on it. With the wrong (or right?) skin it could be positively obscene. But from a distance and with my neutral tan skin, it provided perfect coverage. The transparency only becomes apparent if you zoom in closely and know what you were looking for. In a place like Second Life where half the female fashions you see are blatant T&A&P shows, Subtlety Rules.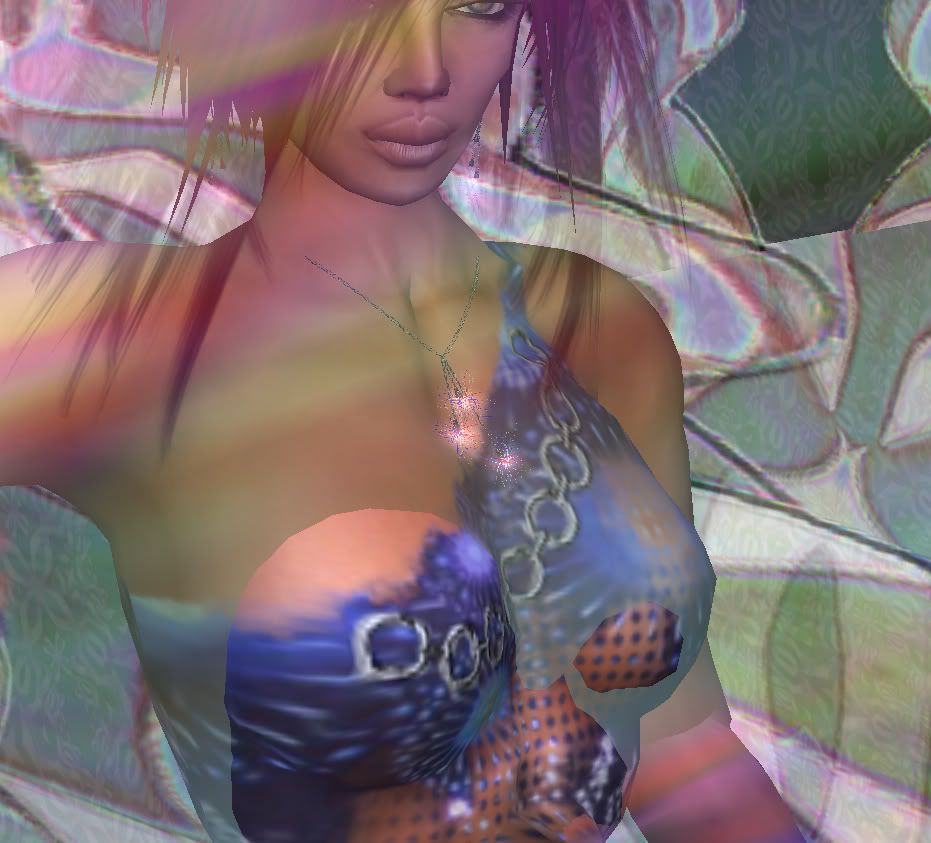 I paired the mini dress with lovely animated fireworks jewelry from Earthstones, a favorite part of blue heels from Tara, and a Japanese cut from the incomparable LaLa Moon that gave my face a slightly Asian cast.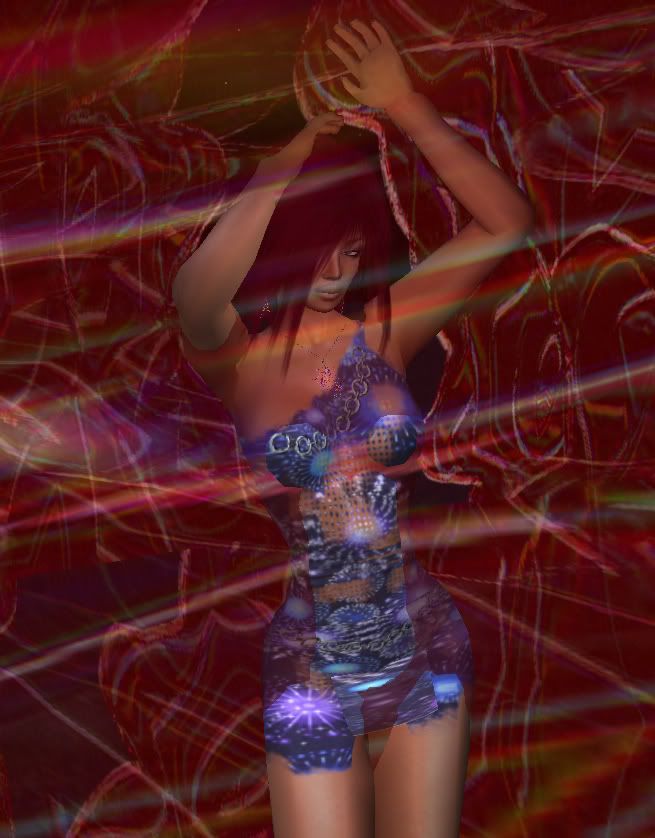 Both the dress creator, Glory Gausman, and Earthstones went out of their way for me on that empty weekend. When I bought the dress, the modesty panel attachment was of the wrong texture. It was bright red. The creator explained to me that this sometimes happened when you moved items to another location, and promptly fixed the problem so that I could wear the dress on the Fourth.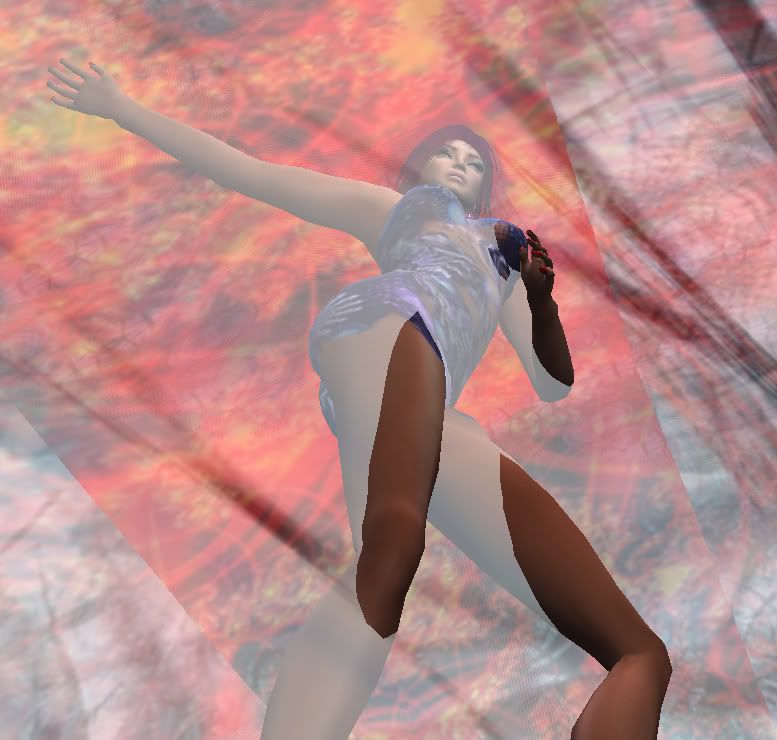 Earthstones was having delivery difficulties due to database issues, so I never got the jewelry after purchasing it, but again, a note card to Jaydie Sapeur brought a prompt response and eventually the items reached me. Thank you both very much for going out the way to help me on a holiday!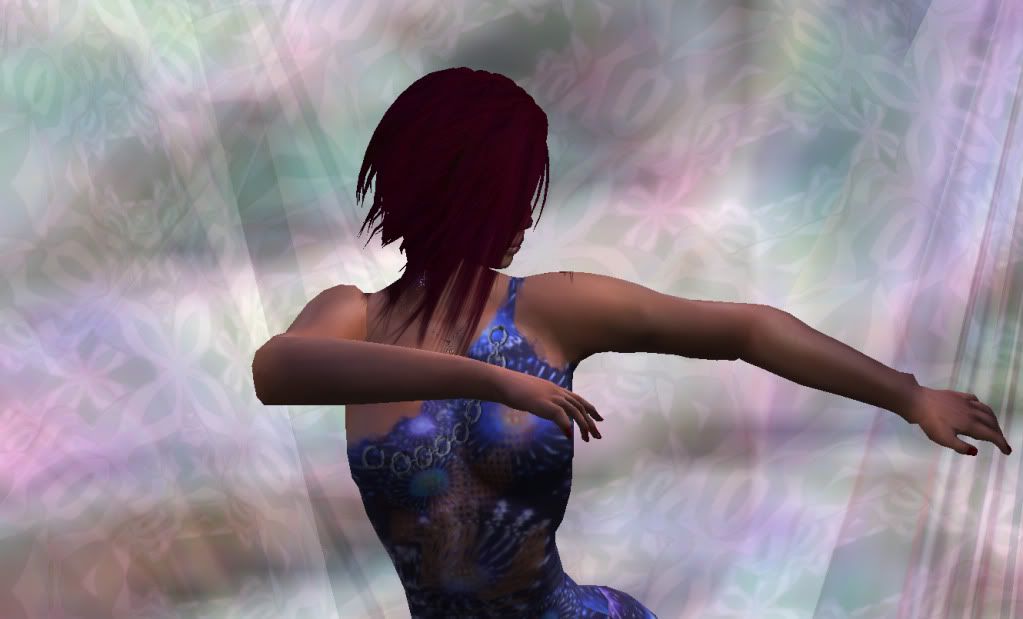 If you want to take part in an Odd ball, you can either vist the Oddfellow Studios, research center (aka the Tunaverse) during the off-hours when it resembles a store, or you can join the group (Search-All-Tunaverse). You will recieve updates on when the twice-weekly shows are. Don't be discouraged by the small size of the sphere-store, by the way. Instead, note the rather gigantic platform it sits upon. ;)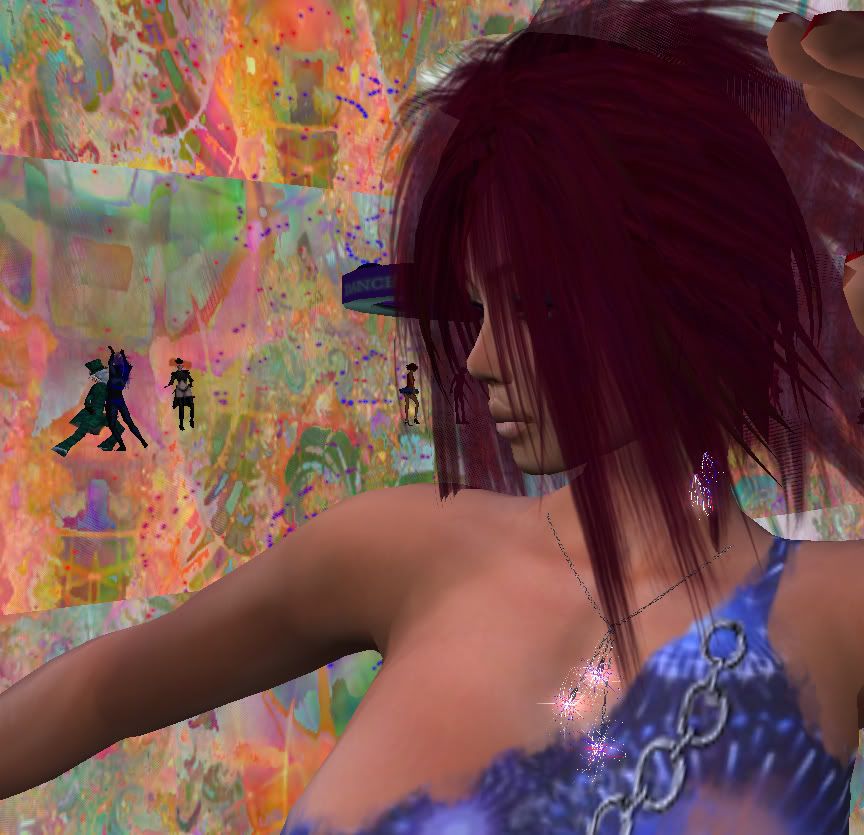 ~~~~~~~~~~~~~~~~~~~~~~~~~~~~~~~~~~~~~~~~~~~~~~~~~~~~~~~~~~~~~~~~~~~~~~~~~~~~~~~~~~~

SPECIAL: AN INTERVIEW WITH THE DESIGNER

GLORY GAUSMAN

I send all the designers of the dresses I feature in the blog a set of questions to answer. As the answers come back I will post them with the dress. Bliss Beningborough graciously responded to my questionaire about her work and about virtual "fashion in general." Here is her interview:

What do you like best about designing clothes in Second life?
The freedom of express my creativity and also the feeling when I see my designs being used by another person here. It's a great feeling when some one likes what you work so hard to make. I do my clothes with a lot of love, thinking of who may use it.

What do you do that is different from other designers do?
I combine my designs. I go out of the traditional box. I express the feelings of the girl next door but at the same time [speak] to the model in each one of us, to the wild hard of the sexy girl and to the tranquility of the hand of our man. It's a combination of feelings expressed through the design in a vision of the mature woman who has lived and knows about life and its different stages of living. This design is simply me.

Can you tell me anything special about the dress featured in my photos? Who or what inspired it? Was it hard or easy to make? Any funny or weird stories about it you care to relate?
I bought my material for the dress in "Sissy's Textures." It was a special market package. I did not know what I would create with it, but when I went home and opened the package, immediately my mind went back to my Fourth of Julys, especially with my family. My brother loved to set off the fireworks and I loved to see him doing so from the window near my home in the Bronx. I was afraid, but loved the color display in the sky. All the good time with family and later my own child, that special feeling of freedom, my admiration and a bit of fear of fire, drew me to that specific pattern and the title followed after I created this dress: an "Explosion" in the sky, just like my feeling on the Fourth of July: both sublimely beautiful and dangerous. An inevitable experience of my own childhood as well as the fact that I do have a son who is going to be deployed next year makes my heart strong and near to all those women: wives and mothers who have loved one in the same boat… an explosion of feeling, that is what this dress is all about.
Unda thinks, "Wow, that was eloquently said. You captured this huge spectrum of complex feelings about the Fourth that many women feel in just a single paragraph."


What do you do in real life? (Work, hobbies, interests, whatever you want to share.)
I was a former wedding consultant for many years. Now I am just a simple woman, mother and yes, a young grandmother giving time to her loved ones and to the career she sought in real life but never has had the opportunity to finish because my child comes first and my dream was put to sleep.

Do you create/sell anything besides fashion or other things avatars wear?
Right now in real life I am retired from business and taking care of my family and my health, but here I do skins for women and men and sometimes some furniture. I designed the entire store myself. My hobby is photography and I'm a Photoshop expert, but of course willing to learn more every day.

Do you have a web site that showcases your wares or discusses other aspects of SL? What is the URL?
My pages are:
http://www.koinup.com/GloryGausmanModel/works/
http://moolto.ning.com/profile/Gloriacortez
http://pixelook.ning.com/profile/GloryGausman
http://www.flickr.com/photos/27656120@N06/
http://www.avatarsunited.com/avatars/glory-gausman

Who is your favorite fashion model in SL and why? And this model need not have worked for you. And it's more than OK to say yourself! :)
Mina Pelazzi. I admire her perseverance and her strong personality which make her win. I also admire her inner beauty: beauty comes from the inside not the outside.
Unda: it's so easy to lose track of that last, essential fact in Second Life, and so refreshing to meet someone who remembers it. :)

What SL creators (of anything, not just clothing) do you admire the most?
The adventures we live every day, the friends we touch along the way, and the dreams we could not fulfill in real life for whatever reason… and here we able to do so, safe and fun in SL.
But i also admire this creator: Sonia28 Jie. She is a great lady, great designer, and my first inspiration here. The other is Helke Duettmann, my former boss and teacher. From her, I learned all about fashion and modeling in Second Life.
There are so many people [who have inspired me] and too little time to mention them all.

If you had one piece of crucial fashion advice you could give to new residents, what would it be?
Make sure you have a least one or two good skins and a couple of good shapes especially ones you can modify so you can put you own personality to the shape (make sure you copy the original before you start to play with it). It's fun and nothing to be afraid of, and you can always change the shape back to the original one.

If you had one piece of crucial advice you could give to experienced shoppers and fashion enthusiasts, what would it be?
Don't be impressed by high prices in Second Life. You can find many [fine] things in lower prices and give opportunities to new designers [by patronizing them]. You'd be surprised by our talents. Be open to exploring those 25*44*55*60 Linden specials. They really are good [promotions] and sometimes bring lots of surprises--or Explosions--of fun your way.
Unda knows this first hand! :D

I am interested in cool places on SL almost as much as I am interested in cool dresses. So I'd like to know what is your favorite public place or event is on Second life, the place you like to show other people? Feel free to expand on why you like it.
Lots of great textures for those who love to create.
Sissy's Textures:
http://slurl.com/secondlife/Paradise%20Landing/128/128/2
This is a great group with lots of stores but I love mostly her "Fifty5 Thursdays" group [search for that name in Groups] where you can find all kinds of special things the day you join the group.

The blog that displays the 55L Offers:
http://fashionalertsl.blogspot.com/2010/06/fifty5-thursday.html
The Group's In-World Headquarters:
http://slurl.com/secondlife/Tera%20Nova/196/205/24
The group's owner is my dear friend Yula Finesmith, owner of Finesmith Jewelry Design, a magnificent store filled with the wonderful pieces she designs. I love this shop:
Finesmith Jewelry Blog:
http://finesmithjewelry.blogspot.com/
Or on Facebook:
http://fashionalertsl.blogspot.com/
Unda Adds: But nothing beats visiting this gorgeous shop in-world:
http://slurl.com/secondlife/Tera%20Nova/196/205/24
I also love the group of Models & Fashionistas Y-DuCk by Xmyaxx Kaliopov. It is fun and very special, too.
Unda: Search for y-duck in groups or visit their blog:
http://xmyaxx.wordpress.com/
And not least, my favorite hair site is Tukinowaguma Hair Styles:
http://slurl.com/secondlife/Tukinowaguma/130/129/21
I also love this one too. I love her hair and the fact that she gives out a free hairstyle as a gift each week:
Alli & Ali Design
http://slurl.com/secondlife/Wonderland%20Beach/128/128/24

Glory Gausman clearly designs clothes from the heart. Please give her your patronage and support.

Current Mood:

giddy