If You're reading This On Second Life...
You may want to see it in something larger. :)
Click here to vist this webpage:
http://unda-xue.livejournal.com/

~|~|~|~|~|~|~|~|~|~|~|~|~|~|~|~|~|~|~|~|
~|~|
This post is a sticky note. It always appears at the top of the blog.
Are you familiar with the work of a designer featured here? If so, you are welcome to share your favorite dress of this creator in a comment. Feel free to include a link to a picture--but, in keeping with the theme of this blog--only post just one dress. :)
~|~|~|~|~|~|~|~|~|~|~|~|~|~|~|~|~|~|~|~|
~|~|
Not your standard virtual fashion blog! Just One Dress combines fashion, travel, fiction, and far too many pictures in an intriguing and often whimsical attempt to answer the burning question, "If you could buy only one dress (from this shop)...which one would it be?"
"Virtual Fashion" is a term I use to describe clothing styles and trends that exist in shared 3d immersive graphical "worlds," visual online social spaces such as Second Life, IMVU, and games like World of Warcraft. In all of these places, as in real life, clothing on one's avatar is regarded either as a status symbol or an expression of one's personality and tastes. Virtual fashion is also, at least in those worlds that have a thriving or unrestricted economy, a very big business.
Virtual fashion and real fashion intermingle in interesting ways. Of course, virtual fashion styles copy what the most popular celebrities wear. But there is also a trend, these days, for real life to imitate art. I now see real-life actresses and models starting to wearing garb that only existed in virtual worlds two or three years ago.
If you want to learn more about styles and clothing, I recommend you first browse an online catalog depicting such wares, such as Second Life's Marketplace or IMVU's catalog. These huge repositories of avatar clothing will give you an idea of the scope of the field. Next, make the rounds of the big virtual magazines and fashion blogs (currently, there are many for Second Life, I am not sure about other worlds but a search on the world's name should turn up some) for a glimpse at how participants view virtual fashion. The best way to experience virtual fashion, however, is immersion. Make an avatar on one of the 3d worlds or visual social networking sites and then clothe your avatar and interact with others. Beware, this last sort of research can be addictive...and quite expensive.
~|~|~|~|~|~|~|~|~|~|~|~|~|~|~|~|~|~|~|~|
~|~|
THE NEWS
20100713: Two designer interviews, one from Bliss Beningborough and one from Glory Gausman are Up! And I hear that Terry Lightfoot is not far behind. Woo-Hoo! :D
~|~|~|~|~|~|~|~|~|~|~|~|~|~|~|~|~|~|~|~|
~|~|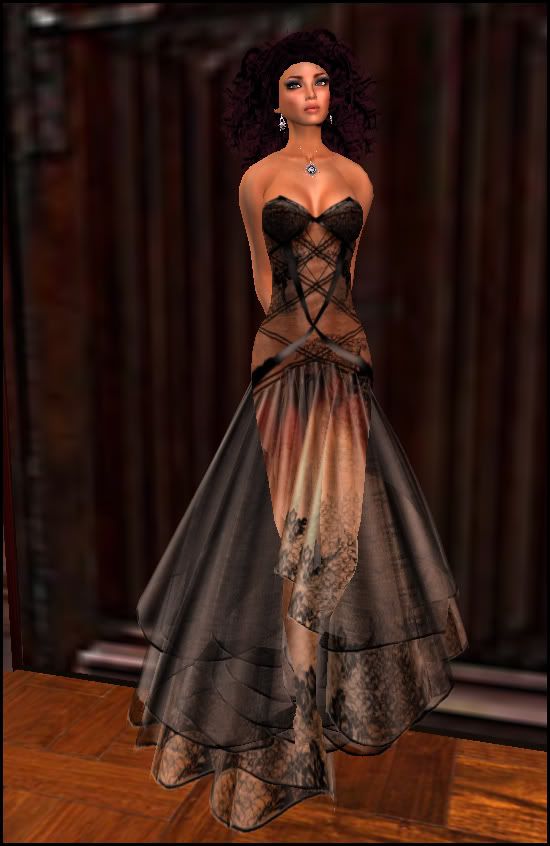 A crackling fire. Old Money. The smell of cognac, havanas, and leather-bound books. Large, mysterious rooms and the sound of men's low laughter. Erotic art on the walls. A gentleman's club. Those are the things this stunning multi-colored dress brings to my mind. The place I took these pictures in is a place much like that. It's a very good place to bring a new lover.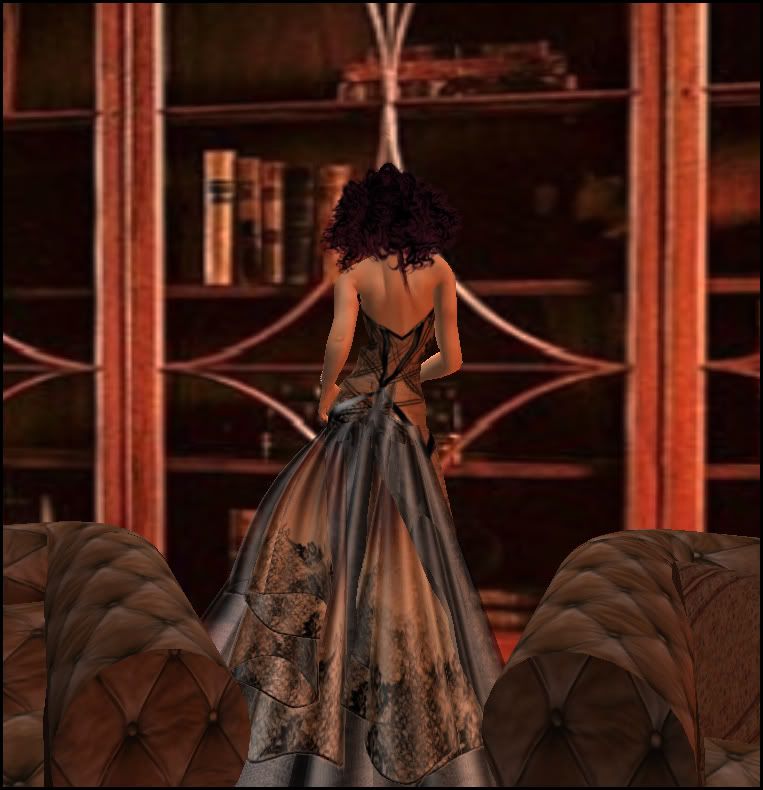 I wish I could find words to accurately describe the colors in this dress. Peach? Steel gray? Sometimes there seem to be a dozen colors at once. The diaphanous dress, like finely woven silk, seems to catch all colors in a room and reflect them back at you.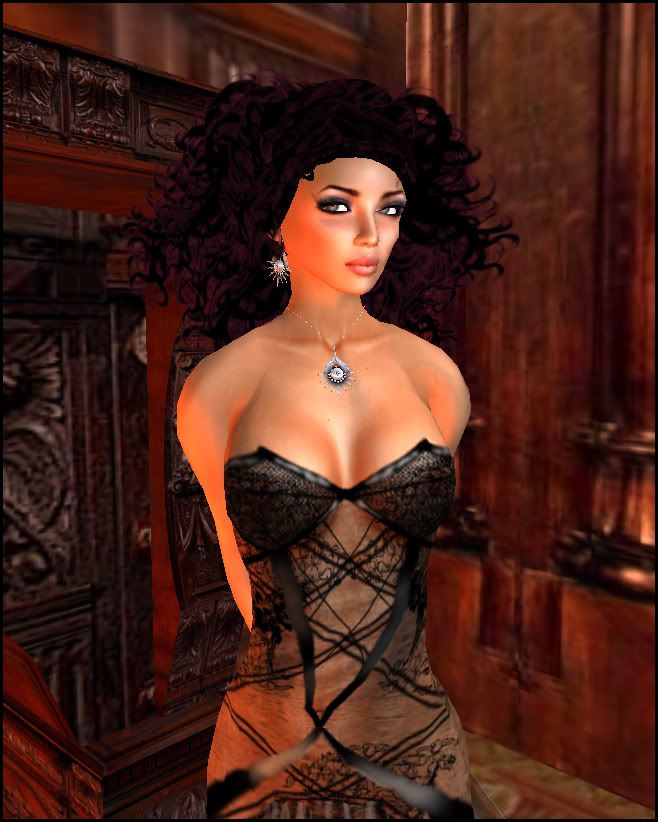 The gown is artfully erotic. As you can see, the closer one examines you, the more "interesting" the view becomes. And yet the cleverly placed lace and lovely criss-crossed ribbons make it perfectly acceptable in the most formal of situations.
I'll leave you with one more image, and then do the roundup.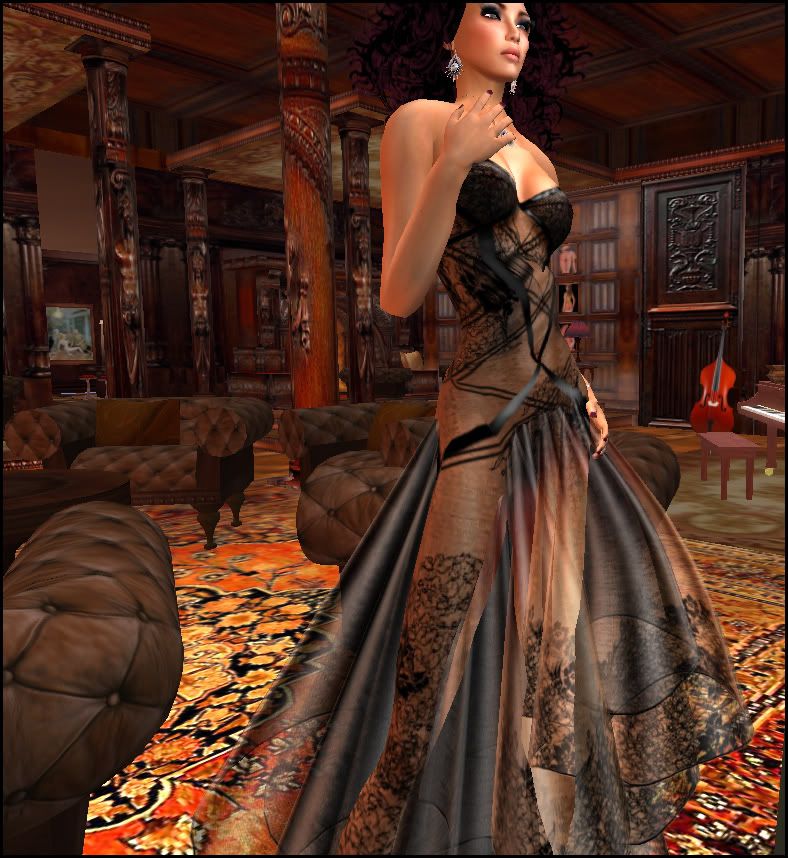 Current Mood:

calm